Are there any nice, short hikes nearby?
You can get incredible views of Lake Winnipesaukee from the tops of THREE different mountains around the lake!
1) The firetower on top of 2384 foot-high Belknap Mountain. Inquire at the Gilford Village Store (603) 524-1031 how to reach the trailhead.
2) From the rocky top of Mt. Major, which is 1784 feet high. The trailhead can be easily found right off of Route 11 on the way to Alton Bay. Probably THE most popular climb on Lake Winnipesaukee! Click here to see the view (don't click if you plan to hike the mountain – it may spoil the surpise)!
3) At 1801 feet, Bald Knob, on the grounds of Castle in the Clouds in Moultonborough, has a South facing view, directly towards Weirs Beach!
These three spectacular hikes each take about 60-90 minutes to reach the summit. The trailheads are from 20-40 minutes from Weirs Beach.
Other short, nearby trails include: Stonedam Island, 10 minutes by boat across Weirs Bay, has a little beach on the Weirs Beach side of the island; Waukewan Highlands, on Parade Rd in Meredith, only a 10 minutes drive from Weirs Beach, has 3 miles of trails; Hamlin Recreation Area, on Chemung Rd in Meredith, 15 minutes drive, has 6 miles of trails; Page Pond and Forest, 15 minutes drive, on Meredith Neck, has beautiful wetlands and an old dam; Lockes Hill, on Route 11 in Gilford, 15 minutes away, has a good view of the Lake for very little effort; Piper Mountain, in the Belknap range, has good Lake views plus great wild blueberry picking in early August; Red Hill, off Bean Rd in Center Harbor, 20 minutes, has a very good view of Lake Winnipesaukee from its firetower; Chamberlain-Reynolds Memorial Forest, on College Rd in Center Harbor, 20 minutes, has a beach on Squam Lake; West Rattlesnake Mountain on Rt 113 N in Holderness, 30 minutes, has an excellent view of Squam Lake; and trails at the Loon Center on Lee's Mills Road in Moultonborough, 30 minutes, are informative and educational.
Here are alternative web sources of information for some of the trails mentioned above:
• Mt. Major
• Red Hill
HISTORIC VIEWS OF THE CASTLE IN THE CLOUDS
A view of Lake Winnipesaukee from the Castle in the Clouds. The Castle has many other trails with similar scenic views of the Lake.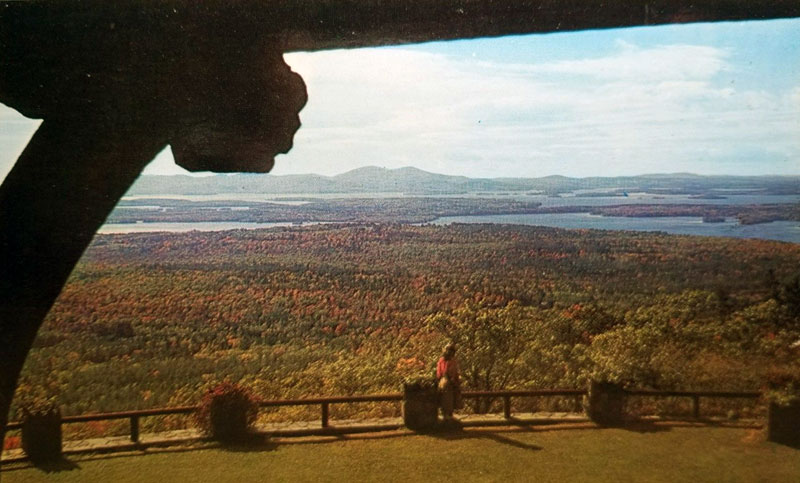 Views looking up at the Castle from below.
Click here to see a variety of old views from around the Lake! See views of Lake Winnipesaukee from Mt. Belknap, Mt. Major, and Locke's Hill (Kimball Castle). See views of Squam Lake from West Rattlesnake. And see views of both Lake Winnipesaukee and Squam Lake from Red Hill.
Red Hill was the first scenic vantage point to be hiked on Lake Winnipesaukee. The Red Hill webpage has a view dating from 1837!