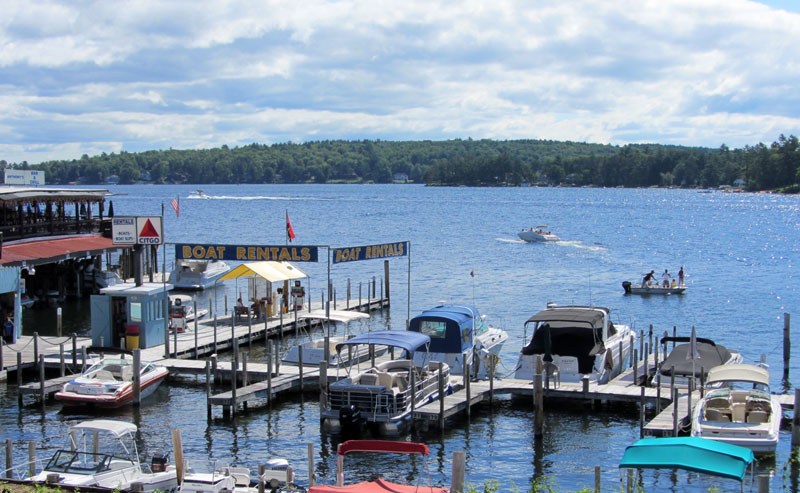 Where can I rent a boat in Weirs Beach?
You can rent a jet ski at the heart of Weirs Beach, at the Winnipesaukee Pier. The rentals are offered by Weirs Beach Jet Ski Rentals, (603) 393-1188. You can rent by the hour, day or week. Also available for rent at the Winnipesaukee Pier are stand-up paddle boards, single-person kayaks, and pontoon boats. One of the big advantages of renting a pontoon boat is that no NH boating license is required.
You don't have to rent a boat at all if you just want to try out waterskiing, wakeboarding, tubing, and other fun water sports. Weirs Beach Water Sports, (603) 630-1298, at the Winnipesaukee Pier in Weirs Beach, offers all of the above behind their ski boat.
At the Weirs channel, you'll find North Water Marine (formerly Thurston's) (603) 366-4811, which rents waterskiing boats and pontoon boats; and "Winni" Marine, the Weirs Beach branch of Winnisquam Marine (formerly Channel Marine) (603) 366-4801, which also rents ski boats and pontoon boats.
There are three marinas nearby to Weirs Beach that are only a 10 minute drive away.
The other three nearby marinas are Meredith Marina (603) 279-7921, which rents waterskiing boats, pontoon boats, and jet skis; Irwin Marine (603) 524-6661 in Laconia, which rents waterskiing and pontoon boats; and Fay's Boat Yard (603) 293-8000 in Gilford, which rents pontoon boots, ski boats and sailboats (daysailers).
Note: The photo above shows Anchor Marine, which was formerly located at the Winnipesaukee Pier. In 2016, Anchor Marine moved to Union Avenue, on Paugus Bay in Laconia. Anchor Marine closed permanently in 2022.
Fay's is one of the very few marinas on the lake that rents sailboats. Another is
Dive Winnipesaukee
(603) 569-8080, in Wolfeboro, which rents sunfish (weekly only) and windsurfers (half day, full day or weekly).
Trexler's Marina
(603) 253-7315 in Moultonboro also rents sunfish (daily or weekly). Unfortunately, it is not currently possible to rent a sailboat or windsurfer in Weirs Beach. For more information about sailing on Lake Winnipesaukee, please check out the
Lake Winnipesaukee Sailing Association
website.
The Akwa Marina Yacht Club, at 95 Centenary Avenue in Weirs Beach, doesn't rent boats, but it does offer yearly club memberships, which entitles members to reserve a boat at any time they like, as long as one of the club boats are available.
WATERSKIING AT WEIRS BEACH
Many of the marinas that rent waterski boats also rent waterskiing equipment. Or you can try Sports & Marine ParaFunalia (603) 293-8998 in Gilford, which rents waterskis, kneeboards and wakeboards.
A ski boat from the Weirs Ski Club tows a trick skier (look ma, no hands!) close by the Winnipesaukee Pier in the 1950's. Click
here
to enlarge.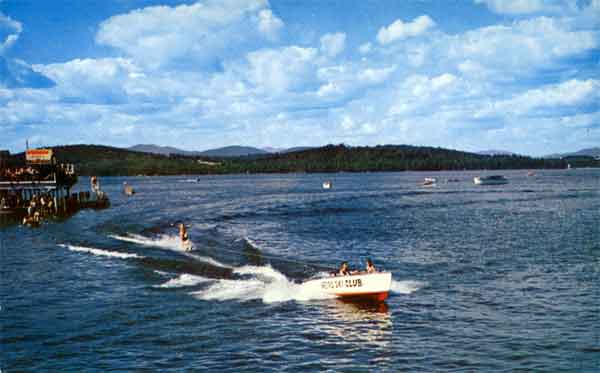 "The Weirs Ski Club Show", by Alton, NH artist Peter Ferber, depicts a 1960 water skiing exhibition and was the cover art for the program for the 34th Annual Antique & Classic Boat Show, held in 2007. Click here to enlarge the painting and for additional info.
In 2012, the Abenaki Water Ski Club (603) 569-3017 will hold four AWSA East (Eastern region of the American Water Ski Association) competitions in Wolfeboro's Back Bay. The 2012 events (all start at 8am): the NH Open on June 23; the Lakes Region Open on July 28; the NH Championships on August 11; and the New England Slalom Championship on September 8.
CANOEING ON LAKE WINNIPESAUKEE
To rent a canoe or kayak, your best bet is Wild Meadow Canoes in Center Harbor, (603) 253-7536. In Gilford, Sports & Marine ParaFunalia rents kayaks, and Fay's Boat Yard rents canoes. For more information about rowing on Lake Winnipesaukee, please check out the Winnipesaukee Rowing Club website.
To explore Lake Winnipesaukee's lovely neighbor and NH's second largest lake, Squam Lake, visit the Squam Lakes Association's SLA Resource Center (603) 968-7336 on Route 3 in Holderness, where canoes, kayaks, and sailboats can be rented.
Several accommodation properties in Weirs Beach also offer various types of boating to their guests. Some charge a fee, while others provide boating free of charge, depending upon the length of stay. The Channel Inn offers kayaks and jet skis. The Naswa offers kayaks, canoes, rowboats, and paddleboats. The Lazy E Motor Inn offers kayaks, canoes, and paddleboats.
If you are trailering your own boat and are wondering where you will be able to launch it, the closest public facility to Weirs Beach would be at the Meredith town docks. If you don't mind paying a fee to launch your boat, there are launching faciltiies at Lakeport Landing Marina (603) 524-3755 in Laconia, and in Gilford, at Fay's Boat Yard (603) 293-8000 and the Ames Farm Inn (603) 293-4321. Finally, if you are staying at Christmas Island, free boat launching is offered to guests. Click here for a complete list of launch sites around the Lake.
Please keep in mind that, although you may be able to launch your boat, unless you have made arrangements for a private dock space, you will need to remove it from the lake by the end of the day. At the Weirs Beach public docks, overnight docking is prohibited between 2am and 6am. Between 6am and 9pm, public docking at Weirs Beach is limited to a maximum of three hours.
CAUTION: EVERY driver of a boat with a 25hp motor or above must either take an 8-hour safety course and/or pass a safety exam. Boat drivers will be required to carry their safety certificate with them, and violators without a certificate can be fined $50 for a first time offense and $250 for multiple offenses. (This regulation went into effect on January 1, 2008.)
If you are renting a boat and don't have a certificate, you will be able to take a scaled-down course from the rental agent, and, after passing a scaled-down exam, obtain a temporary certificate, valid for 14 days. You will not be able to get a temporary certificate more than one time, though.