Eating Places Elsewhere in Weirs Beach
EATING PLACES ELSEWHERE IN WEIRS BEACH
Below, in the 1940s-1950s, the
Rose-Edward Lodge and Cabins
were located where the Akwa Marina Beach Bar is today. This postcard shows the Main Lodge and two of the cabins.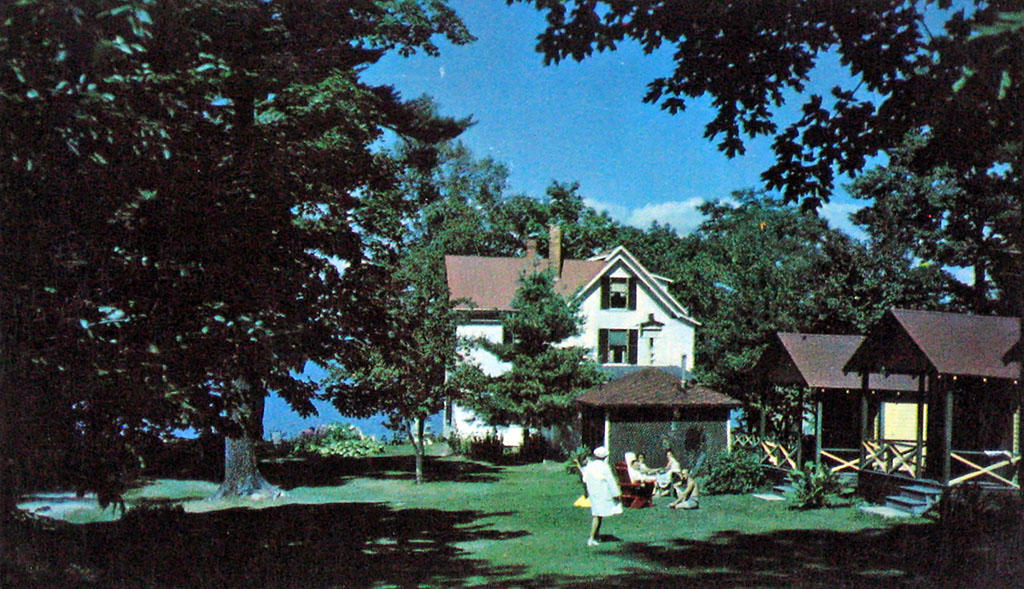 Below is the dining room of the Laconia Tavern, which was the main hotel in downtown Laconia from the late 1930s through the 1960s. Built in 1912, the Laconia Tavern had little competition after the nearby Eagle Hotel came down in 1937. Its biggest claim to fame was on June 23, 1955, when President Eisenhower stayed overnight on a brief visit to town. In the 1980s, the hotel was converted to apartments offering affordable senior housing.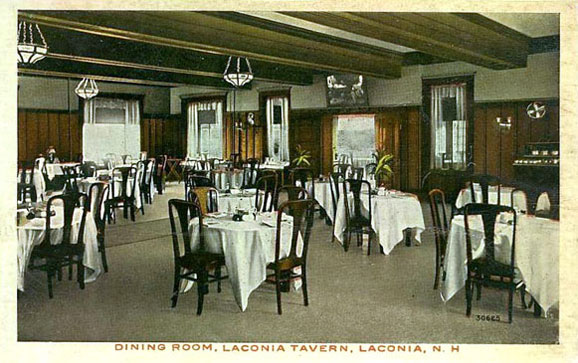 Why are there so many Chinese restaurants in the area?
The Lakes Region has an interesting connection to China, which might explain the preponderance of Chinese dining locations to be found in the area. Madame Chiang Kai-shek and her relatives spent time in the 1950s at a place known as Spruce Acres on Wolfeboro Neck. That was after the Chinese Communists, led by Mao Zedong, defeated the Nationalist Chinese in 1949. Madame Chiang, the wife of Nationalist Chinese President Chiang Kai-shek, was at one time one of the most powerful women in the world, having been featured along with her husband as Time Magazine's "Man and Woman of the Year" in 1938. She was born in 1897 and lived to 106 when she died in 2003. She was the the youngest daughter of an American-educated Methodist minister, Charlie Song, who made a fortune in banking and printing and sent all six of his children, three daughters and three sons, to be educated in America. Soong Mei-Ling, as she was originally known, had actually attended a summer camp and school in Meredith around 1912. Another sister, Ching-ling also attended the same school with her. The school was run by Harriet Moses, better known as "Aunt Hattie Moses", and was established on Meredith Bay in 1905. The school for girls was located on Pleasant Street.
Speaking at a 1962 meeting of the Meredith Historical Society, Joseph Smith, who later became a prominent lumber dealer and owner of the Wicwas Lodge at Meredith Center, said he had taken a job at Fred Beede's store on Meredith's Main Street and delivered groceries by horse and wagon to customers around town. Smith said he would often give rides on the delivery wagon to girls enrolled at the school as they walked to and from the village. Mei-Ling and her sister were among them. They were very pretty and quite a curiosity for a sleepy little village like Meredith at the turn of the century, he said. Smith, with his brother Frederick, longtime headmaster of New Hampton School, and their wives, were at a movie in Laconia, when during the Pathe newsreel, a clip was shown featuring China's President Chiang Kai-shek and his beautiful young wife. "Hey, that's Mei-Ling," Fred said, elbowing Joe in the next seat. "By gory. I can't believe it. How could you forget her?" Joe said.
An article about Madame Chiang, "The Future Madame Chiang Learns to Swim in Meredith", can be found on the Meredith Historical Society website here.