Board the M/S Mount Washington in Center Harbor, Wolfeboro, or Meredith and take a relaxing cruise to Weirs Beach. You can also drive your own boat, or a rental boat, to the public docks in Weirs Beach, where there is ample boat docking space.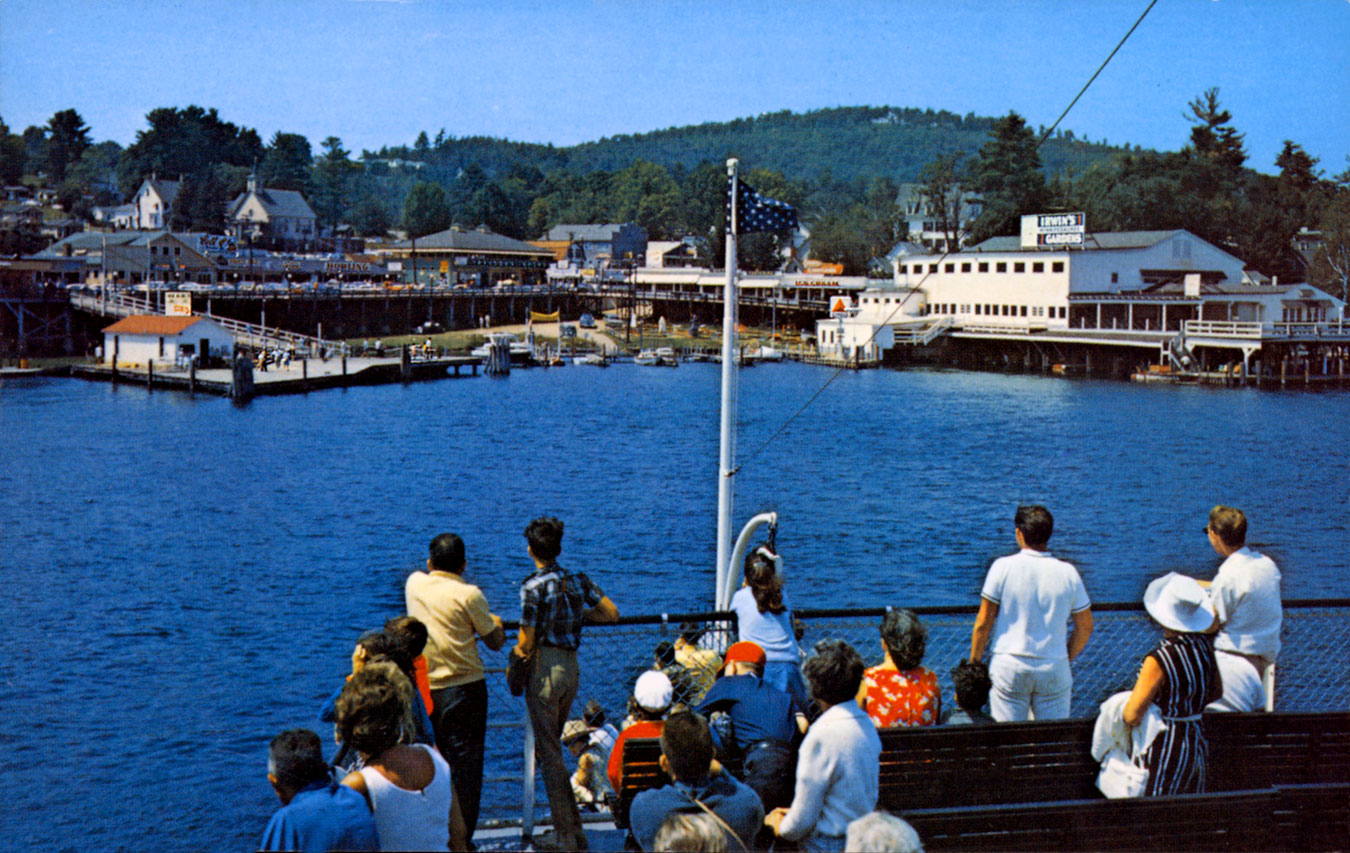 HISTORY OF THE WEIRS PUBLIC DOCKS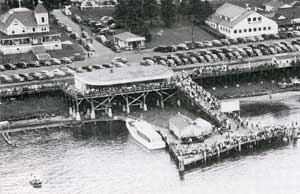 In the 1947 aerial above, although the train station and wharf had been rebuilt, the public docks were still waiting for reconstruction, following the disastrous 1939 fire which destroyed the original Mount Washington. In July 1946, the NH State Planning and Development Commission released a report on the re-development of the Weirs waterfront. The report noted that "…the City of Laconia acquired waterfront control from the Boston and Maine Railroad in 1941." The report made recommendations for street parking as well as "Boat Berthing and Landing Facilities". In early 1948, the docks were finally rebuilt by Edward Lavallee. The new wharf opened in late May, and was 224′ long by 16′ wide, with five slips, two 72′ long, and three others varying in length from 36′ to 55′.
Around 1957 a footbridge (see the photo below) was added to the public docks, but they still had not been extended southward towards the beach. The footbridge expanded the available docking space considerably, by allowing boats to pass underneath and park in the shallow interior enclosure of the public docks. On October 27, 1958, the Laconia City Council authorized funds for construction of "Marina type docking facilities", where "…boats could dock or leave at will without disturbing other craft, as is the case sometimes in the old style arrangments." By the summer of 1959, the docks had been extended south another 120 feet towards the beach, providing space for "eight cruisers and a number of smaller boats." Click here for a photo montage of the public docks in the 1950s.
Today, the docks are considered inadequate. Boats are much larger than they were in the 1950s, and the docking bays are not spread apart enough to prevent trapping. Also, the interior closure is now too shallow for docking.
A photo from August 1973 shows the footbridge; while several B&M railroad "
Budd Rail Diesel Cars
" pay a visit to Weirs Beach.