Adjacent to the Half Moon Shops, you can satisfy your sweet tooth at Cook's Candy Kitchen (603) 366-5035 where you'll find all the summertime favorites, from candy apples to salt water taffy, from fudge to fine chocolates. Cook's also has a large selection of T-shirts.

Other candy shops in the Weirs Beach area include Kellerhaus (603) 366-4466 at 259 Endicott St N.; and 603 Candy (603) 366-5639, at 604 Endicott St N., across from Funspot.
Other clothing stores in the area include an un-named t-shirt shop on the Winnipesaukee Pier; and Lake Vibes, next door to 603 Candy, at 604 Endicott St N.
Finally, for general merchandise, there is Weirs Beach Convenience and Gifts (603) 366-9310, at #1198 Weirs Boulevard.
HISTORICAL GIFT SHOPS
Karen's Gift Shop, 1960s. Located across the street from the Naswa until the late 1990s. The building is still there, but it is no longer used as a gift shop.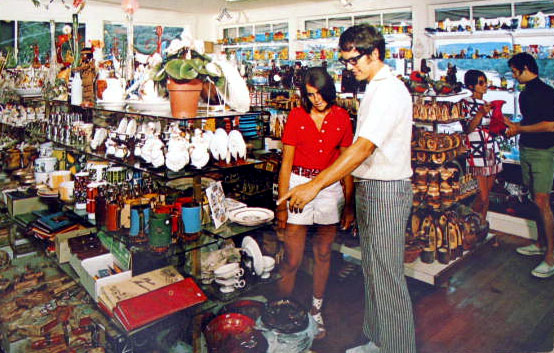 Pinney's Gift Shop in the 1940s. To the left was a small stand called the Weirs Candy Kitchen, replaced in 1950 by Tarlson's Arcade. The Pinney building was later expanded with a large annex to the right. The building and annex, at #292 Lakeside Avenue, became part of the Tower Hill Tavern complex in 2021. Click here to enlarge and to see a photo of the annex.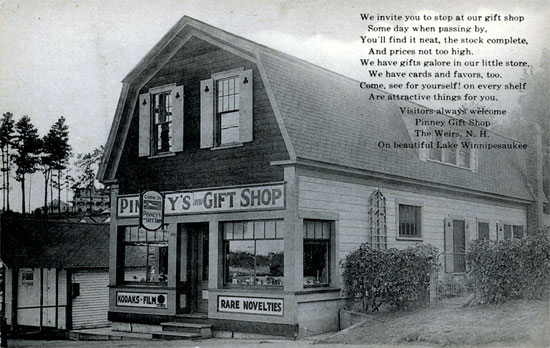 Masseck's Gift Shop, 1906-1924. This building preceded Pinney's Gift Shop, in the same exact location. It was a family business, owned by Clinton S. Masseck and his wife Mary Lee, who together with their son, Clinton J. Masseck, specialized in photography of the area. Many of the postcard images of this era were photographed by the Massecks. The building burned down in the Great Weirs Beach Fire of 1924. In the early 1930s, Mary, a widow by that time, built a new gift shop building, where she resided in an owner's apartment. In May, 1943, Mary sold the gift shop to Mrs. Pinney.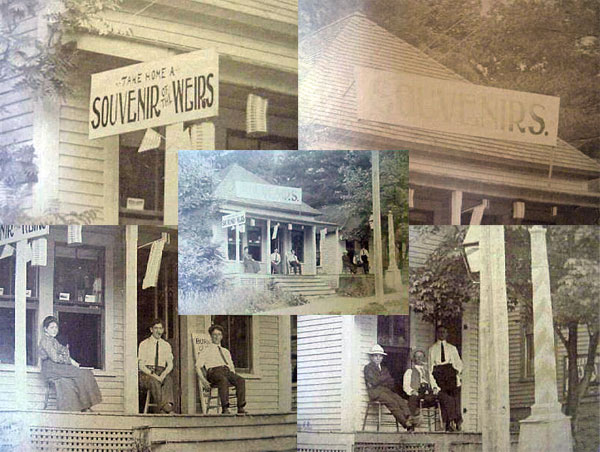 Below, a souvenir creamer of Spindle Point, with the Masseck name on the bottom.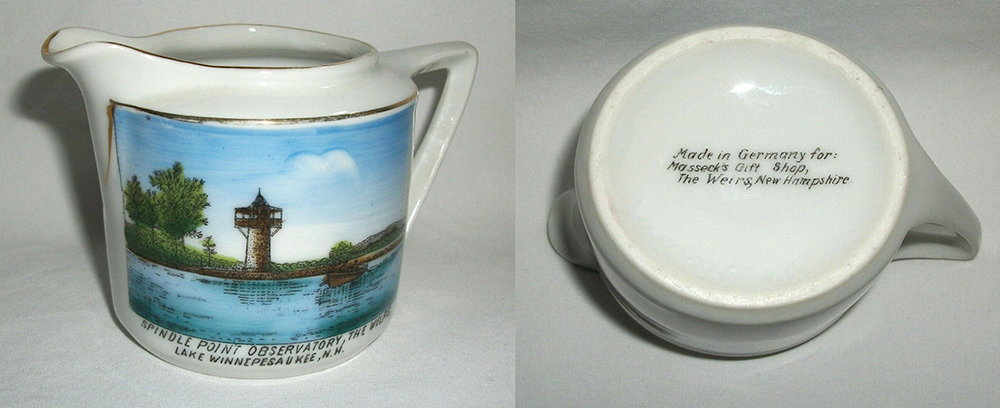 The Clow Sisters Gift House in Laconia was very popular from the 1930s-1960s.