New Hampshire Photo Tour #3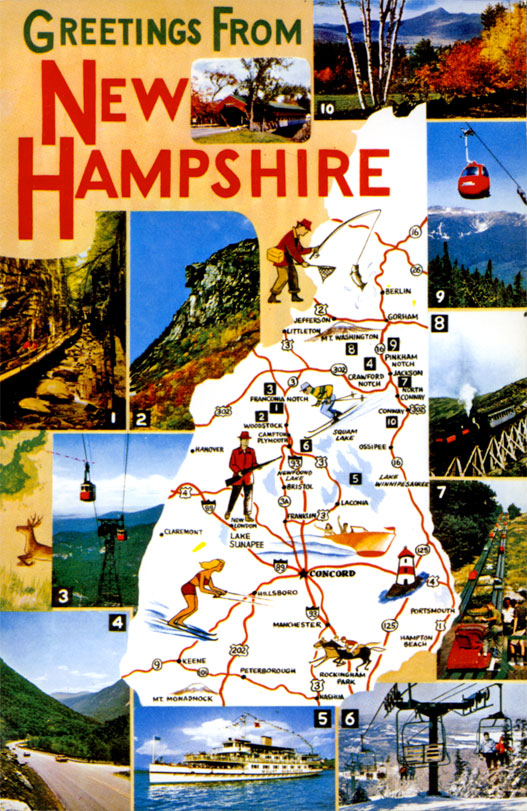 GREETINGS FROM NEW HAMPSHIRE
Multiview postcard published circa 1960 by Bromley & Co. Numbers correspond with the above postcard. Click on a number to see the original, full size photo.
These views are historical, and while some still exist, other views are long gone. NH's state emblem, the Old Man of the Mountains, collapsed on May 3, 2003. The original 24-passenger 1938 Cannon Mountain Tramway (#3) was replaced with a new 70-passenger tram in 1980. Cranmore replaced its 1938 Skimobile lift (#7) with a high speed quad chairlift in 1989. Wildcat replaced its 1958 Gondola (#9) in 1997. Interestingly, the Wildcat replacement, a high speed quad chairlift in the winter, is converted to a 4-passenger gondola for sightseers during the summertime. The Mt. Sunapee ski area replaced its early 1960's vintage Summit double chair with a triple chair in 1988; in 1998, the summit triple was in turn replaced with a high speed quad.
Still in operation are the Jackson (Honeymoon) covered bridge; the Mount Washington Cog Railway (#8); and the M/S Mount Washington cruise ship (#5) on Lake Winnipesaukee. And NH's beautiful natural landscapes – the Flume Gorge (#1), Crawford Notch (#4), and Mt. Chocorua (#10) – all endure.