The best time to go beach
WALKING
is anytime. At dawn, the sun rises over the Ossipee Mountains, showering the beach in golden light of amber and ochre. At dusk, the setting sun illuminates the Ossipee Mountain range in indigo hues of violet and lavender.
During the morning or afternoon, you should continue your walk to the stone bridge over the Weirs channel, from where you can observe the beach, the boat traffic below and the beautiful mountains in the distance.
VIEWS TO THE NORTH FROM THE WEIRS CHANNEL BRIDGE
Below are views of the Weirs Channel. Click
here
to for several more north-looking views of the Weirs Channel from the 1950s-1960s.
VIEWS TO THE SOUTH FROM THE WEIRS CHANNEL BRIDGE
Compare the photo above, taken in 1999, to the similar postcards below, dating from 1906 & 1910! (For an interesting modern-day aerial shot of the Weirs Channel, click
here
.) In the first postcard, the Belle of the Isles is steaming South.
The Aquedoctan Stone Bridge over the Weirs Channel
History of the Weirs Channel Bridge
Click here to see several rare stereoview photographs – the earliest known photos of the bridge over the Weirs Channel – along with interesting information about these early wooden versions of the bridge.
This steel bridge, known as a lenticular truss bridge because of its curves that resemble a convex lens, was built over the Weirs Channel in 1883, at a cost of about $2000; but it was not built strong enough for the Laconia Street Railway trolley cars; and so it was replaced by a new steel structure in 1899.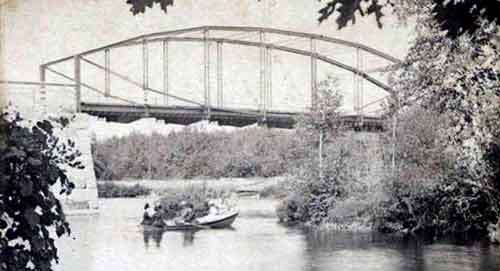 The steel bridge that was built in 1899 over the Weirs Channel to carry electric trolley cars from Laconia to Weirs Beach. The trolley service continued until 1925. The type of bridge is a Pratt truss bridge. Invented in Boston in 1844, the Pratt truss is a common type of railroad bridge that can be constructed in various configurations.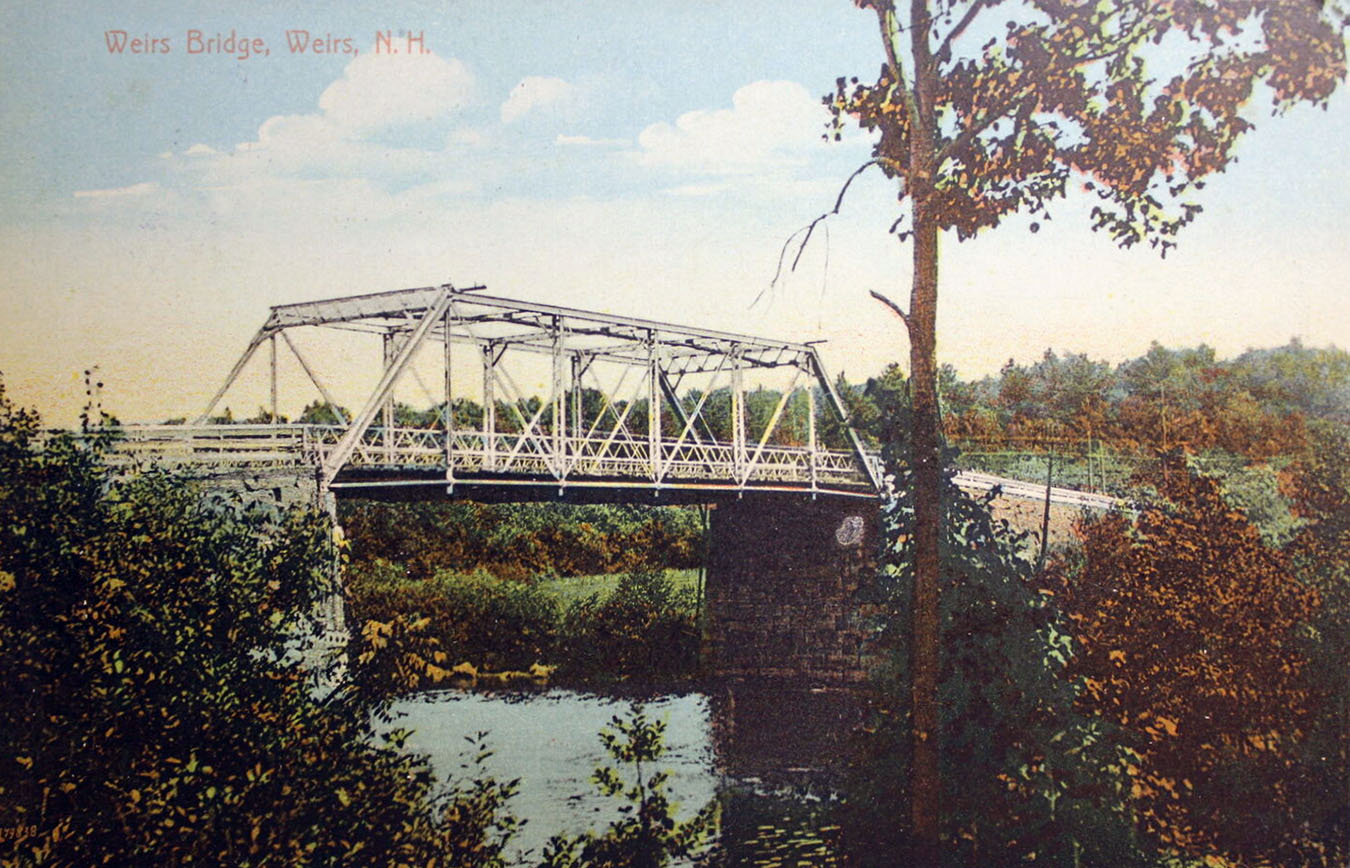 The Laconia Street Railway open-air trolley heads north to Weirs Beach, while an early automobile heads south. The U.S. mailboat Uncle Sam passes underneath. Click
here
for bonus pictures.