Postal service, banking services and more
HISTORY OF THE WEIRS BEACH POST OFFICE
First post office in Weirs Beach:
"Weirs Bridge"- opened August 1, 1849
Official name change to"Weirs" (dropping the word "Bridge") – October 10, 1884
Official name change to"Weirs Beach" – Probably 1956
Zip Code 03246 for all of Weirs Beach began July 1, 1963
Zip Code 03247 for PO Boxes only began March 18, 1983
The Weirs Station
. From around 1945-1990, the Weirs Beach Post Office was located in this very small building, which still stands at 350 Lakeside Avenue, on the SW corner of the intersection with Foster Avenue. Prior to that it was located on the Winnipesaukee Pier, and before that, further down Lakeside Avenue. Click on the Weirs Station link above for a photo gallery with extensive Weirs Beach Post Office history.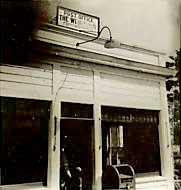 Laconia Post Office History
Added to the National Register of Historical Places in 1986
Official name change to "Laconia" (from "Belknap County") – July 26, 1855