Shoreline of the Methodist Campground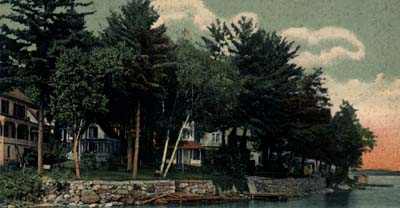 In the early 1870's, Methodists discovered that Weirs Beach provided the perfect setting for their summer religious meetings. In January, 1874, 13 acres were purchased for $2000 for a "camp-meeting ground."
By the 1890's, the Methodist campgrounds had evolved into a densely settled colony of cottages and cabins close by the lake. A path along the shoreline was built and became very popular for summer strolls.
As decades passed the summer cottages and cabins were sold off to others, so there is little Methodist character to the area today. However, this area of Weirs Beach is still referred to as the "campgrounds" and a principle street is still named "Methodist Circle".
In 1886, the Methodists built a Church on Tower Street. After the Church burned on November 9, 1924, in the Great Weirs Fire, a new church was built in 1926, which is still in use today.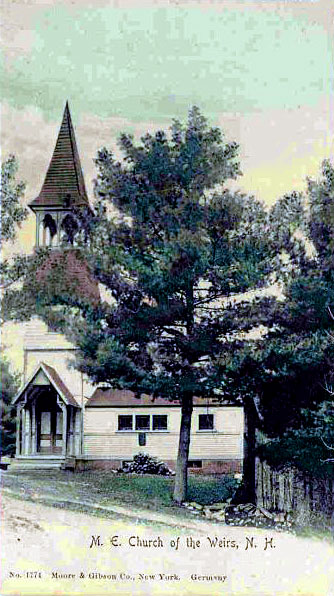 Besides the Methodists, many other Christian denominations found Weirs Beach an ideal place for their week-long summer meetings, as did the New Hampshire Music Teachers' Association, which had begun its annual retreat in 1890. In 1893, the Baptists held their meeting from July 15 to July 22; the Music Teacher's held their 4th annual music festival from July 24 to July 28; the Unitarians held theirs from July 30 to August 6; the Universalists held theirs from August 7 to August 13; and the Methodists held theirs from August 14 to August 20.