No visit to Weirs Beach would be complete without an excursion out onto Lake Winnipesaukee. From Weirs Beach, even with its vast view, you are only seeing a small part of a huge Lake. In the center of the Weirs Beach boardwalk, you'll see a train station where tickets can be purchased for the cruise boat the M/S Mount Washington, and her sister boats, the US Mailboat M/V Sophie C. and the M/V Doris E. There are morning, afternoon, and evening cruises. There are 1 hour, 2 hour, and 3 hour cruises. There are dinner, dance, sunset, family, foliage and fireworks cruises, so there's really no excuse for not getting out onto the lake.
Since 2020, Tiki Hut Boats of NH (603) 396-2380 has been conveniently located at the Winnipesaukee Pier in Weirs Beach. The Tiki Hut boats are available for 90 minute express cruises, 2-hour private charters, and a Reggae night on Wednesdays.
The Mount cruises across Weirs Bay.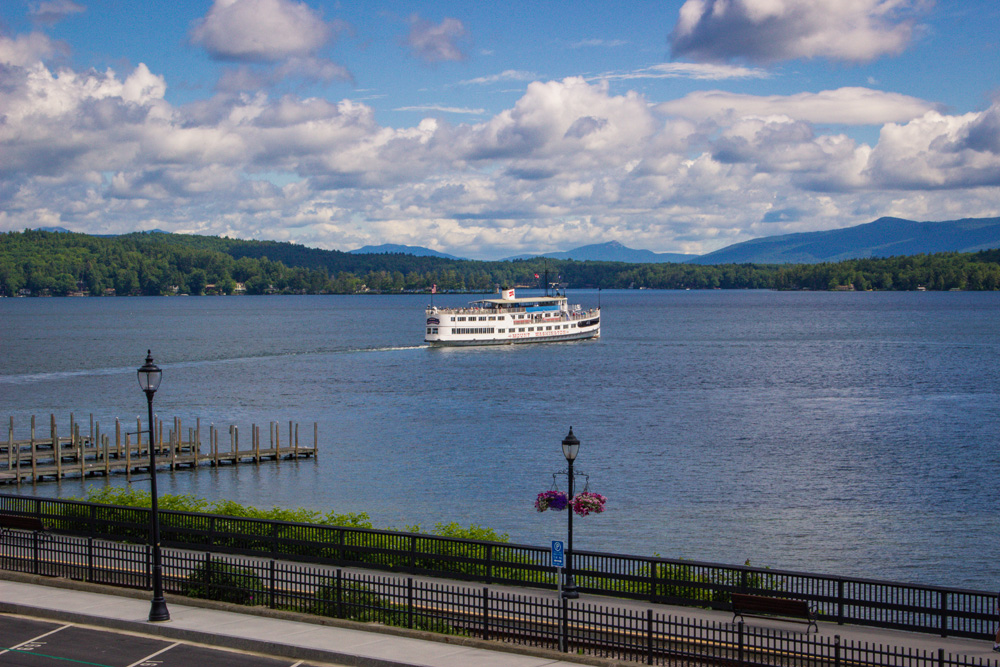 Visitors chat on the front deck of the Mount, docked at its berth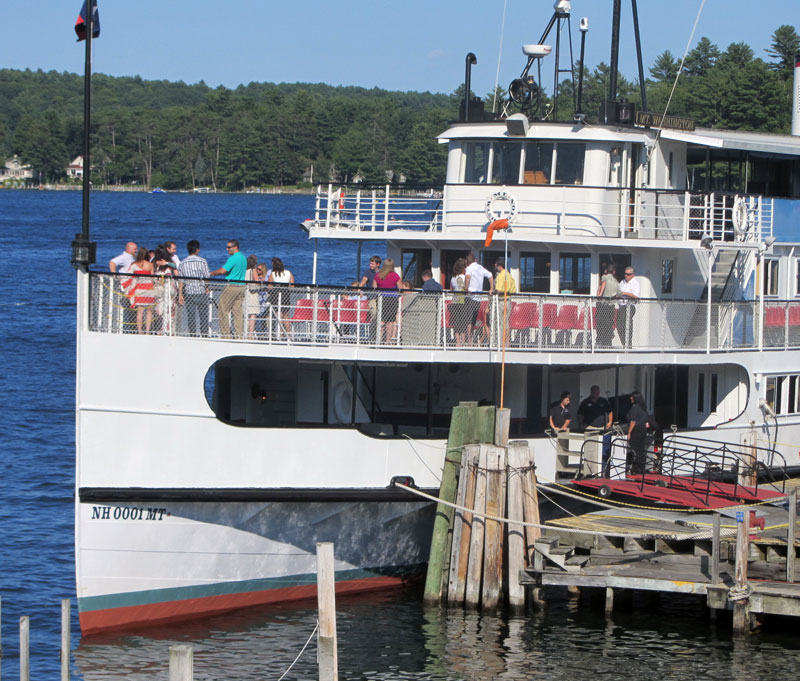 The Mount leaves a noticeable wake behind shortly after leaving Weirs Beach in August, 2012. Contrast the contemporary leaving photo with historical photos of the original Mount steaming away from Weirs Beach.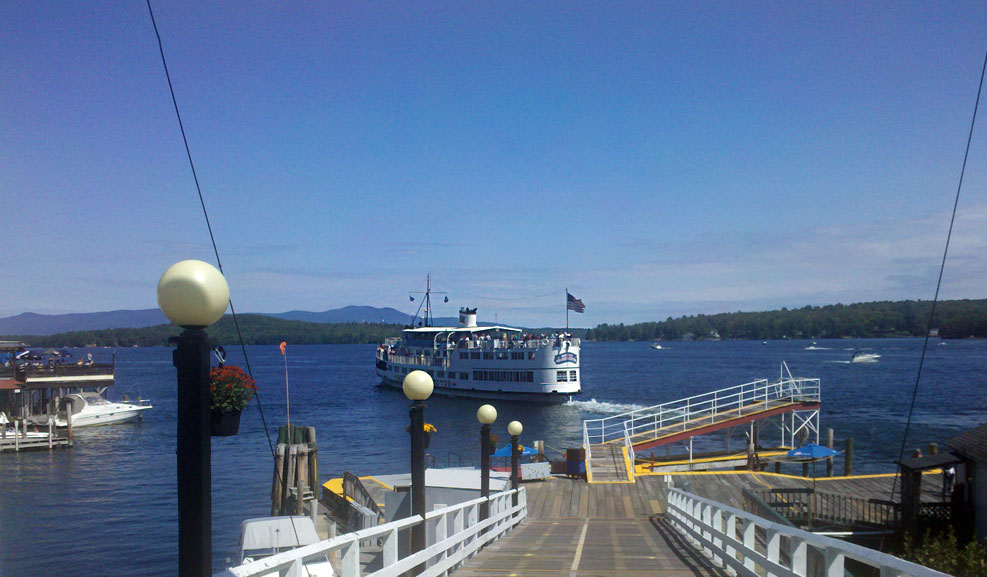 Passengers loading the Mount in October, 2019. Contrast the contemporary loading photo with historical photos of passengers loading the original Mount steamship.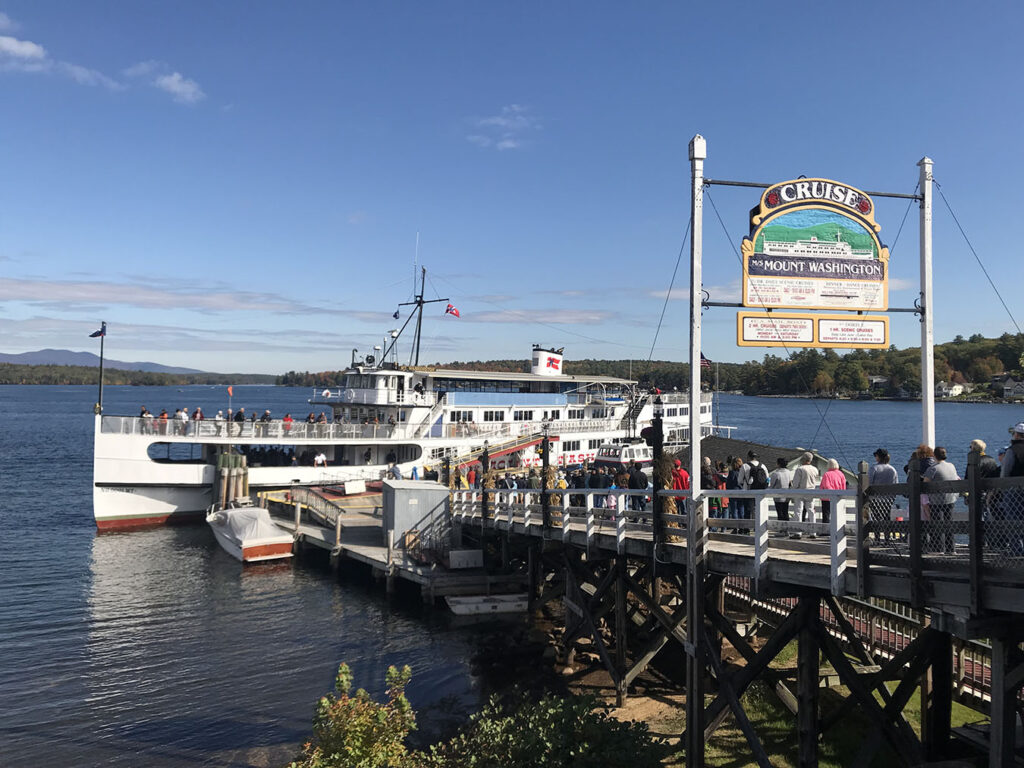 The Sophie C. – click here to enlarge her and also the Doris E.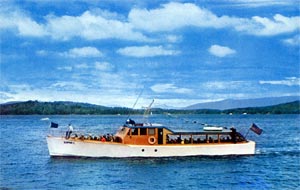 HISTORICAL CRUISE SHIPS
The Mount in the late 50's – prior to her 1983 expansion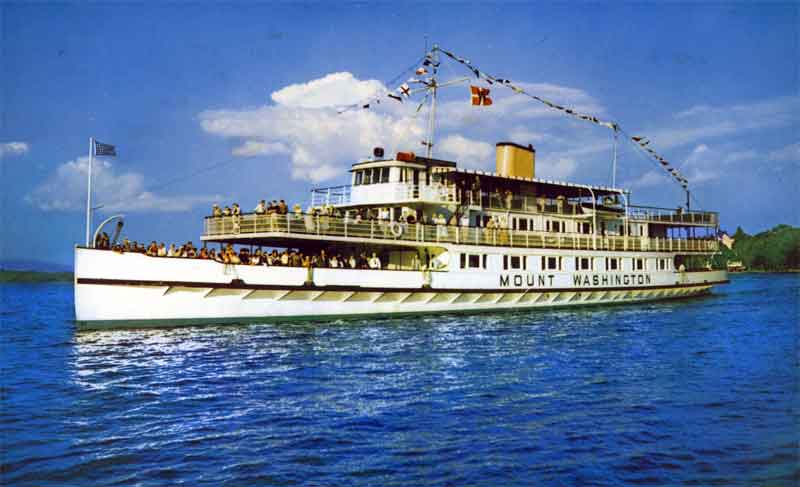 The original steamship Mount Washington steams away from the Weirs Wharf in 1912. Click here to enlarge this postcard as well as to see other historical photos of the original Mount leaving Weirs Beach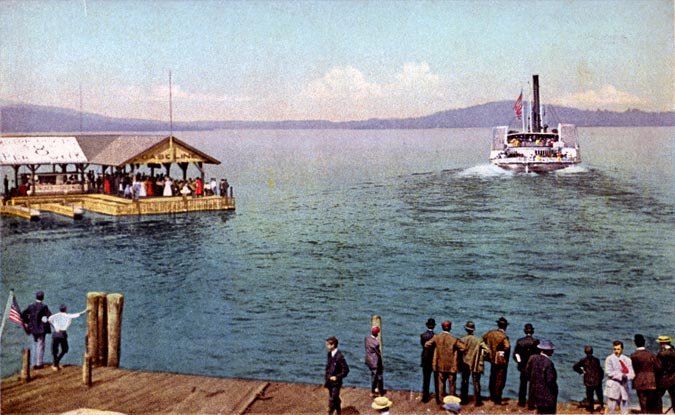 Duck boat tours were offered in Weirs Beach for a couple of summers in the early 2000's.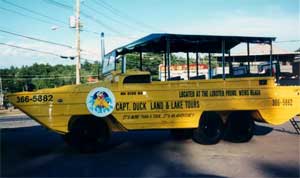 A water taxi service was offered in Weirs Beach for a couple of summers in the mid 2000's.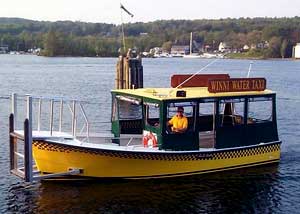 Many other Weirs Beach boat tour services have come and gone over the years. The Foxy was one of the better known of these defunct services.
Below is a photo collage of three new cruise boats and three old cruise boats. From left to right, top to bottom: the old Mount Washington, 1872-1939; the new Mount Washington (before its 1983 expansion), 1940-present; the new mailboat Sophie C., 1945-present; the Doris E., 1962-present ; the Governor Endicott, 1905-1929; the old mailboat Uncle Sam, 1906-1961. Click on each link to see an extensive collection of images.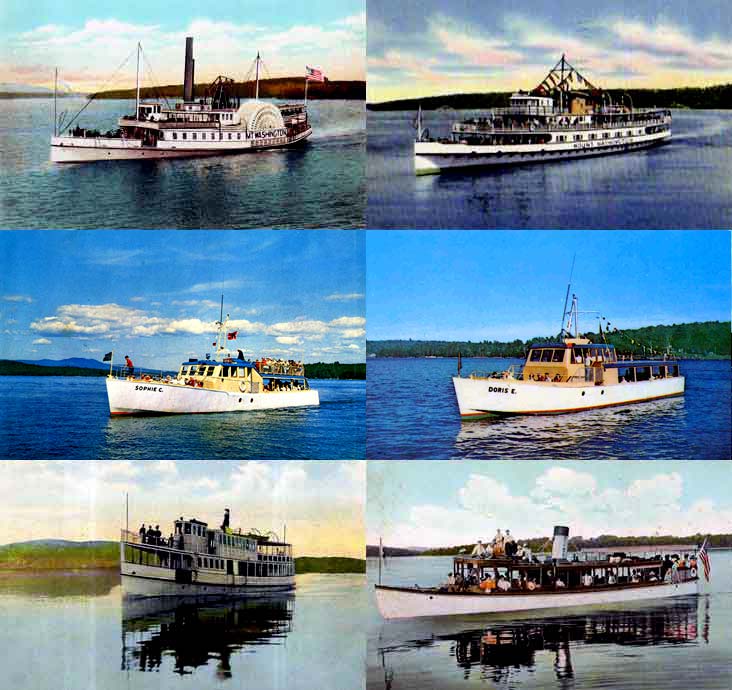 In 1849, the original cruise boat in Weirs Beach, the Lady of the Lake, began services. Click here to see a collection of Lady of the Lake (1849-1893) images.
The Uncle Sam mailboat, circa 1960.