Events that enjoyed a long history in Weir Beach, but that are no longer being held, or have relocated elsewhere, include: Montreal-Boston Tour, Quilts at the Weirs, The Bass Federation Eastern Division, boat carnivals and exhibitions; boat races of all types – steamboats, wooden inboard-engine speedboats, fiberglass outboard-engine speedboats, hydroplanes, and most recently, massive offshore power boats, which raced down the Broads of Lake Winnipesaukee in the 1990s; sailboat regattas; water skiing races and exhibitions; helicopter rescue demonstrations; parachute jumping exhibitions, and beauty pageants.
The recent absence of boating events from Weirs Bay is very likely due to its increasing congestion. In 1939 there were only 1681 boats registered on the entire Lake, in 1948, 2496 boats, and in 1955, 3753 boats. By 1979 there were more than 15,000 boats, according to one study. In 2003, there were 100,835 boats registered statewide. It would be safe to assume that today, there are at least 50,000 boats on Lake Winnipesaukee!
Here are some other events that have had their own webpages on WeirsBeach.com, but have recently gone defunct. The last year the event was held is in parentheses:
Timberland Triathalon (Ironman 70.3 Timberman) (2022)
Soul Fest (2022)
City on the Lakes Triathlon (2018)
The Tough Mudder (2018)
Smokin Stangs Mustang Rally (2014)
Lake Winnipesaukee Relay Race (2014)
Lakefest Raft-a-Palooza (2014)
Granite State Autorama (2012)
White Mountains Track Car Meet (2012)
It is interesting to speculate whether these events will ever return in the future. There may be newer events many years from now that cannot even be imagined today.
A skydiver lands on Weirs Beach, early 1970's.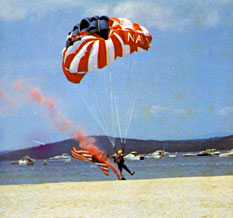 Five waterskiers, pulled by one ski boat, pass between the ski jump and the public docks, Boat-O-Rama, 1964.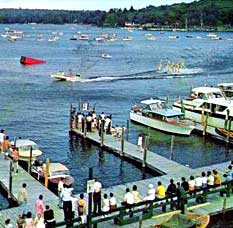 A helicopter churns the water off the Mount Washington Wharf, 1950's.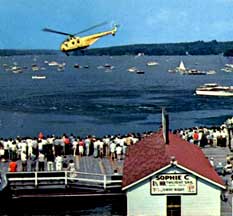 A late 1920's speedboat race. Lakeside Avenue houses are in the background.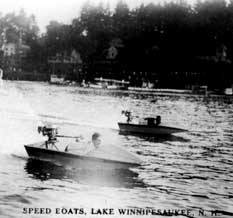 Offshore power boats gather at "Aqua Fest" at the Weirs Beach public docks, 1996. Click here for a larger picture.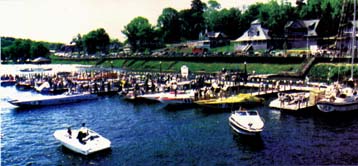 "Sailboat racing on Lake Winnipesaukee, Weirs Beach, New Hampshire. Exciting races are held every weekend."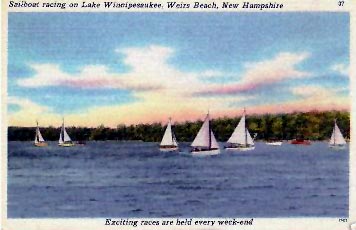 A boat carnival in the 1900's. Click here to enlarge the postcard, and for many, many more additional photos of boat carnivals and private wharves; and for info about the lake steamer Belle of the Isles and the yacht Swallow.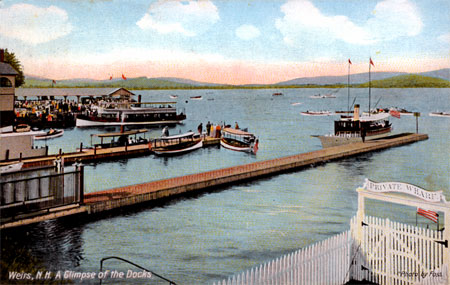 The Miss Winnipesaukee beauty pageant was held in Weirs Beach, at Irwin's Winnipesaukee Gardens, from 1925-1968; and from 1969 – 2000 at various closeby venues including Funspot, Laconia High School, and Gilford Middle School. Since 2001 the pageant has been held at Gunstock, in Gilford.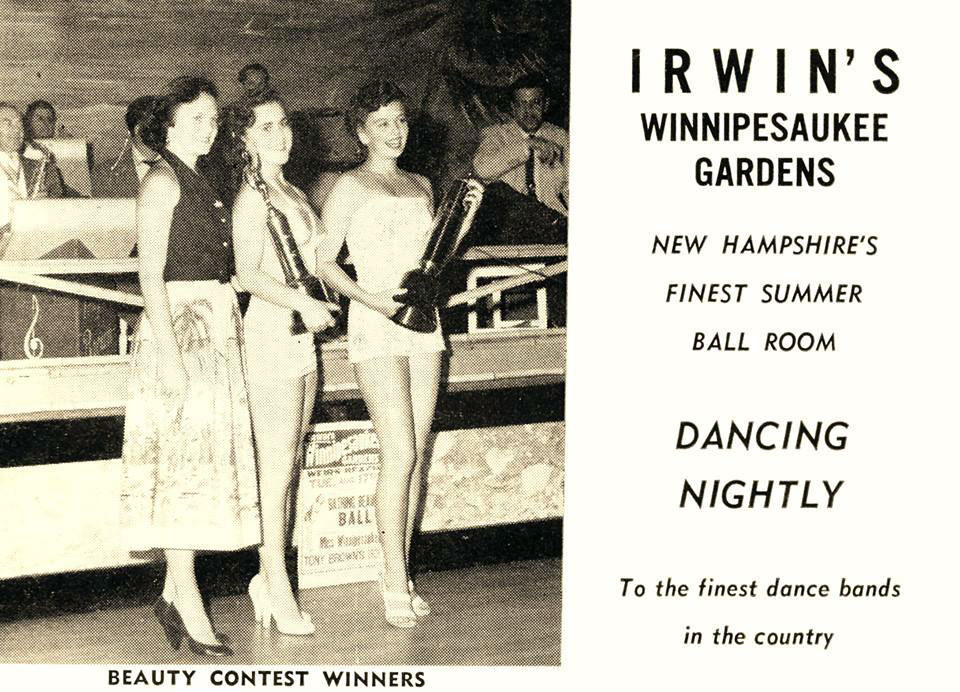 Below photo shows the 1952 Miss Winnipesaukee, 3rd from left.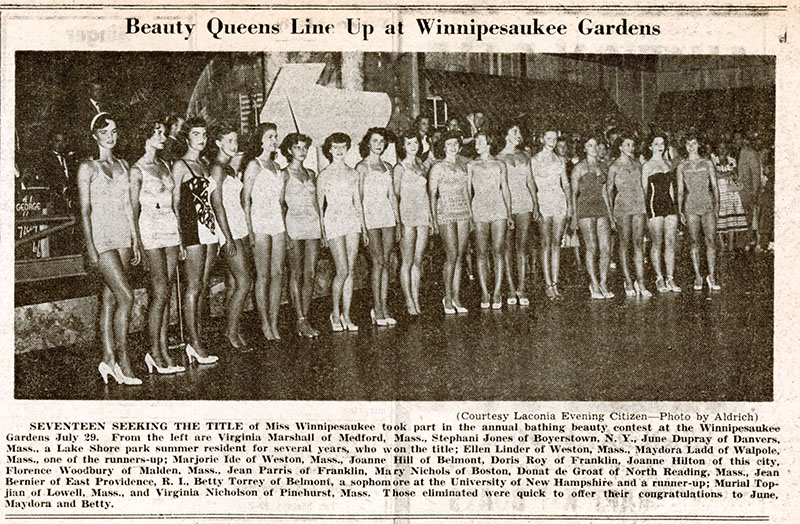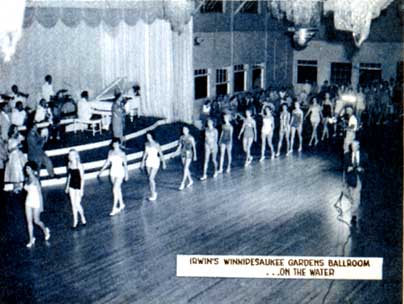 Click here to enlarge this photo of five bathing beauties.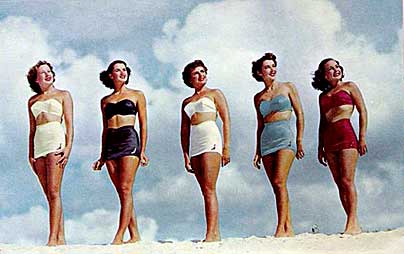 Miss New Hampshire 1954 (Mae Allen), was on the cover of the 1955 Weirs Beach brochure.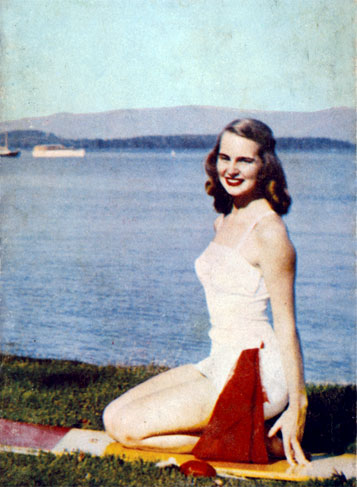 Miss New Hampshire 1955 (Margaret Johnson), was on the cover of the 1956 Weirs Beach brochure.