There are two churches located right in Weirs Beach.
For those of the Jewish faith, Temple B'Nai Israel , at 210 Court St near downtown Laconia, was built in 1937. The Temple expanded in 1955 with the construction of a social hall, and again in 2001 with the addition of a classroom wing.
HISTORY OF CHURCHES IN WEIRS BEACH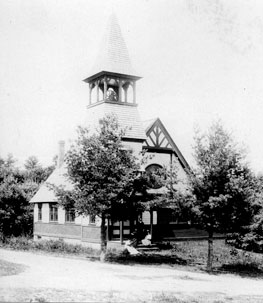 The Cornerstone Christian Fellowship is located in the former
Grange Hall
, at the corner of Foster Avenue and Lakeside Avenue. The Grange Hall featured an auditorium that seated about 100. The webmaster recalls, as a child in the early 1960's, attending a Halloween party at the Grange Hall, where a magician "levitated" an audience volunteer several feet off the stage in a prone position. I still wonder how it was done!
HISTORY OF CHURCHES IN LACONIA
The Sacred Heart Church and residence at 291 Union Avenue in Laconia. The wooden residence was replaced with a brick one.
The St. Joseph school was built to the right of the church in 1921. The building became a bank branch from the 1990s to 2012. It is currently the offices of the St. André Bessette Parish.
Not to be confused with the school is St. Joseph Church, which is located at 30 Church St. in downtown Laconia. The church is threatened with demolition. The St. Joseph Preservation Society is working to save the church.