There are two churches located right in Weirs Beach.
HISTORY OF CHURCHES IN WEIRS BEACH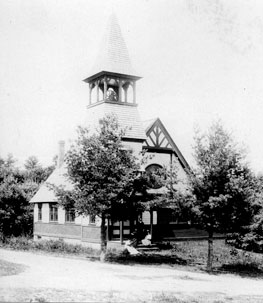 The Cornerstone Christian Fellowship is located in the former
Grange Hall
, at the corner of Foster Avenue and Lakeside Avenue. The Grange Hall featured an auditorium that seated about 100. The webmaster recalls, as a child in the early 1960's, attending a Halloween party at the Grange Hall, where a magician "levitated" an audience volunteer several feet off the stage in a prone position. I still wonder how it was done!
HISTORY OF CHURCHES IN LACONIA
The Sacred Heart Church and residence on Union Avenue in Laconia. The wooden residence was replaced with a brick one.