For about 30 years (from the early 1980's through 2013) there were one or two water parks in Weirs Beach. They are now HISTORY. There are now no operating water parks in Weirs Beach.
There have been two water parks in Weirs Beach. At the very entrance to Weirs Beach was the first water park, the Weirs Beach Water Slide. There were four slides, which actually passed around, and through, a giant volcano! The slides and volcano were torn down in the spring of 2014. In 2017, the lot became the Boardwalk Bar & Grill. Click here for an aerial photo of the water park before it was torn down.
The second water park in Weirs Beach also no longer exists. The park closed after the 2006 season, and the slides were finally torn down during the winter of 2016. (Leaving Weirs Beach, turn left at the Weirs Beach sign, cross the bridge over the Weirs Channel and head straight onto Route 11-B. In about 100 feet, turn right onto White Oaks Road, climb the hill, and you will see the former grounds of the Surf Coaster on your left. It's a little bit of a walk from Weirs Beach, but still manageable.)
This water park, Surf Coaster U.S.A., which opened on July 1, 1983, was consistently rated by travel guides as one of the best in New England. The park featured a variety of slides, including "Thunder & Lightning," twin, 125-foot tall high-speed body slides; "Hurricane & Tornado," two super-fast slides with a 4 second ride; "Monster & Beast," twin 400-foot long winding slides; and "Crazy River," an inner-tube ride. The park also featured a huge, 500,000 gallon wave pool, and a kiddie "spray ground", which included little-kid sized slides and attractions. The park is currently for sale.
The Surf Coaster in July, 2012, six years after the park closed, showing considerable growth of vegetation.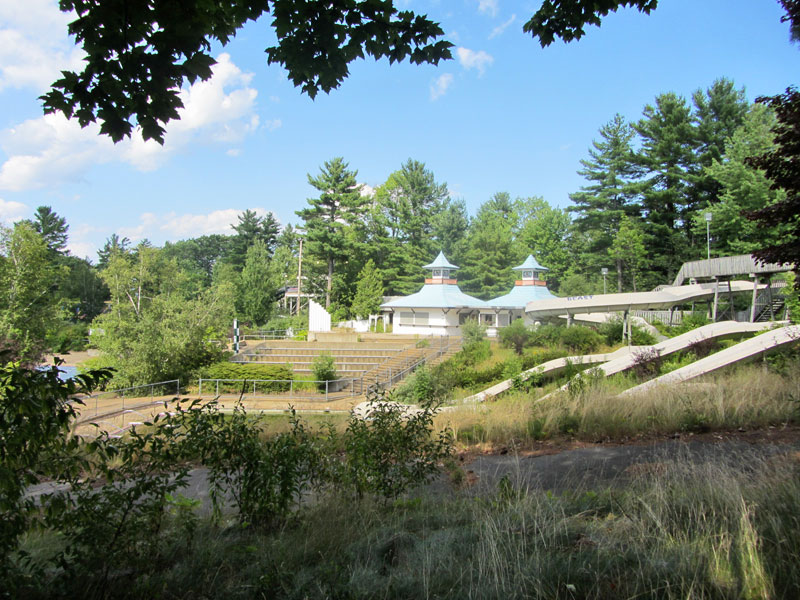 Here's a photo of the Surf Coaster when it was nearly brand new. From a 1986 Weirs Beach Chamber of Commerce brochure.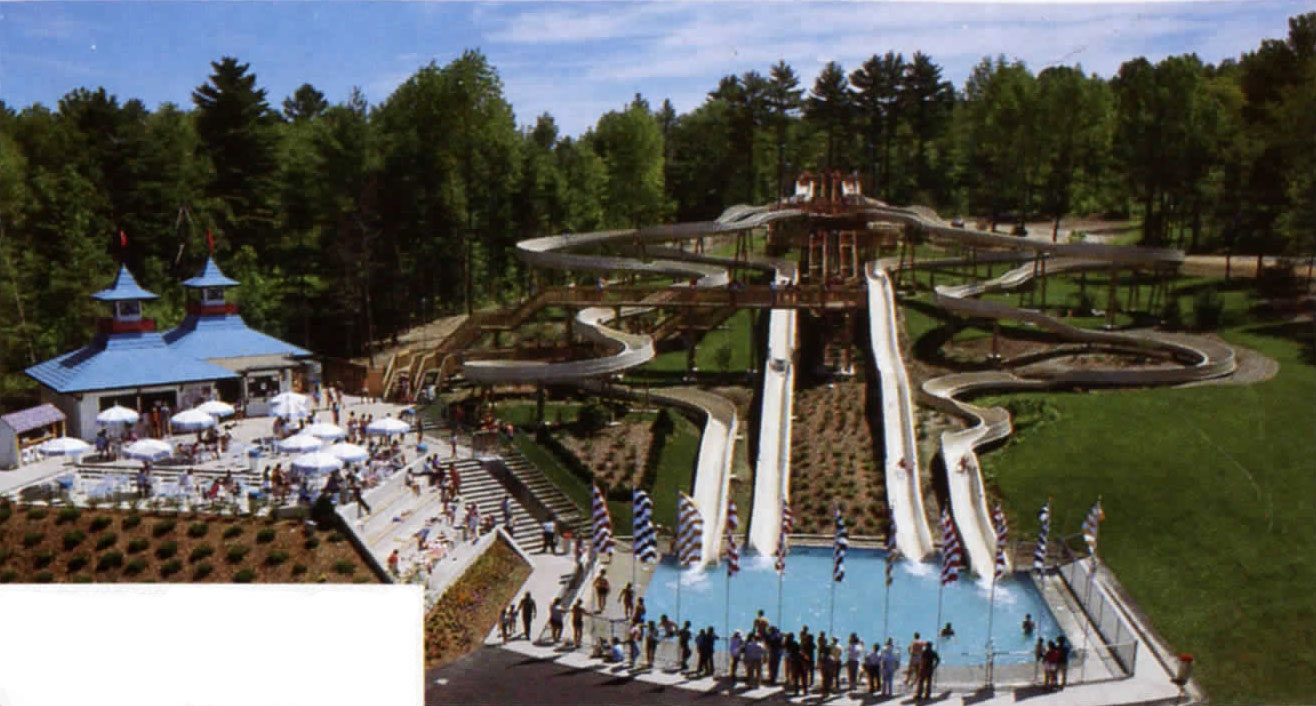 Weirs Beach Water Slide postcards, early 1980's
Weirs Beach Water Slide brochure, 1991 – before the mini-golf course and the volcano had been added.