When is the best time to go to the beach?
The best time to go SWIMMING is from the end of June through the end of August, when the water temperature is in the 70ºs—cool, clear and refreshing. In late May, early June, and September, water temperature is in the 60ºs —brisk and invigorating for a short dip. From October through April, water temperature is in the 50ºs or lower—time to put away the bathing suit. To see a typical summer's worth of water temperature data, click here.
You can check the current water temperature at Weirs Beach, from the State of NH's Lake Winnipesaukee monitoring station, by clicking here. Find the Lake Winnipesaukee monitoring station by moving your cursor over the triangles on the NH map. Click on the Lake Winnipesaukee triangle. Then, find the drop-down marked "Observed Reservoir Pool Elevation". Change the drop-down to "Water Temperature". You will see a graph with a month's worth of lake temperatures. To see today's water temperature, move your cursor until it is over the last dot in the graph.
The State of New Hampshire's Department of Environmental Services (NHDES) monitors the water quality of the beach at three different locations to make sure that it is safe for swimming. Each summer, the department sets up a Beach Monitoring Station at Weirs Beach, and a website where the results are reported. You can check the current status of Weirs Beach for swimming by clicking here. If the Beach is closed, it is usually only closed for a day or two. Longer term closures are rare.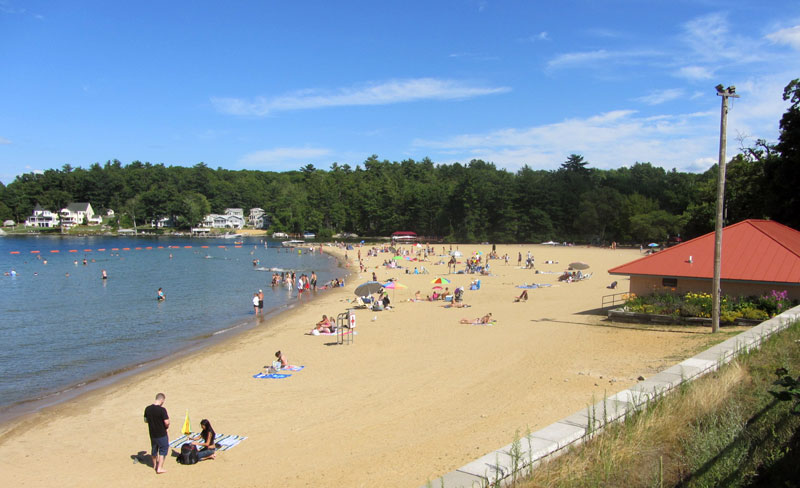 Below see a beautiful, nearly 360 degree panorama of the beach!
This photo, taken August 12, 2005 by Michael Costolo, is about a 3/4 circle, or 270 degree view, of the beach. Click here for more information and commentary about the photo and the photographer.

Another beautiful 1960's beach scene, showing the Mount departing Weirs Beach.