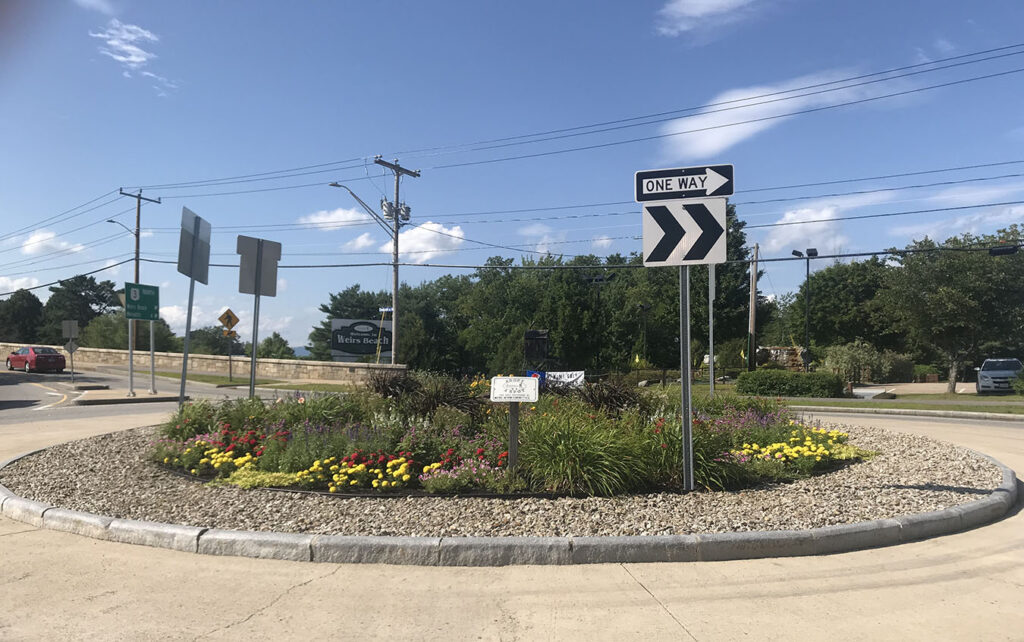 Blackstone Circle is the traffic circle at the three-way intersection of Weirs Boulevard (Route 3), Endicott Street East (Route 11B), and Endicott Street North (also Route 3). It is reached from the South just prior to crossing the Aquedoctan stone bridge over the Weirs Channel. The circle was constructed in the fall of 2013 and dedicated in late May, 2014. Prior to the creation of the traffic circle, this intersection was formally known as Blackstone Square, but informally as "Disfunction Junction". At a Weirs Community Hall meeting on August 13, 2009 to discuss a fix for an intersection that "mystified most drivers", Laconia Police Chief Mike Moyer noted that there had been "just shy of five dozen serious accidents at the intersection between 2002 and 2006". There were also many, many near-accidents due to the confusing layout of the intersection.
The intersection was named Blackstone Square in 1922 by Herbert A. Blackstone, who had taken command of the steamship Mount Washington in 1908. Captain Blackstone had owned and built several of the smaller steamships on the Lake prior to his 1908 appointment. During the 1910's, he owned "Blackstone's Row & Power Boats"", a boat rental service and marine gas station at the Winnipesaukee Pier. Captain Blackstone named the square after his sons Guy H. Blackstone and Herbert W. Blackstone. Both of his sons had died of pneumonia while serving during World War I (23-year-old Herbert W. in Charleston, S.C., on Oct 12, 1918, and 31-year-old Guy H. in France, on Feb 11, 1919).
Below, the "Black Stone" at the center of Blackstone Circle.  It is just a stone with no intrinsic value.
In 2021, the Weirs Action Committee began on a project to replace the stone with a statue of a Vintage Motorcycle & Rider.