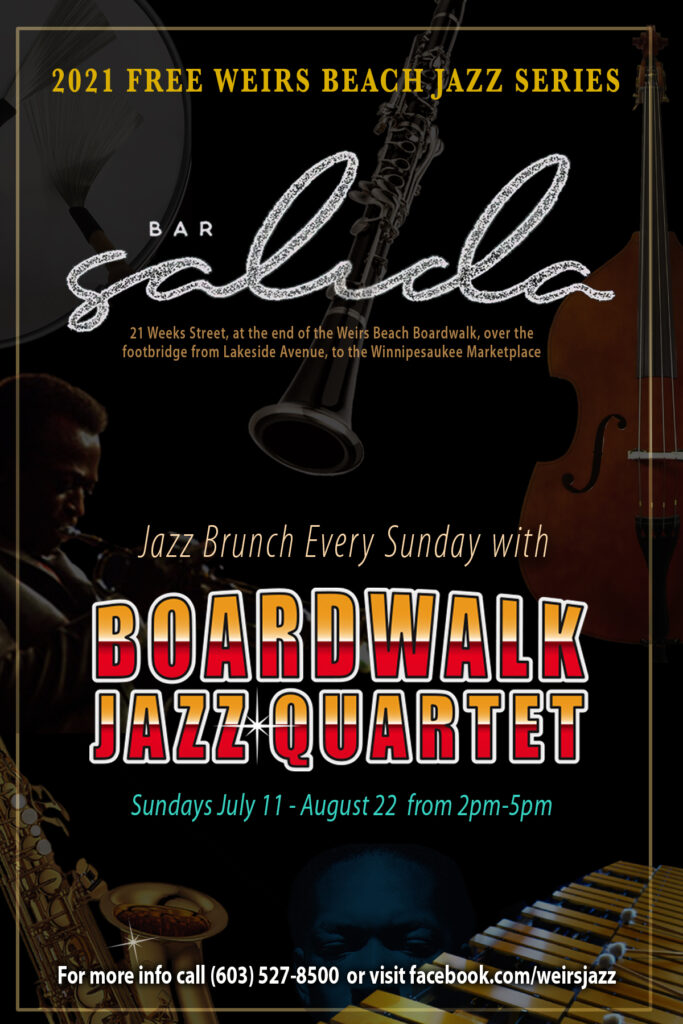 2021 Weirs Jazz Series
Weirs Beach:  The Weirs Jazz Series is back! At the same location, but with a cool new vibe. The series will be held on Sundays, from 2pm-5pm, from July 11-August 22, 2021, at Bar Salida, the new restaurant at the Winnipesaukee Marketplace in Weirs Beach. There's a new stage, a brand new bar, new seating, and great food. Come and enjoy a delicious jazz brunch while listening to the best jazz in town! The casual, outdoor Bar Salida is located at the end of the Weirs Beach boardwalk, across the footbridge from Lakeside Avenue. The restaurant is only a one-minute walk from the Weirs Public Docks. The restaurant is part of the Winnipesaukee Marketplace at 21 Weeks St, Laconia, NH 03246. For more info, visit weirsbeach.com/weirs-jazz-series; or visit facebook.com/weirsjazz; or call 603-527-8500.
Boardwalk Jazz Quartet featuring Rob Ames
The house band for the Weirs Jazz series, the Boardwalk Jazz Quartet, has been playing in Weirs Beach on Sundays in July and August for nearly 30 years. The group plays jazz standards from the 1930's through the 1970's, as well as arrangements of contemporary tunes and originals. The bandleader is Rob Ames, whose 2016 record album of all originals, "Songs from the Boardwalk", featuring his soprano saxophone playing, is available on iTunes, Amazon, Spotify, and elsewhere. The band features Alex Minasian on keyboards, Al Hospers on bass, and Craig Bryan on drums.
Sunday, August 1, 7pm-10pm
This Sunday's August 1st performance of the Boardwalk Jazz Quartet will be something truly special. The show will feature pianist Mike Levine, a smooth jazz artist from Miami, Florida, who has released four great record albums. His latest album, "Just Chillin", was released in February, 2021, and features South Florida's finest musicians. The group this Sunday will feature a selection of tunes from Levine's albums, and will also include 3 musicians added to the regular quartet. Local guitarist extraordinaire Jarod Taylor will appear, as will Miami bassist Nicky Orta and Miami vocalist Wendy Pedersen. This will be the highlight of this summer's jazz series. Don't miss it!