Seventh Regiment (1885-Present) in 1897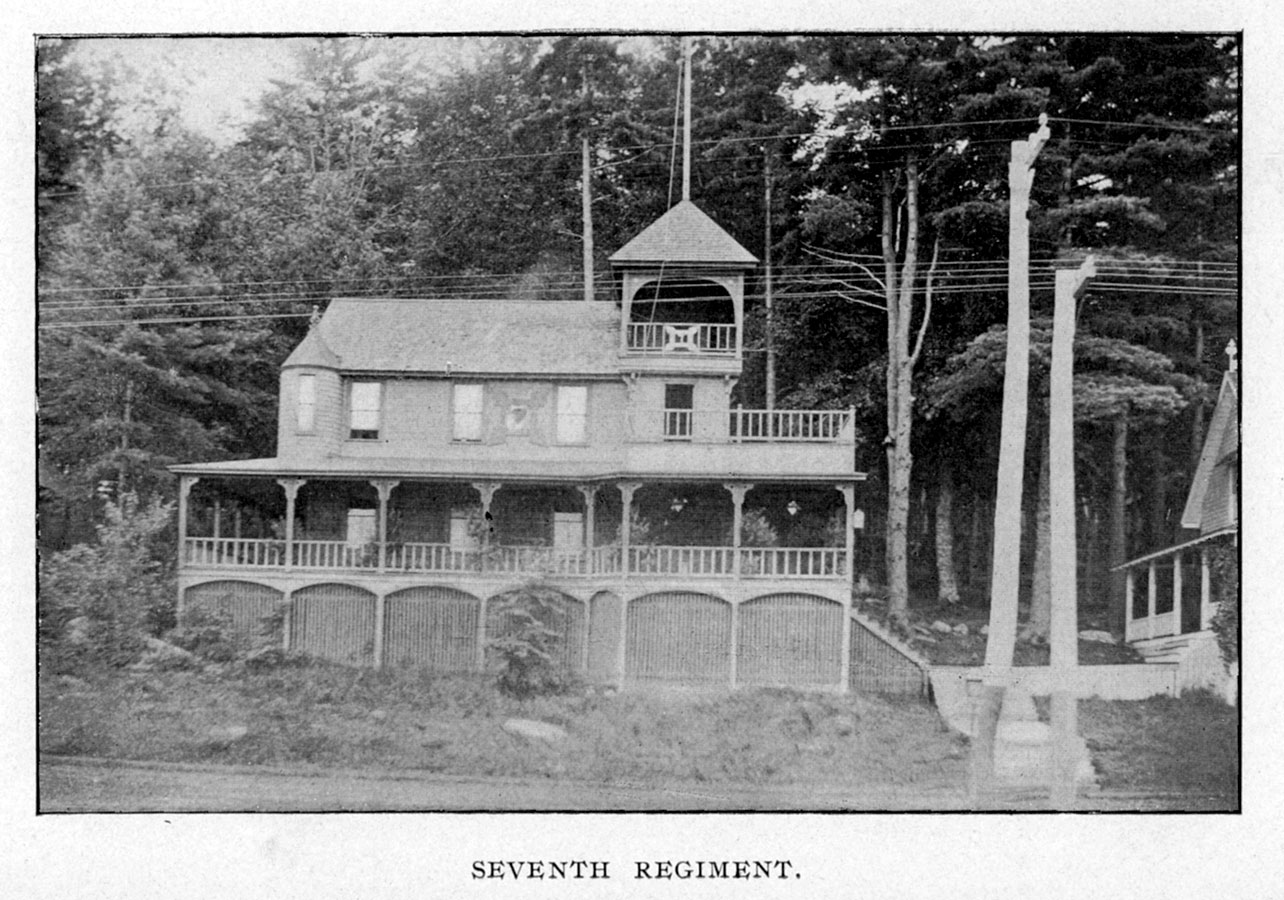 Seventh Regiment in 2007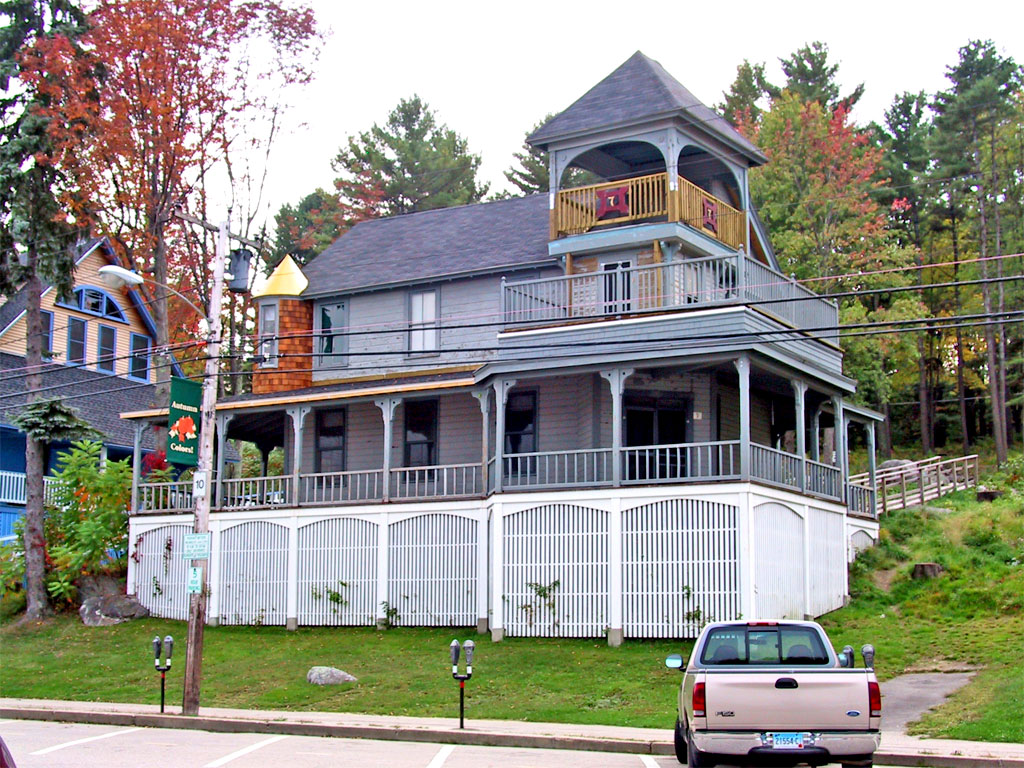 Above, a ribbon from the 1899, 23rd reunion of the 7th Regiment. Note the drawing of a fort on the ribbon. This represented Fort Wagner, the battle for which the 7th Regiment was widely renowned for fighting. There is a beautiful stained glass window commemorating the Fort Wagner battle in the main hall of the 7th Regiment building.
Below, 1901 ribbon, 25th reunion of the 7th Regiment, honoring Haldimand S. Putnam. An 1857 West Point graduate, Putnam became Colonel of the 7th Regiment in December 1861. As Brigadier General for the 2nd Brigade in the Second Battle of Fort Wagner, Putnam led not only the 7th Regiment, but also the 62nd and 67th Ohio and the 100th New York. He was killed in that battle.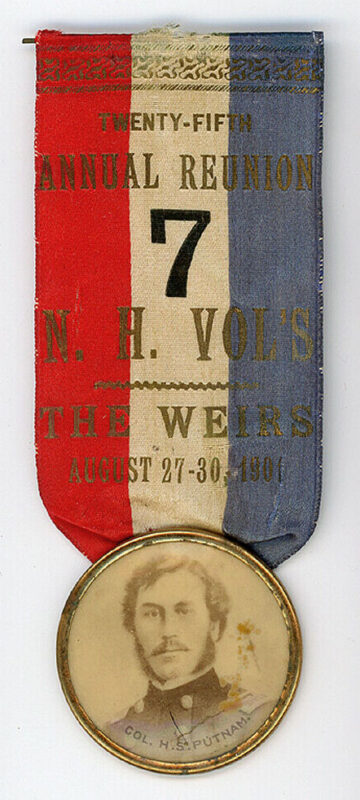 Below, 1908 ribbon, 32nd reunion of the 7th Regiment, honoring Joseph Freschl. A Bohemian Jew, Freschl had immigrated to the US in 1848, married in 1850, and worked as a wool sorter and ran a small store. He was mustered into the 7th Regiment on December 14, 1861, as Captain of Company "I". At the Battle of Fort Wagner, Freschl spent two weeks confined in a bomb shelter flooded with water and fell ill with malaria. He never fully recovered from the disease.  He resigned his commission on July 7, 1864, and received a pension for his disability, but the pension was suspended in 1876. Freschl fought unsuccessfully to recover his pension until his death in 1890.


Below, August 27-31, 1917 Seventh Regiment 41st reunion ribbon honoring Corporal Charles A. Hale. Hale enlisted as a Corporal in Company C, of the 5th New Hampshire Volunteer Infantry on September 28th, 1861, at the age of 20. After the war he traveled with one of the versions of the Gettysburg Cyclorama,, and was a Battlefield Guide. He is the person who tied the black bandana on Edward Cross' head before the battle of Gettysburg. It is unknown what his connection was to the Seventh Regiment.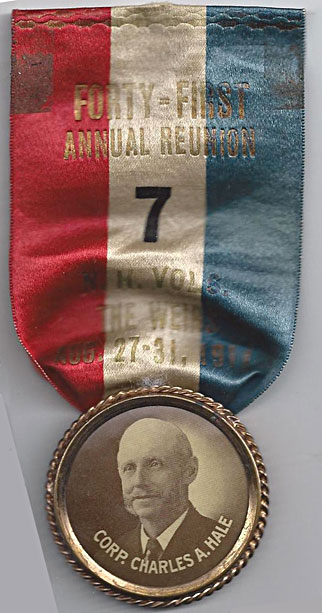 August 25-29, 1919 Seventh Regiment 43rd reunion ribbon honoring Lieutenant Heber J. Davis. Fought in the February 20, 1864 battle of Olustee, Florida. Wounded by a minie-ball in the neck, but he had the ball extracted by the surgeon and continued to fight. Wounded again on May 14, 1864 and on October 27, 1864. Discharged March 27, 1865.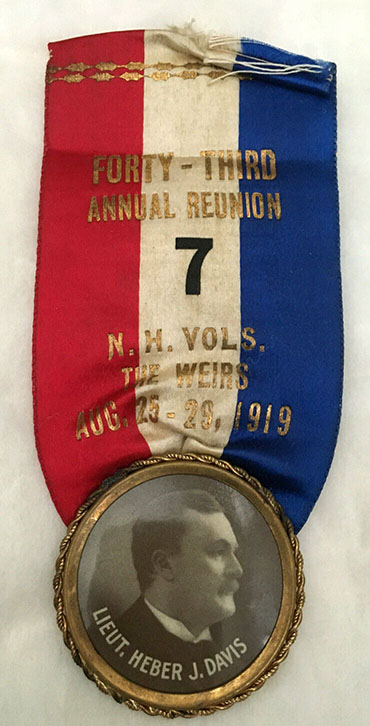 Seventh Regiment reunion, August, 1910, posed in front of their building.