Around 1880, on the left, the Mt. Washington locomotive is poised to return down the branch railroad to Fabyan's; on the right, the Cog Railway is ready to ascend to the mountaintop.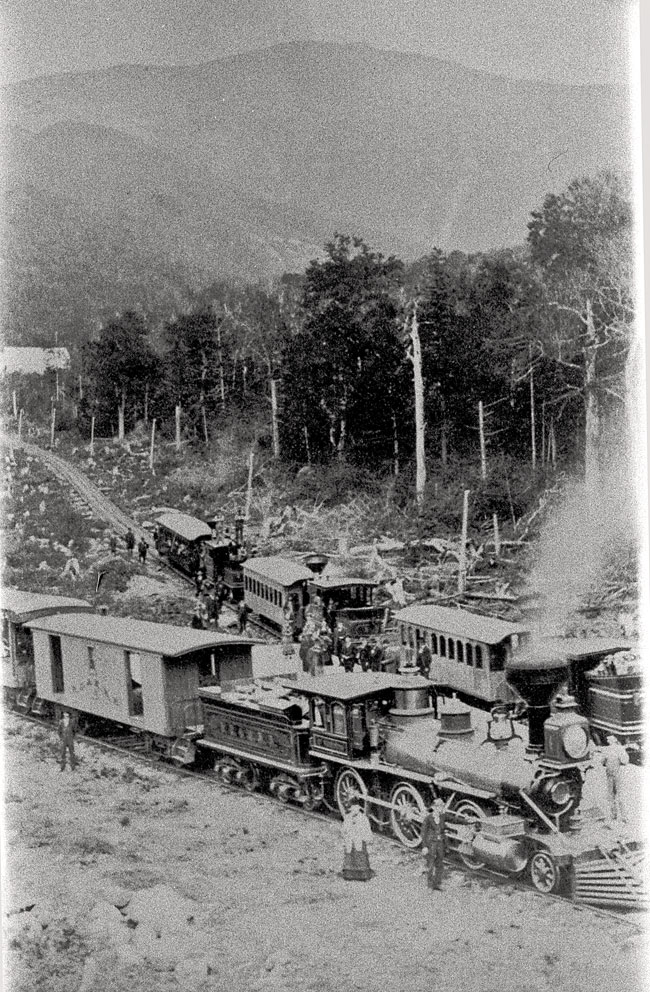 A Kilburn stereoview of the Mount Washington locomotive. The Cog railway can be seen ascending the mountain in the background.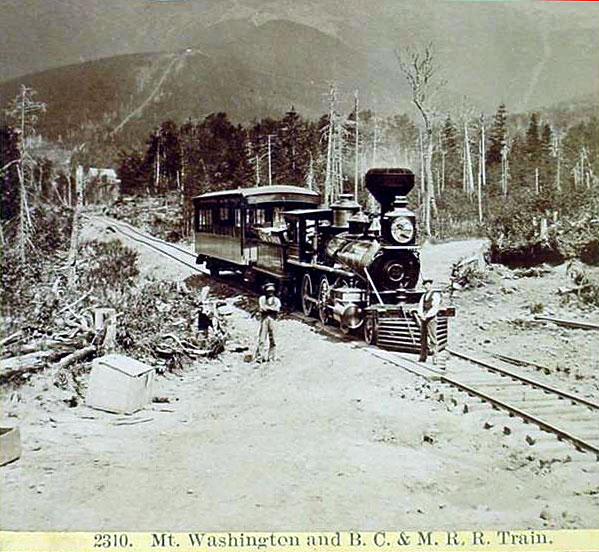 Customers aboard the Fabyan's-Marshfield open air coach in 1906.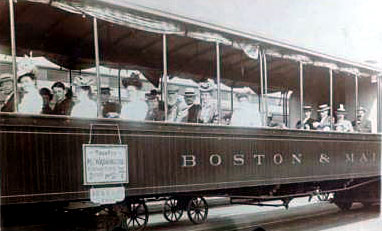 Customers aboard the Fabyan's-Marshfield open air coach in 1916. The sign reads as follows: "Train for Mt. Washington. Purchase Tickets at the Office. Photo No. 3. July 15 AM 1916.
The 1905 schedule. Apparently there were two trains a day in either direction – a morning and an afternoon train. Those taking the morning train up would have a couple of hours to spend on the summit before taking the returning afternoon train. Those taking the late afternoon train to the summit would have to stay overnight at the Summit House hotel.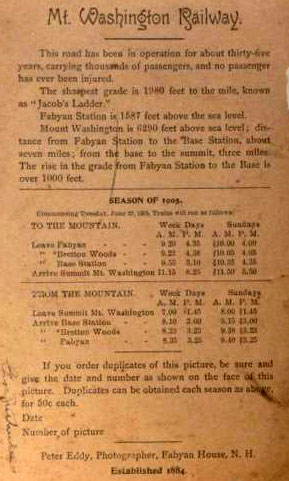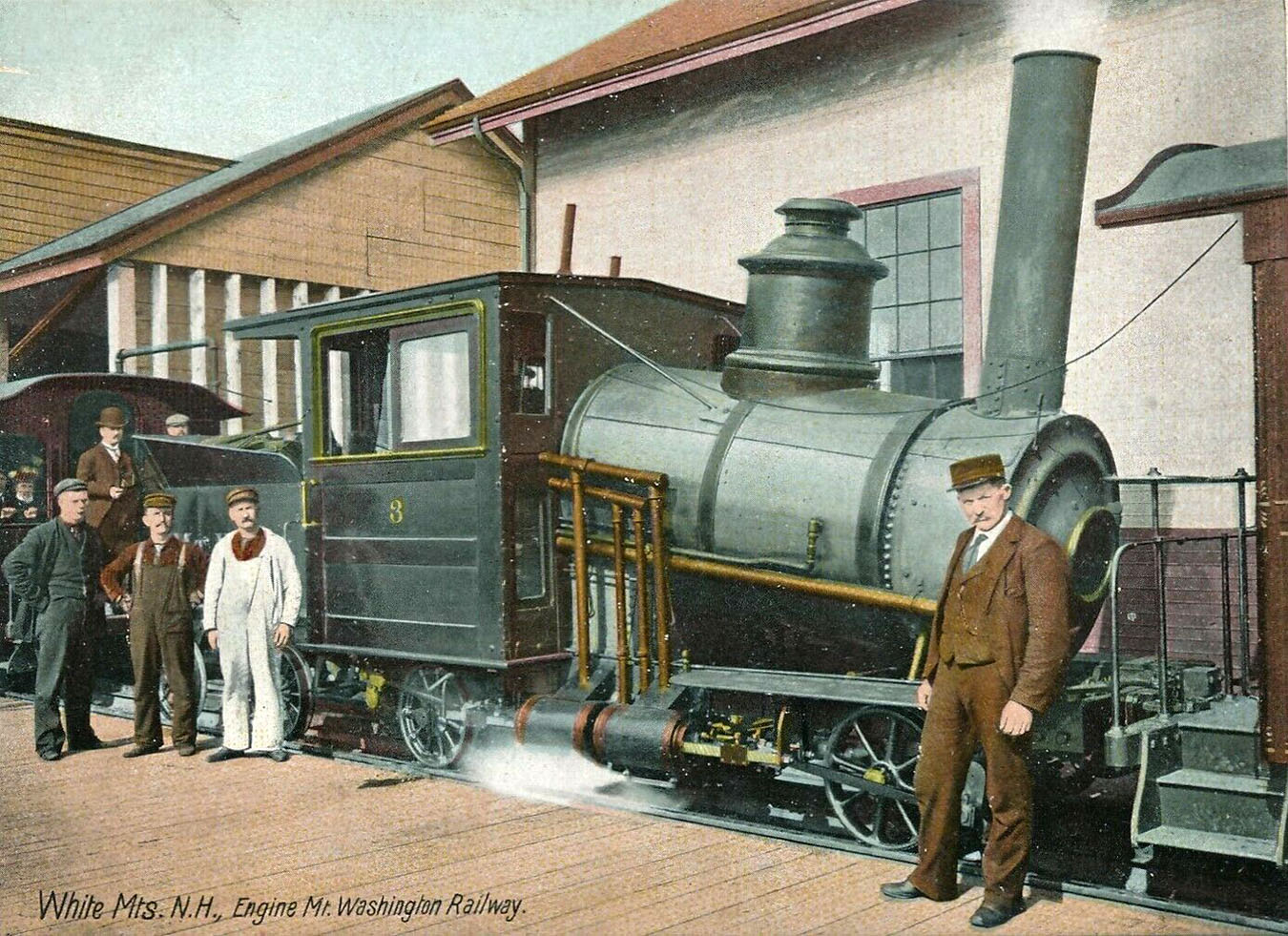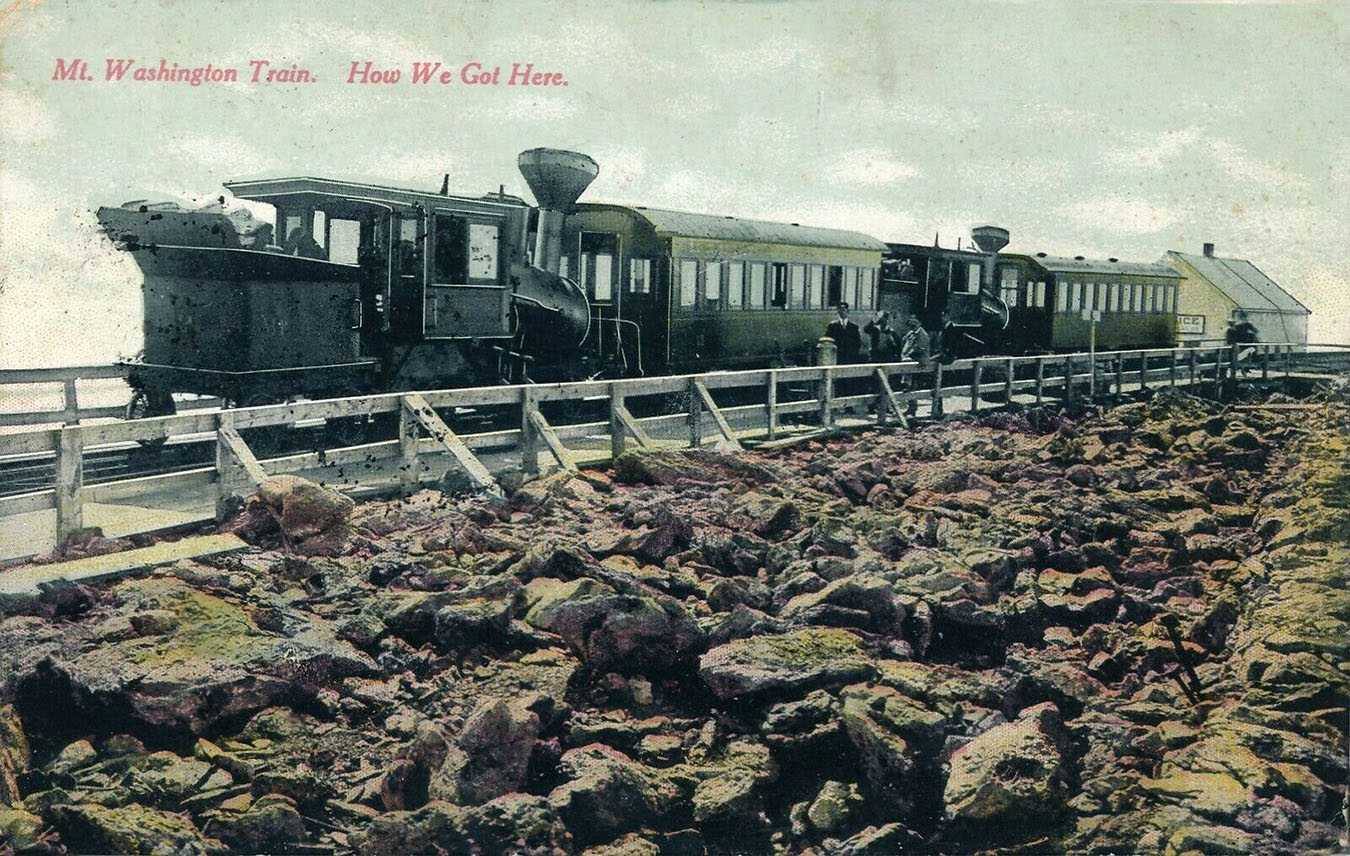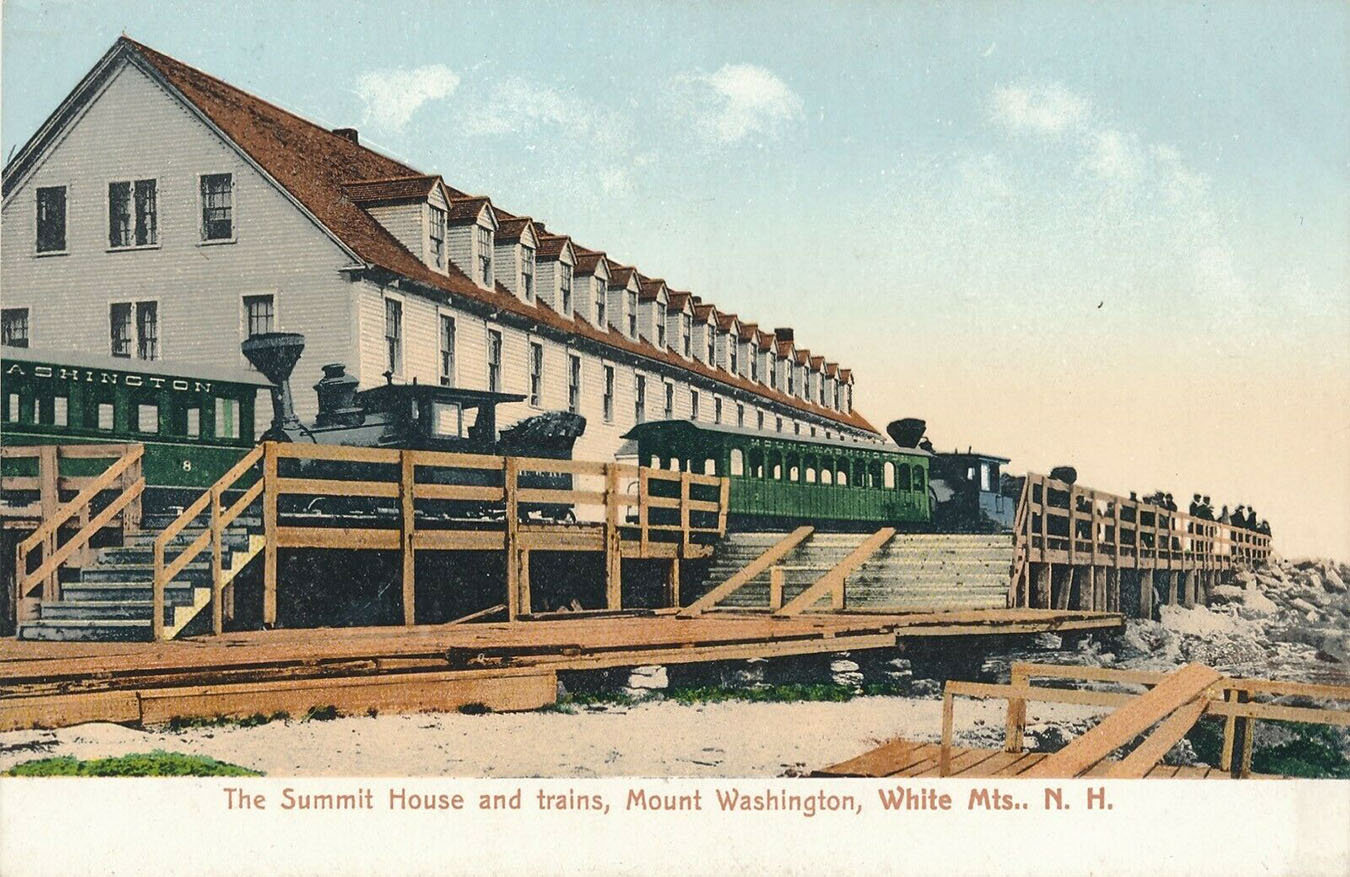 Fabyan's was a major railroad junction at the time, as it was the terminus of two major railroad lines. The BC&M had reached Fabyan's in 1874 by descending a fairly gently graded Crawford Notch from the north; while ascending Crawford Notch steeply from the south, with an elevation gain of 1369′ from North Conway, the Portland and Ogdensburg Railroad (after August 20, 1888, the Mountain Division of the Maine Central Railroad) had reached Fabyan's on August 9, 1875. This was a most impressive feat of engineering for the time, but it took nearly 3 years for the P&O to accomplish. After reaching North Conway in 1871, the P&O had begun building the "Notch Extension" in September, 1872. Click here for a map of the P&O in 1879.
In 1889 the Maine Central Railroad extended its line from Fabyans. After 1889, two railroad lines would continue side by side from Fabyan's to Twin Mountain, where they would part company, with the BC&M track heading east along the "Wing Road" (now Route 3) towards Bethlehem, while the P&O track headed northward through Carroll and Whitefield to Dalton, NH, where the P&O crossed the Connecticut River to South Lunenburg, VT.
Fabyan's was also the site of a grand hotel of the same name. In anticipation of the two railroad's arrival, the Mount Washington Hotel company had built the Fabyan House here, which opened in August, 1873. This was the third hotel on this location, known as "Giant's Grave" and the site of an Indian curse.
The first hotel in this location was Rosebrook Place, built in 1803-1804, and burned in July, 1818. The second hotel, started as the Moosehorn Tavern by Ethan Allen Crawford in 1824, was operated by Horace Fabyan as the Mount Washington House from 1837 until April 19, 1853, when it burned down. The 3rd, and final hotel on this location, the Fabyan House, burned on September 19, 1951.