Independence Day Show

Wednesday, July 3, at 11:59pm
(sponsored by the City of Laconia)
18-20 minute display, shot from the beach
Labor Day Weekend Show

Sunday, September 1, at 10pm
(sponsored by the Half Moon Enterprises)
18-20 minute display, shot from a barge
Regular Summer Season Shows

Saturday, July 13 at 10:00pm
(sponsored by Meredith Bay)

Saturday, July 20 at 10:00pm
(sponsored by Mount Washington Cruises)
Saturday, July 27 at 10:00pm
(sponsored by Boardwalk Bar & Grill)
Saturday, August 3 at 10:00pm
(sponsored by Winni Marine)
Saturday, August 10 at 10:00pm
(sponsored by Winnipesaukee Pier)
Saturday, August 17 at 10:00pm (tentative raindate show)

All regular shows are 14-15 minute displays, shot from a barge
Biketemberfest Show

Saturday, September 14 at 11:05pm
(sponsored by The Big House)
14-15 minute display, shot from a barge


If you would like to support the Weirs Beach fireworks, please click here
*Rain date announcements will be posted at the Weirs Beach arrow sign.
The Weirs Action Committee would like to thank the following sponsors for  supporting the 2019 Weirs Beach Fireworks.
Sponsors are listed in order by the amount of support.
Your name here

Motorcycle Week Show
Wednesday, June 12 at 10pm
Raindate: June 13
(sponsored by Progressive Motorcycle Insurance)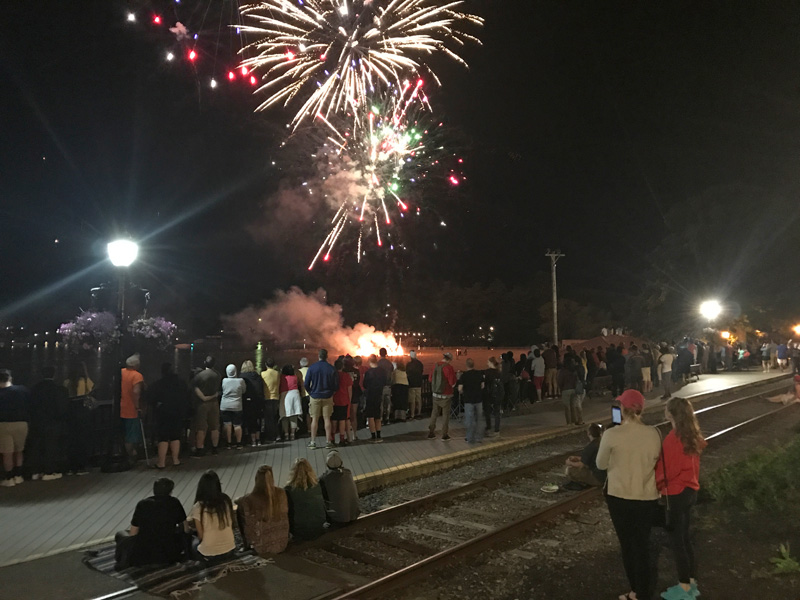 A crowd gathered on the boardwalk watches as one of the larger shells explodes in a burst of color
More Information

The August 17 show will be held only if a previous show is cancelled due to rain.
There are no other rain dates.
NEW THIS YEAR: All 2019 shows, except the July 4th show, will be shot from a barge. This will allow the general public to watch the show from anywhere on the beach! Bring your lawn chair and get comfortable for a fantastic show!
Only the July 4th show will be fired from the beach.  While the beach is mostly closed to the public during the show, a small portion of the beach that is deemed at a safe enough distance IS open.
Excellent views of the fireworks are also available from the boardwalk and public docks.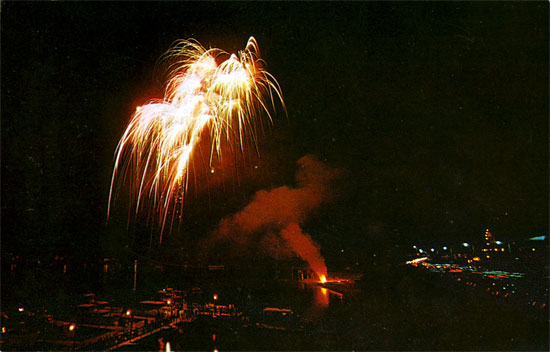 Click here to enlarge the above 1950's postcard of the fireworks
There are also available, on occasion, special fireworks cruises and fireworks trains from which to observe the fireworks. (The view from a cruise boat or private boat in Weirs Bay is especially lovely, with the fireworks exploding nearly directly overhead.)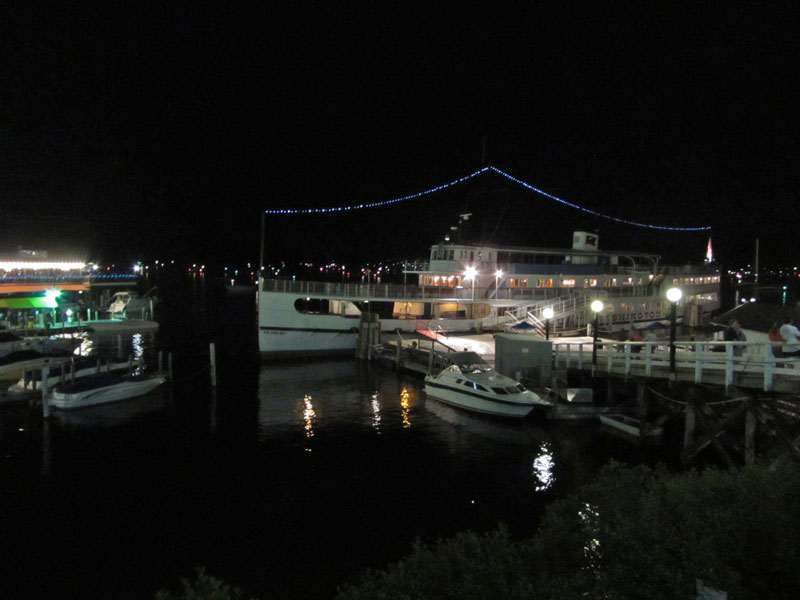 The Mount is docked at its berth in Weirs Beach, while in the background can be seen the colorful lights of a fleet of boats out on the Lake, in anticipation of  the July 4th, 2012 fireworks.
T