Independence Day Show

Saturday, July 3, at 11:59pm
(sponsored by the City of Laconia)
Regular Summer Season Shows

Saturday, July 10 at 9:30pm
(sponsored by Tiki Hut Boats of NH, East Coast Flightcraft, Weirs Jet Ski Rentals )

Saturday, July 17 at 9:30pm
(sponsored by Atlas Fireworks, North Water Marine )
Saturday, July 24 at 9:30pm
(sponsored by Half Moon Enterprises, NASWA, Craft Beer Xchange )
Saturday, July 31 at 9:30pm
(sponsored by Atlas Fireworks, Tiki Hut Boats of NH, Mix 94.1 )
Saturday, August 7 at 10:00pm
(sponsored by Xfinity and Atlas Fireworks )
Saturday, August 14 at 10:00pm
(sponsorship available – contact Atlas Fireworks )
Labor Day Weekend Show

Sunday, September 5 at 9:30pm
(sponsored by City of Laconia. This show is the raindate for the Independence Day show.)

All shows are 14-15 minute displays, shot from a barge


If you would like to support the Weirs Beach fireworks, please click here
*Rain date announcements will be posted on the Weirs Action Committee Facebook page.

Motorcycle Week Show
Wednesday, June 16 at 10pm
Raindate: June 17
(sponsored by Progressive Motorcycle Insurance)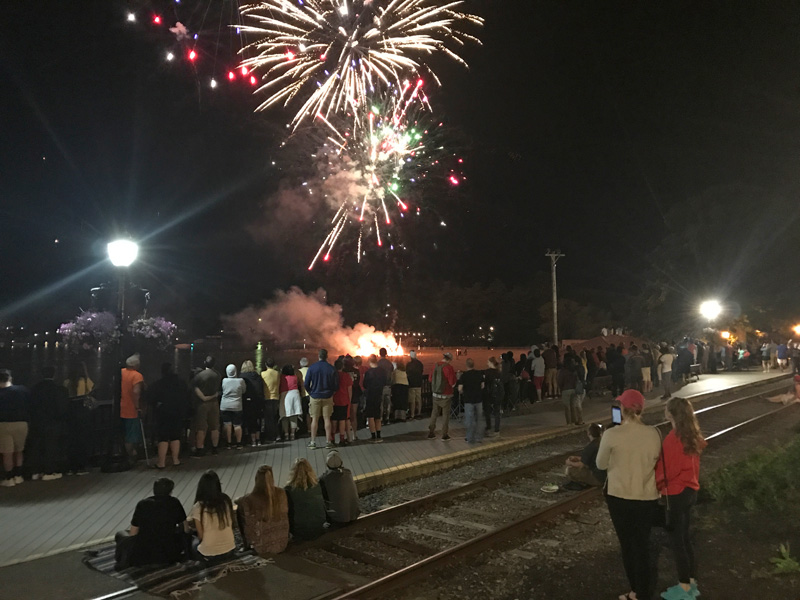 A crowd gathered on the boardwalk watches as one of the larger shells explodes in a burst of color
More Information

The August 21 and/or September 5 show will be held only if a previous show is cancelled due to rain.
There are no other rain dates.
All shows will be shot from a barge. This will allow the general public to watch the show from anywhere on the beach! Bring your lawn chair and get comfortable for a fantastic show!
Excellent views of the fireworks are also available from the boardwalk and public docks.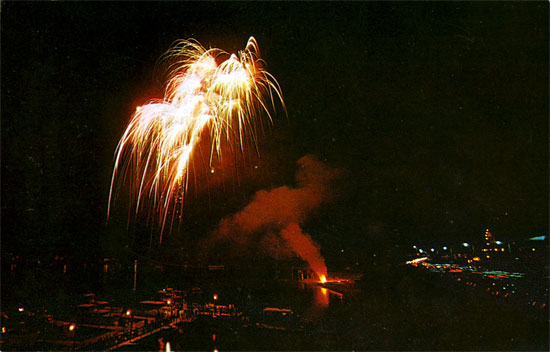 Click here to enlarge the above 1950's postcard of the fireworks
There are also available, on occasion, special fireworks cruises and fireworks trains from which to observe the fireworks. (The view from a cruise boat or private boat in Weirs Bay is especially lovely, with the fireworks exploding nearly directly overhead.)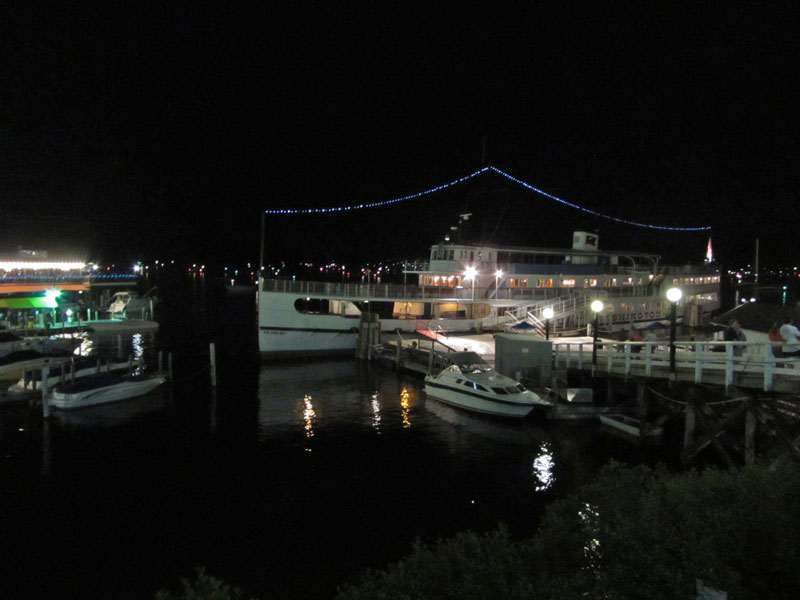 The Mount is docked at its berth in Weirs Beach, while in the background can be seen the colorful lights of a fleet of boats out on the Lake, in anticipation of  the July 4th, 2012 fireworks.
T