This photo, from a stereoview from the early 1880's, shows a row of freshly planted trees, later seen grown to full size in many of the color postcards of the Hotel. In this early view, behind the Hotel we see the NH Veterans Dining Pavilion, as well as the faint outline of the observation tower at the top of Tower Street. The tower burned down in 1885.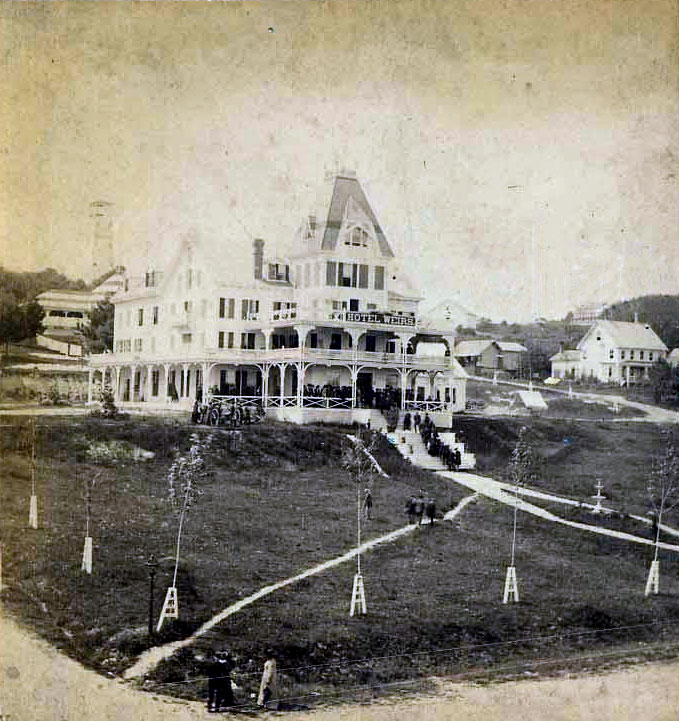 This stereoview was stamped on the reverse side as the Weirs Photograph Company, Weirs, N.H. The photographers were T. C. Moon of Laconia and F.J. Moulton of Tilton.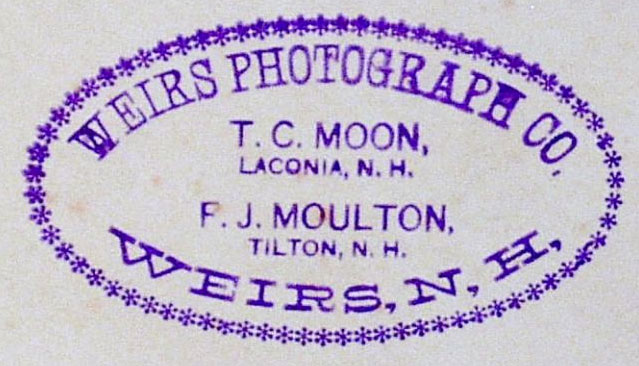 Below is the front cover of a brochure from the 1890's. The cover bears a photo of the hotel; the interior describes The Weirs and the hotel's facilities and amenities; the rear cover bears an image of the lake. A few excerpts: Deservedly the most popular of New Hampshire's charming summer resorts...The air is soft and dry and laden with the aroma of the pine forest. Sufferers from throat and lung trouble here experience speedy relief. Malaria is here unknown. Hay fever is at once relieved... The large steamers "Mt. Washington" and "Maid of the Isles" cross the lake several times daily and connect with trains upon other lines. The business man can take breakfast here, go to Boston, do a full day's work, and return in season for supper with his family... The Hotel is supplied with the purest spring water, both for drinking and cooking purposes. Soft running water on every floor. Hot and Cold Water Baths, Electric Bells, Fire Escape and a Night Watchman, who never for a moment, leaves the house unguarded. The table is supplied with Vegetables, Berries, Milk and Cream from the farm daily... Boating and Fishing excellent. Close at hand can be caught Trout, Black Bass, Pickerel and Perch in abundance... Also a well appointed Barber Shop, Billiard and Pool Room, News Stand and Telegraph Office..