Pictures are shown in chronological order as they were photographed by the webmaster on October 15, 2008. Times listed are approximated. The weather that day couldn't have been more perfect for an outdoor rally.
9am: Final preparations are being made to the speakers stand.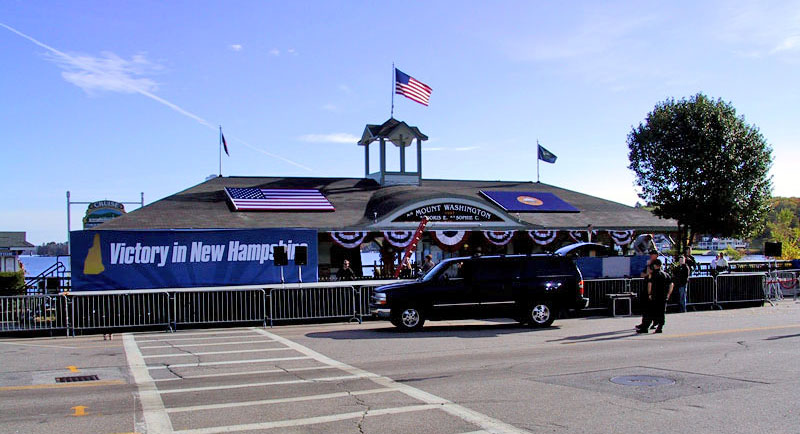 9:30am: Crowd control barriers are erected across Lakeside Avenue. All persons attending the Rally are required to arrive from the southern side of Lakeside Avenue and pass through metal detectors, which are installed in the white tents seen in the background of the photo.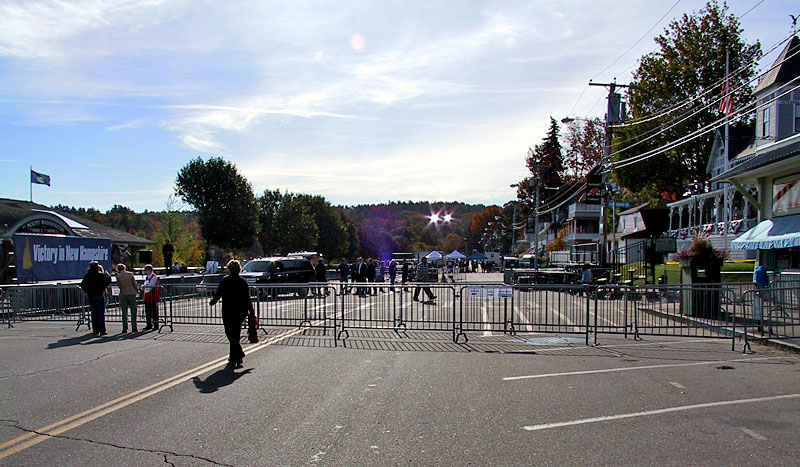 10am: Everything is nearly ready to go. On the west side of Lakeside Ave, a small bleacher seating section is set up directly across from the speaker's stand, as is a press platform where photographers and videographers can stand well above the heads of the crowd.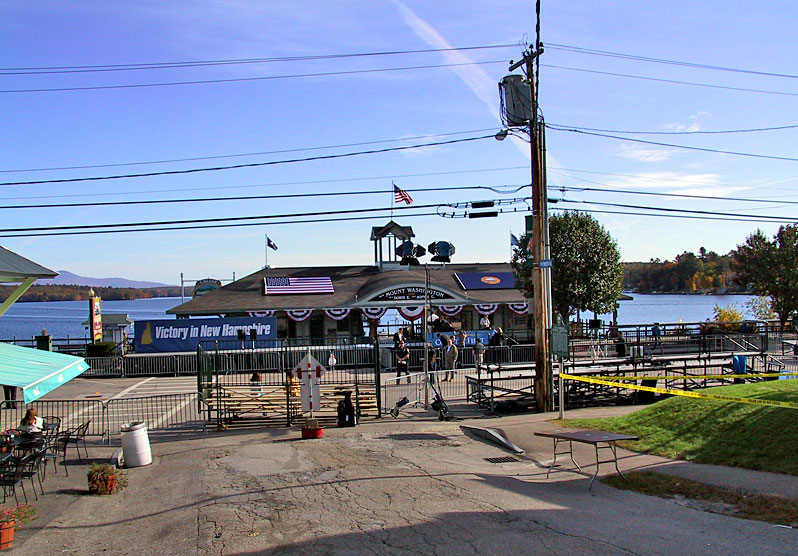 11:30am: The crowd begins to arrive. Access to the rally area from New Hampshire Ave has been blocked off.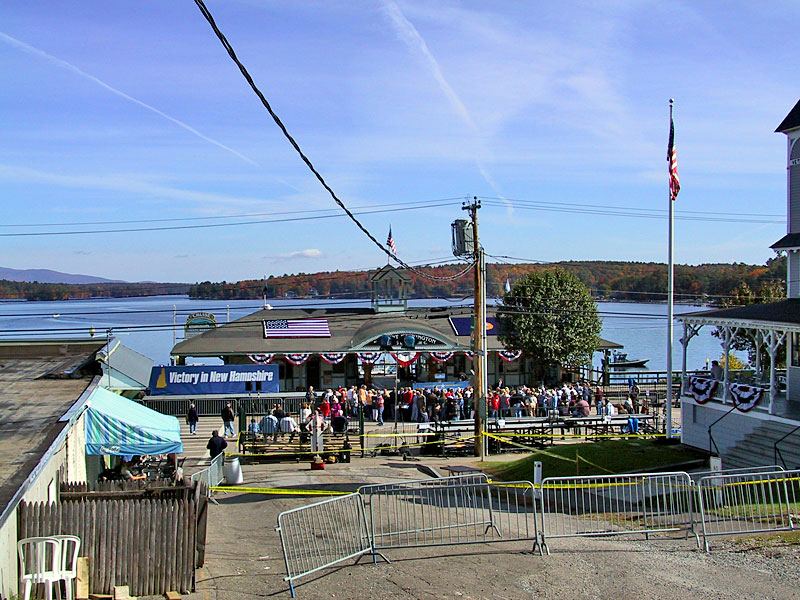 11:30am The photo/video stand is still mostly empty.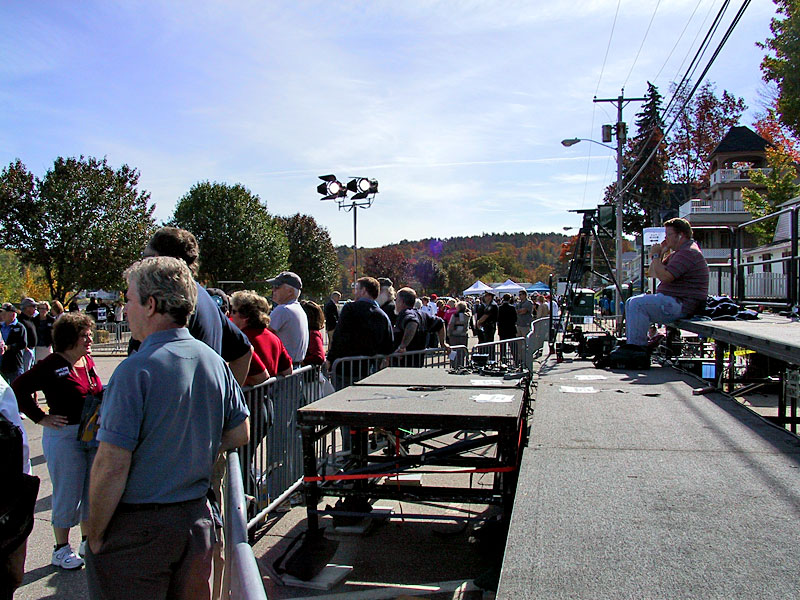 12:30pm: The crowd has really filled in.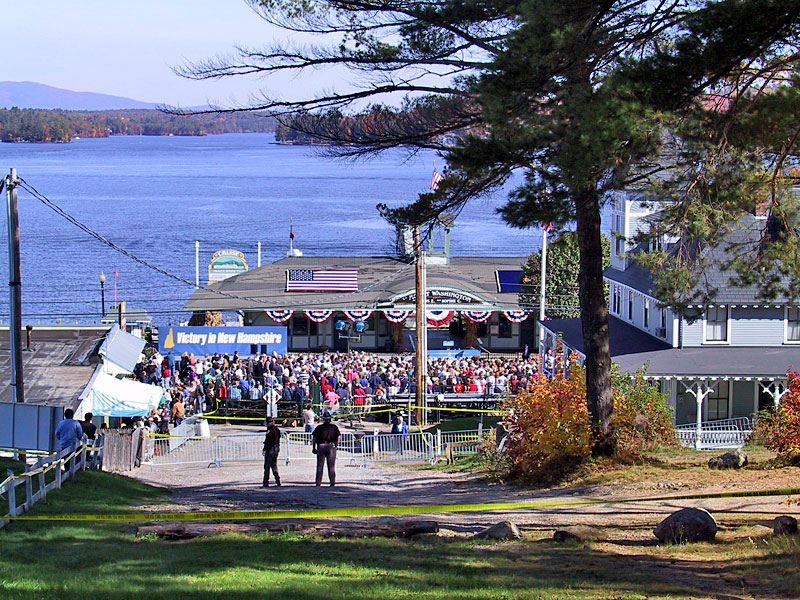 12:45pm: On the left, the line to pass through security is still long. While the rally-goers wait to get in, on the right, protestors make their feelings known.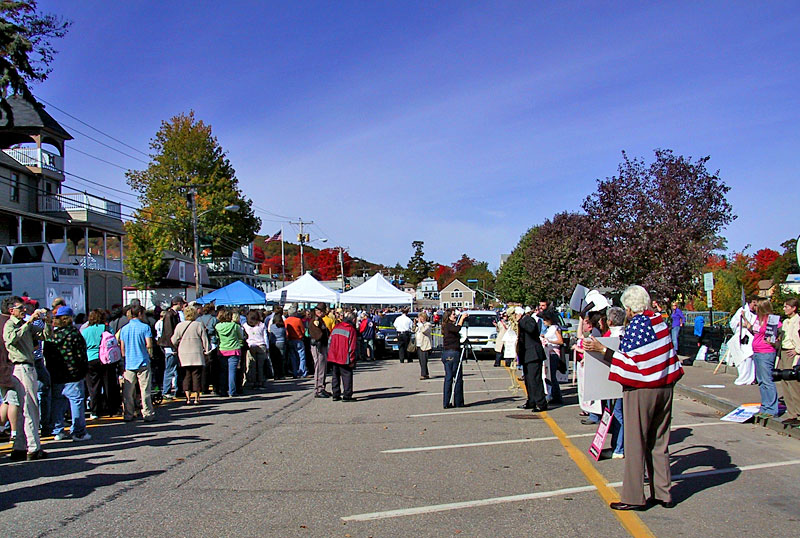 12:45pm: Protestors doing their thing.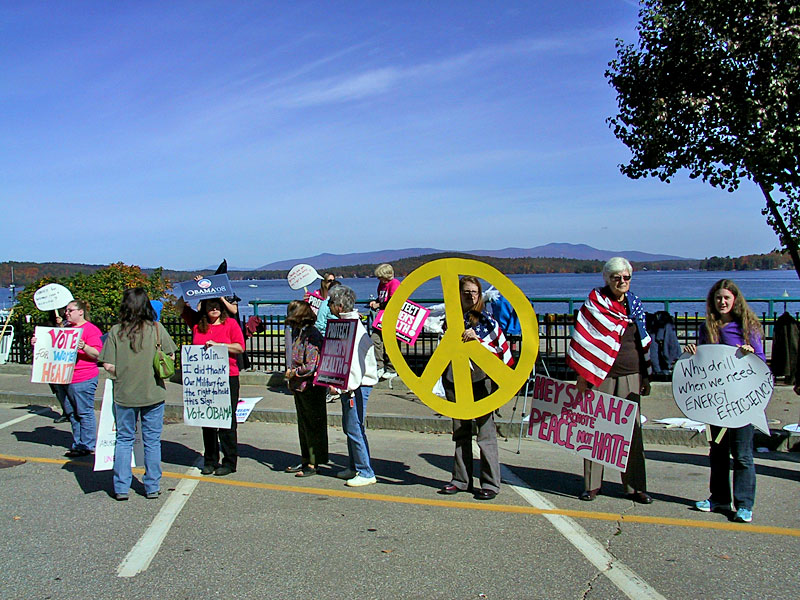 12:45pm: More protestors. This was not only a visible gauntlet that rally-goers had to endure but an audio gauntlet as well, as the protestors chanted loudly and incessantly their political lines, such as "What do we want? Healthcare! When we do want it? NOW!"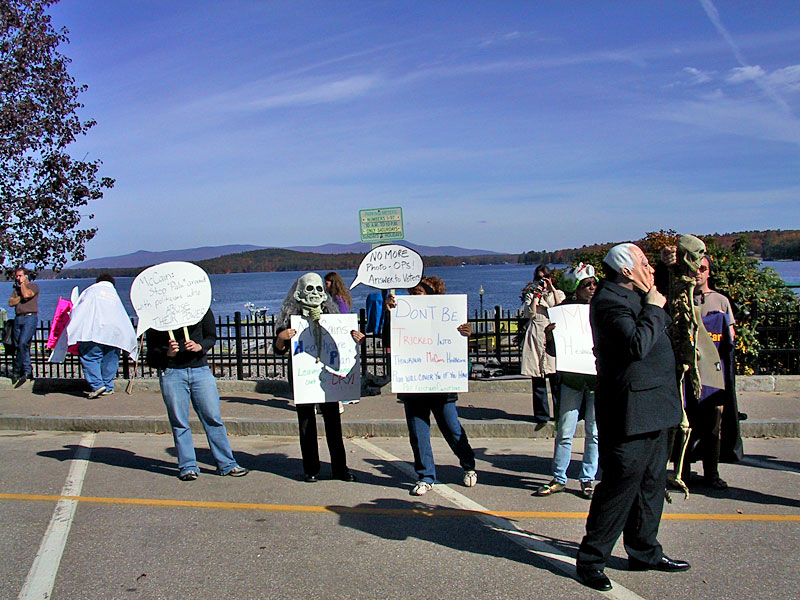 1:45pm In the foreground, the press table area is well occupied. There is still plenty of room for more rally-goers on the street, but by now pretty much everyone who was coming has already arrived, except for Palin and her entourage. Palin was originally scheduled to speak around 1pm, but is now expected at 2pm.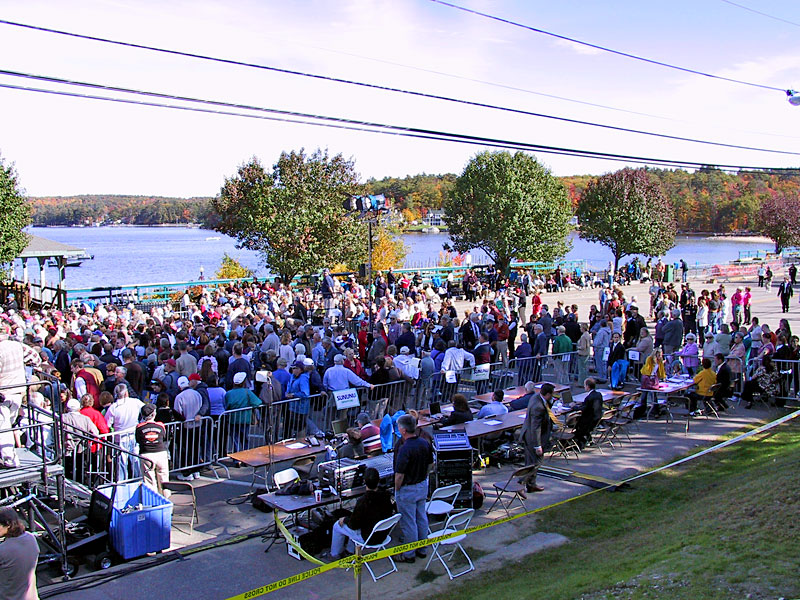 1:45pm: The crowd patiently awaits Palin's arrival from the northern side of Lakeside Avenue.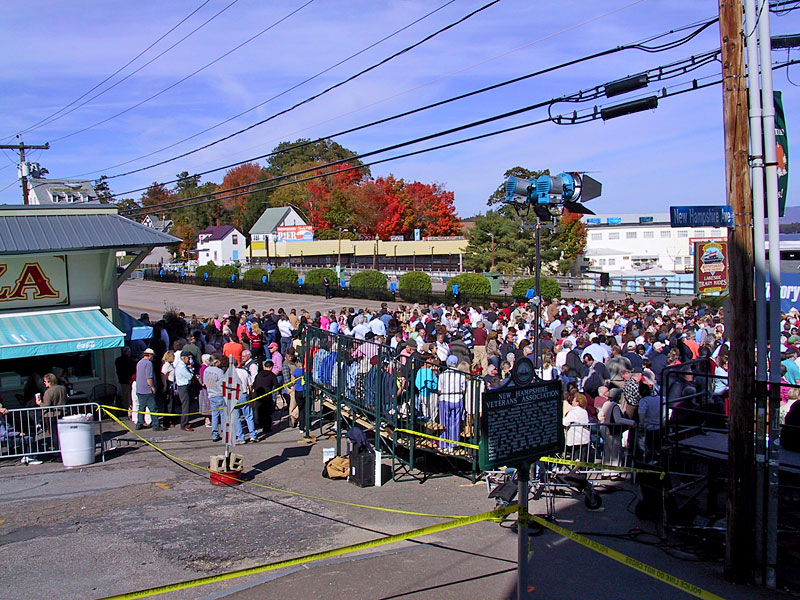 1:50pm: A group of NH veterans makes an appearance at the speaker's stand.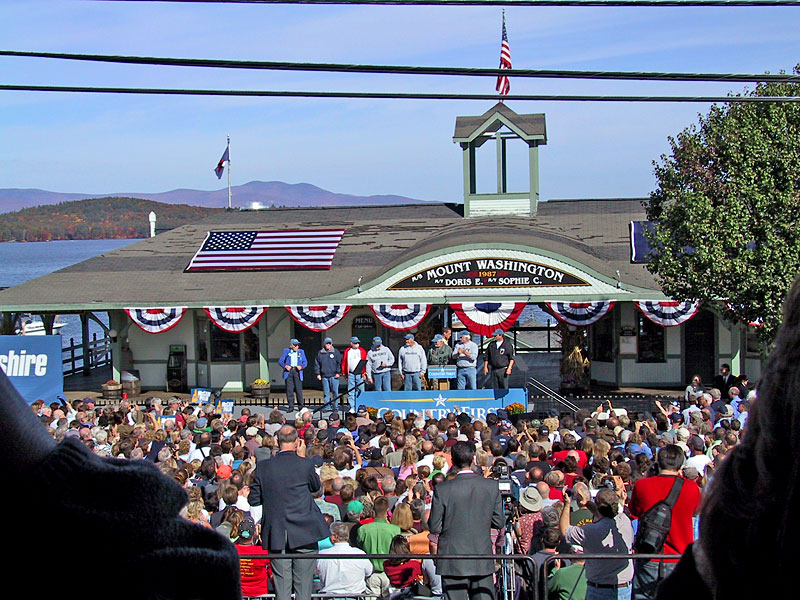 1:50pm: The veterans salute the crowd.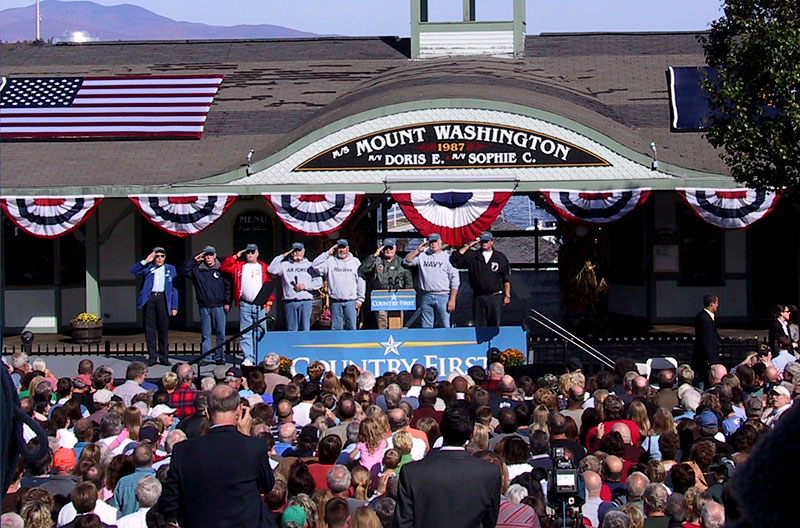 1:55pm: Ward 1 Laconia City Councilor Greg Knytych speaks to the crowd.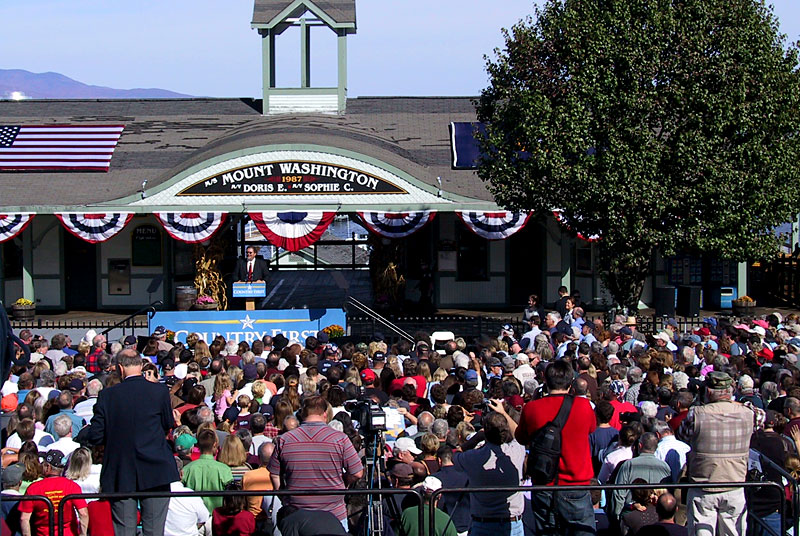 2:30pm: The crowd turns to watch Palin's bus pulling into Weirs Beach. Some have been standing and waiting for as long as three hours.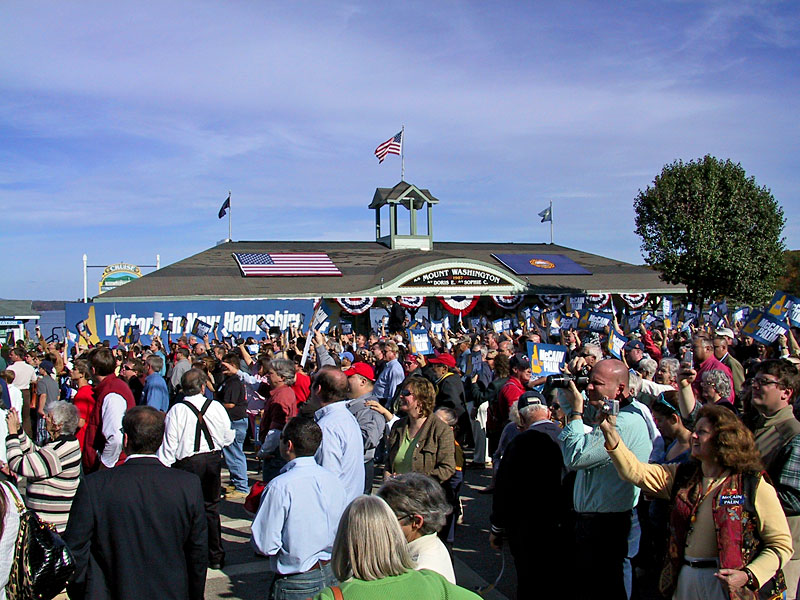 2:30pm: Palin's bus, the "Straight Talk Express", arrives at Weirs Beach.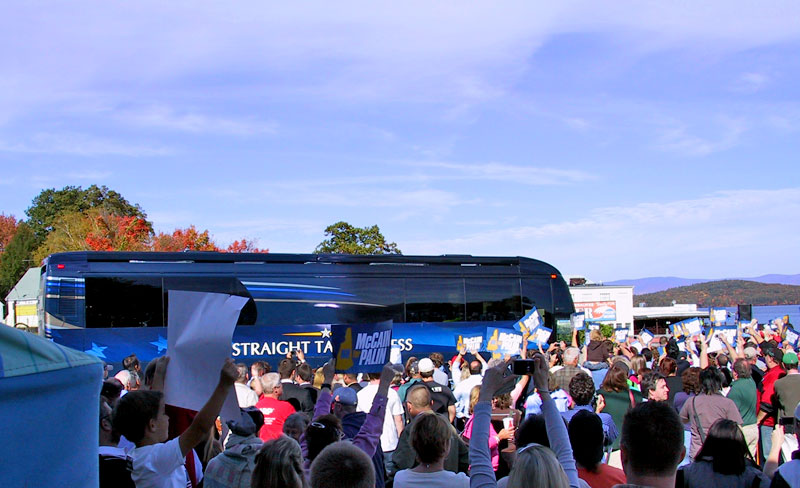 2:31pm: The crowd cheers and waves their McCain-Palin placards while Palin approaches the podium. NH Senator John E. Sununu, who has reached the podium just ahead of Palin, applauds.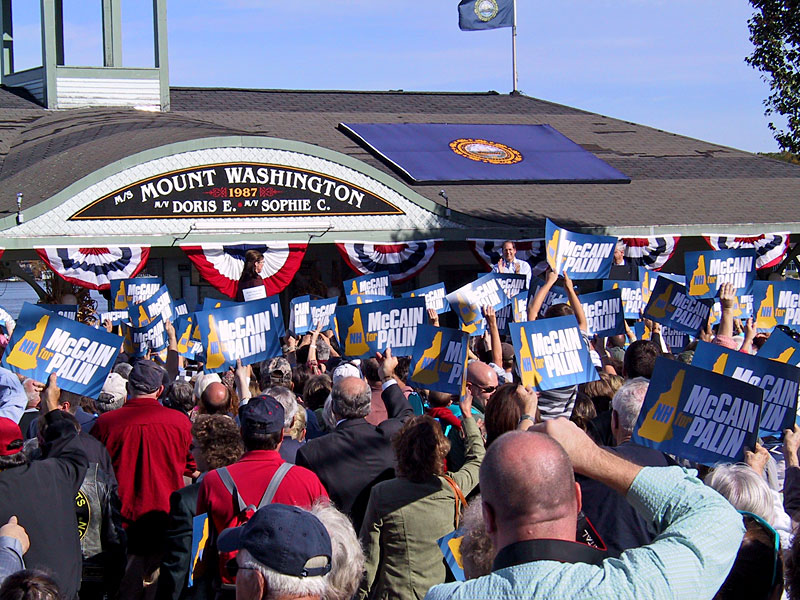 2:32pm: At the podium are Palin, Sununu, and an unidentified politician.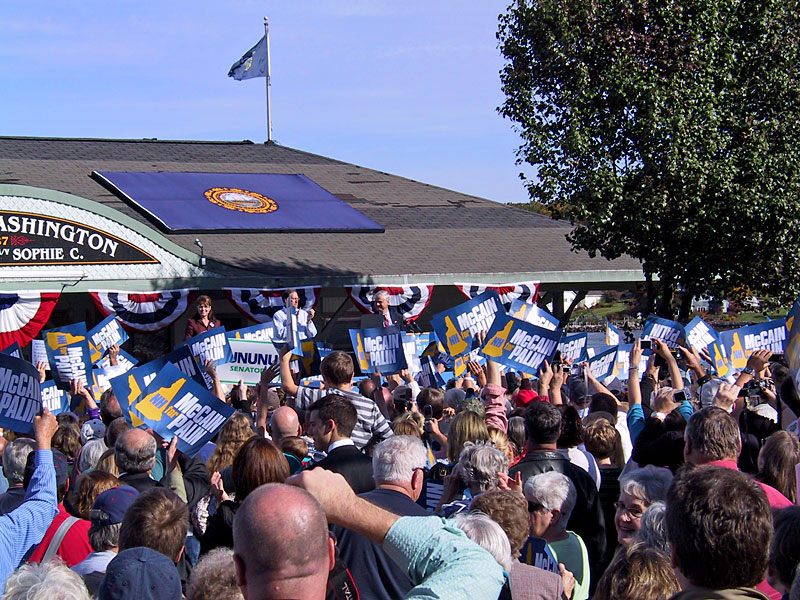 2:45pm: Palin emphasizes a talking point. Palin spoke for about 40 minutes.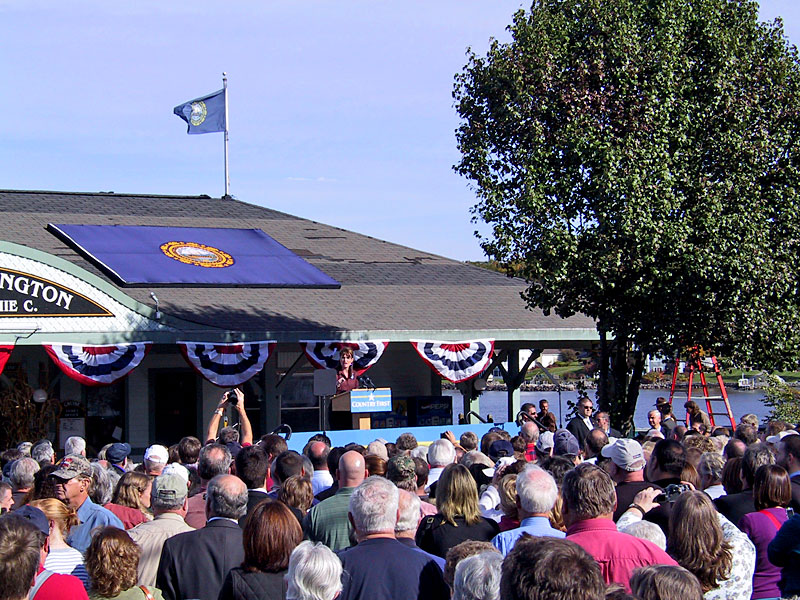 While the Palin rally went very smoothly and was considered a successful event by its organizers, participants, and observers, the campaigns of the three politicians who spoke at the rally did not go as well. All three were defeated in the general election held on November 4. McCain and Palin were defeated by Obama and Biden; Sununu was defeated by Jean Shaheen in his Senate re-election bid; and Knytych was defeated in his bid to replace incumbent NH State Senator Kathleen Sgambati.
Here are three local newspaper articles covering Palin's appearance at Weirs Beach.
"Palin Gets Enthusiastic Welcome" – Laconia Citizen, October 16, 2008
SARAH! Governor Palin's Visit Draws Several Thousand to Weirs Beach – Weirs Times, October 23, 2008 (pdf file)
Sarah Palin tells Weirs Crowd that NH Reminds Her of Home – Laconia Daily Sun, October 16,2008. Article appears below.