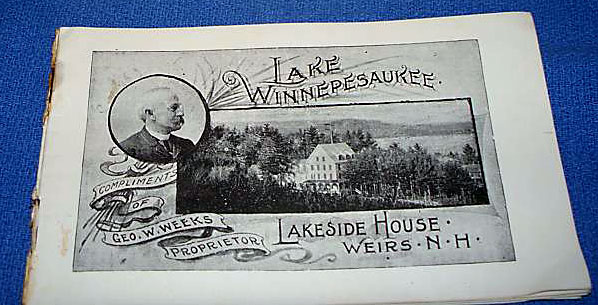 The Lakeside House

Situated at Weirs Landing, on the western shore of Lake Winnipesaukee, will open as usual June 1.

The Lakeside has three times been enlarged in order to accommodate the steadily increasing patronage. Many new improvements have been recently added; the house is now provided with electric bells, and the new sanitary arrangements are simply perfect. Indeed, the house with all its appointments is admirably adapted to the wants and comforts of its first-class patrons. The table has the well earned reputation of being unsurpassable. Note the least in its attractiveness is the pure spring-water, which is boutifully supplied from a living spring located on Doe's mountain. Hotel and cottages will now easily accommodate two hundred guests. Cottages all located close by, well furnished, and considered very desirable for familes or parties, with meals at the hotel.

The veranda, always noted for its comfort, extends around three sides of the house, and is four hundred feet in length. One can always find either sunshine or shade at any hour of the day. A beautiful grove of pine, directly in front of the house, is both health giving and delightful. Ample pleasure grounds adjacent, well shaded. A Casino contains piano, pool and billiard tables.

Postoffice, telegraph, and telephone, also express office and news-stand, within one minute's walk.

Rates of Board:

June and September...$7.00 to $9.00 per week
July and August...$8.00 to $17.50 per week.
According to room and number of occupants. Special rates for the season.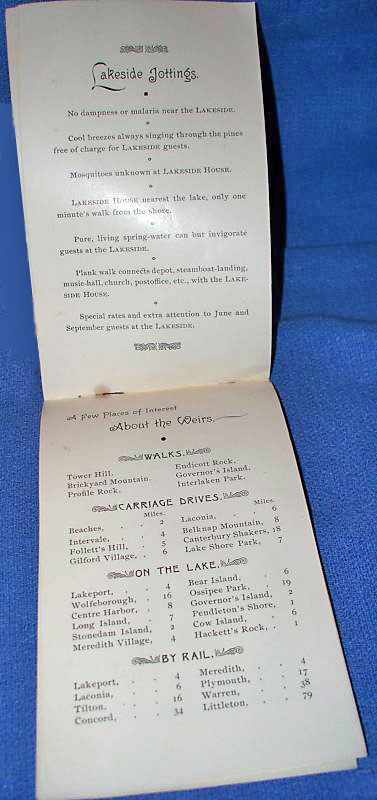 Lakeside Jottings

No dampness or malaria near the LAKESIDE.

Cool breezes always singing through the pines free of charge for LAKESIDE guests.

Mosquitoes unknown at LAKESIDE HOUSE.

LAKESIDE HOUSE nearest the lake, only one minute's walk from the shore.

Pure, living spring-water can but invigorate guests at the LAKESIDE.

Plank walk connects depot, steamboat-landing, music-hall, church, postoffice, etc., with the LAKESIDE HOUSE.

Special rates and extra attention to June and September guests at the LAKESIDE.

About the Weirs

Walks

Tower Hill
Brickyard Mountain
Profile Rock
Endicott Rock
Governor's Island
Interlaken Park

Carriage Drives

Beaches - 2 miles
Intervale - 4 miles
Follett's Hill - 5 miles
Gilford Village - 6 miles
Laconia - 6 miles
Belknap Mountain - 8 miles
Canterbury Shakers - 18 miles
Lake Shore Park - 7 miles

On the Lake

Lakeport- 4 miles
Wolfeborough - 16 miles
Centre Harbor - 8 miles
Long Island - 7 miles
Stonedam Island - 2 miles
Meredith Village - 4 miles
Bear Island - 6 miles
Ossipee Park - 19 miles
Governor's Island - 2 miles
Pendleton's Shore - 1 mile
Cow Island - 6 miles
Hackett's Rock - 1 mile.

By Rail

Lakeport - 4 miles
Laconia - 6 miles
Tilton - 16 miles
Concord - 34 miles
Meredith - 4 miles
Plymouth - 17 miles
Warren - 38 miles
Littleton - 79 miles

Webmaster's notes: Profile Rock was located on the Shore Path in the Methodist Campground at Weirs Beach.
Follet's Hill was located in or near Gilford. The following excerpt is from Sweetser's The White Mountains, published in 1876.




It is unknown where Hackett's Rock was located.