Due to its fragility this large photographic print (approximately 2'x3′) could not be removed from the wall of the old Half Moon office where it resides. Unlike the other aerial photos on this website, which were scanned from the original document, this photo was taken with a digital camera. The yellowish splotches along the top of photo are reflections from the office lighting. Dating from approximately 1948, this photo is very interesting. It shows the unusual parking arrangment of the time.
It also shows, directly behind the original Half Moon buildings, a service road entering from Tower St, which no longer exists. A branch bank was constructed in the early 1960's on Tower Street, blocking the entrance of the service road. The branch bank operated under various ownerships until it was discontinued in the mid 1990s, at which time it became the new Half Moon office.
The aerial photo also shows, in front of the first row of cottages, a lower entrance to the Half Moon Motel & Cottages from New Hampshire Avenue, facilitating its use as a parking lot. This lower entrance from NH Ave was discontinued in 1957 when Sidney Ames purchased the property from Howard Ballou. An upper entrance from New Hampshire Avenue, between the two rows of cottages, continued in use until the Half Moon Motel was built in 1964. Access to the Half Moon Motel & Cottages is now entirely from Tower Street.
Another interesting feature of this photo is that it shows the crosswalk to the Winnipesaukee Pier in its original – and current – location. (From the mid 1960's to the mid 1990's, the crosswalk had been relocated to cross Lakeside Avenue diagonally, directly to the Winnipesaukee Pier from the corner of Lakeside Avenue and Tower St.)
Also evident in this photo, from top left to top right, is the bandstand at the Winnipesaukee Pier; the information booth on the boardwalk; the 1940-1986 train station; and the Weirs Seaplane Base. In the lower right hand corner is the signature of the photographer.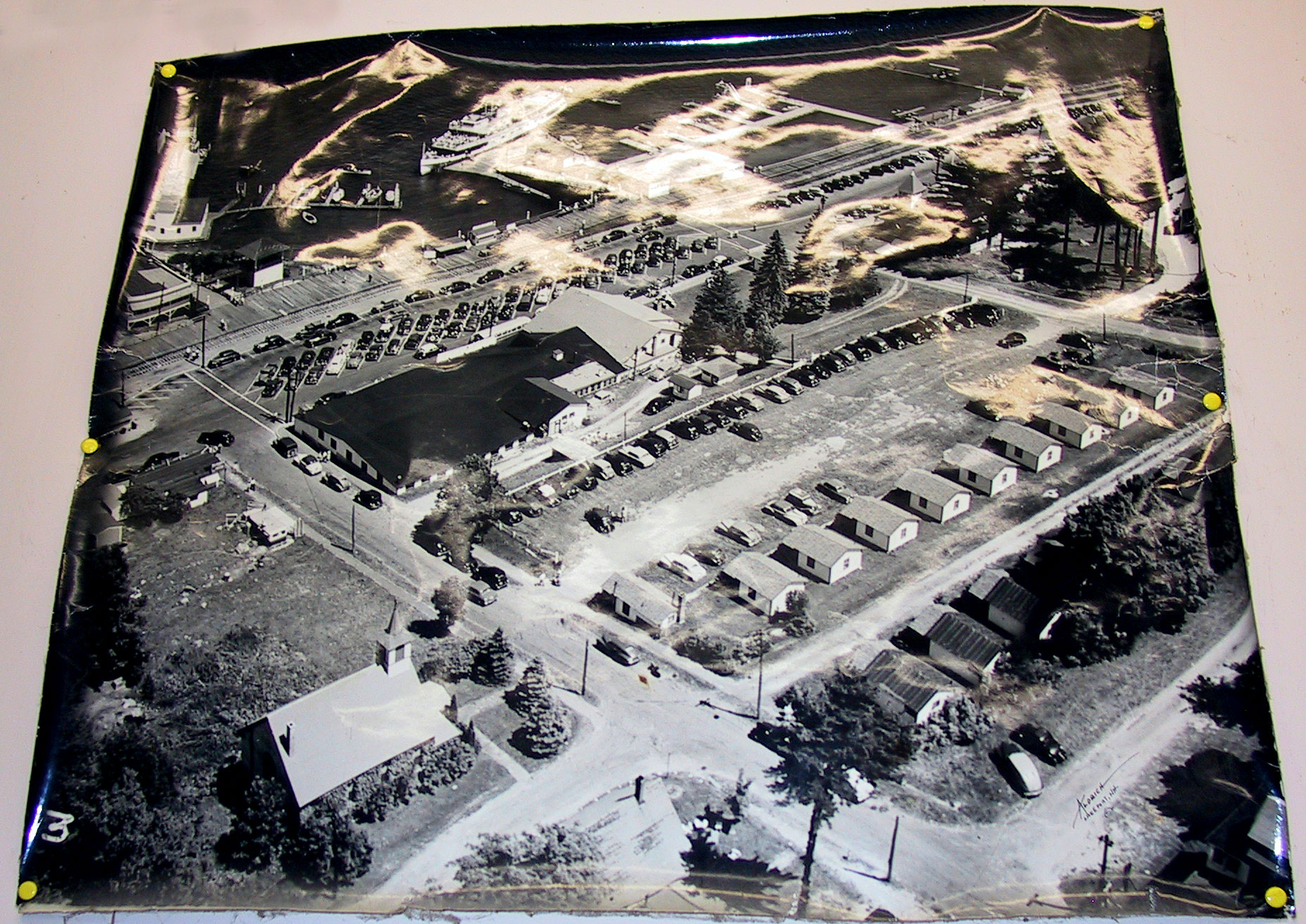 The photo was used in advertisements in the 1951 and 1952 "Where To in the Lakes Region" guidebooks, with the bold claim that Weirs Beach was the "Honeymooners' Paradise of the East"! Trains and Lake Steamers still "stop at our door", but regular bus and seaplane service has been long gone. The cabins still have all the comforts described, except the heat is now electric, not steam.