Other Shops
Adjacent to the Half Moon Shops, you can satisfy your sweet tooth at Cook's Candy Kitchen (603) 366-5035 where you'll find all the summertime favorites, from candy apples to salt water taffy, from fudge to fine chocolates. Cook's also has a large selection of T-shirts.


The Mapleshade Marketplace (603) 366-2121 is the place to go in Weirs Beach if you're looking for antiques or collectibles, for crafts or items with that "country" look. Just take a left onto Foster Ave., (where Lakeside Avenue ends at the wooden bridge) and go one block to Maple Street. Other fine shops in the Weirs Beach area include Kellerhaus (603) 366-4466; Naswa's Beach Shack, formerly Karen's Gift Shop, (603) 366-4341; shops on the Winnipesaukee Pier; Everest Mountain Goods at #292A Lakeside Avenue and the K&L Candy Boutique (603) 366-4665 at #292B Lakeside Avenue; and the newest shop in town, the Boneyard (603) 366-4966, which opened in 2012 and sells biker apparel.
Karen's Gift Shop, 1960s
HISTORICAL GIFT SHOPS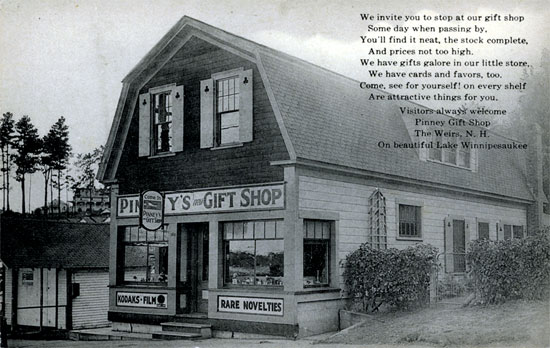 Pinney's Gift Shop in the 1940s, before Tarlson's Arcade was built to the left, and before the building was expanded with a large annex to the right. This building is now the home of Everest Mountain Goods and the K&L Candy Boutique. Click here to enlarge.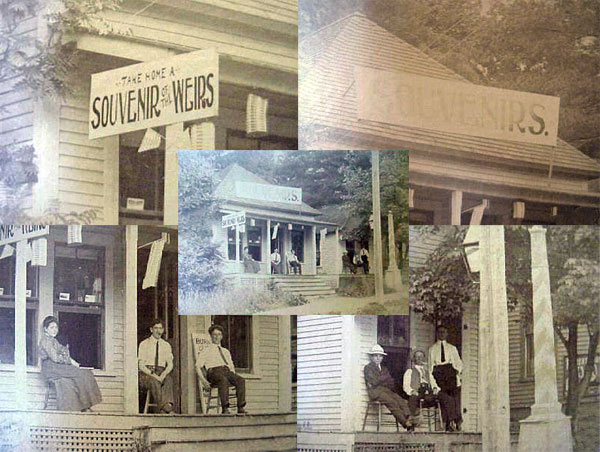 Weirs Souvenir Shop, circa 1900. This building preceded Pinney's Gift Shop, in the same exact location. To the left of this building, at the corner of Tower Street and Lakeside Avenue, was a small stand called the Weirs Candy Kitchen.