Laconia Street Railway
In 1881, the Laconia and Lake Village Horse Railroad was started to provide street rail service. The horse drawn trolley cars were built locally by the Laconia Car Co, and traversed on about 2 miles of narrow-gauge track. By 1883, there were 156,325 passengers that used the service. A fare was six cents or 5 tickets for 25 cents. In 1898, the company was sold to a new owner, the name was changed to the Laconia Street Railway, and service was converted to electric. In June 1899, the track extended to Weirs Beach, making 8.87 miles of track in total. Tracks were converted to a wider gauge in 1903. As automobiles became more affordable and popular, the trolley service gradually declined, until ending in bankruptcy on August 9, 1925.
In 1928, a new company of the same name started up local bus service, with frequent trips between downtown Laconia and Lakeport.  But the company only offered three trips a day to Weirs Beach, versus the nearly 40 trips a day to Weirs Beach that were the norm with the electric trolley service. The bus service lasted until the 1960.
An ad for the Horse Railroad. From the 1890 NHVA reunion program. The railroad only ran between downtown Laconia and Lakeport (Lake Village), so boat transportation was required from Lakeport to get to the Weirs.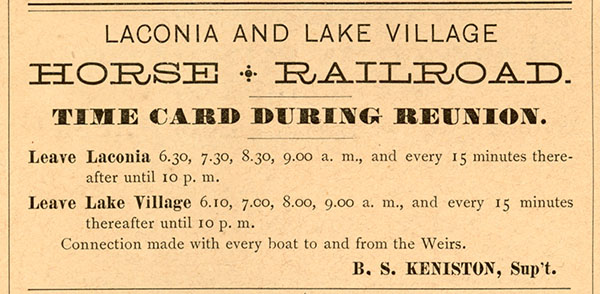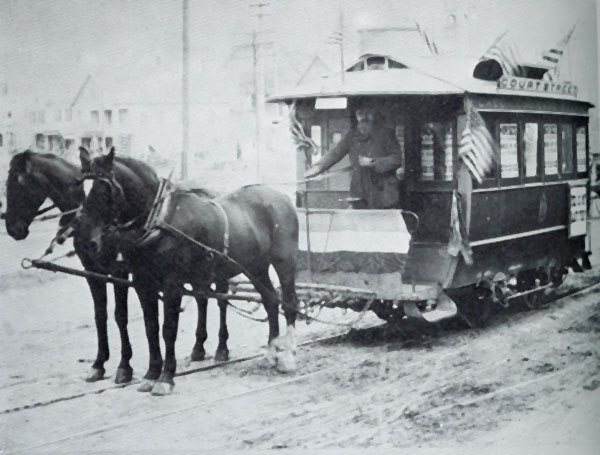 Laconia Street Railway Trolley No. 20. Note the Weirs destination sign on top of the car.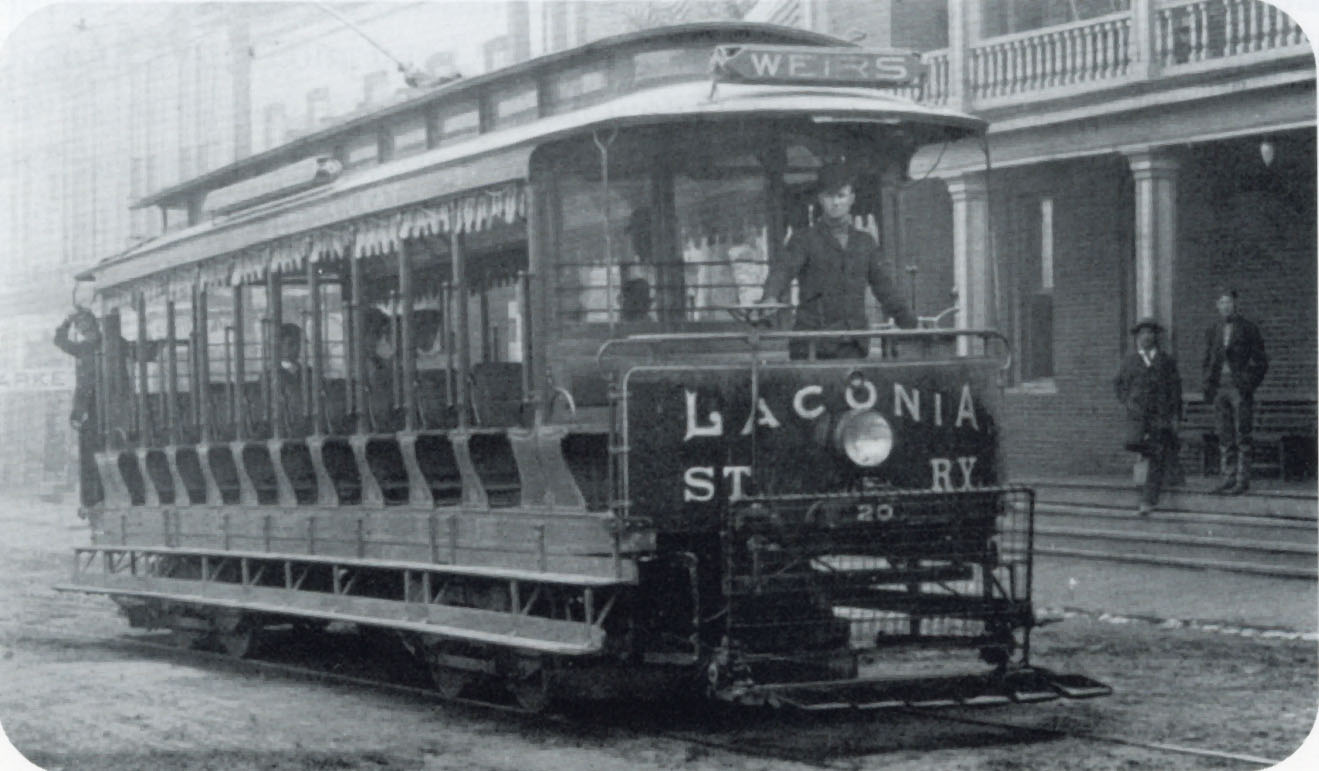 The trolley on Lakeside Ave, arriving at Weirs Beach. The direction of travel can be discerned from the trolley pole. The trolley pole always leans in the opposite direction of travel, as if the wind was pushing it. The line in Weirs Beach ended at a dead end rather than a loop. Trolley cars were double-ended, so they could travel in either direction. The trolley pole was reversed at the end of the line.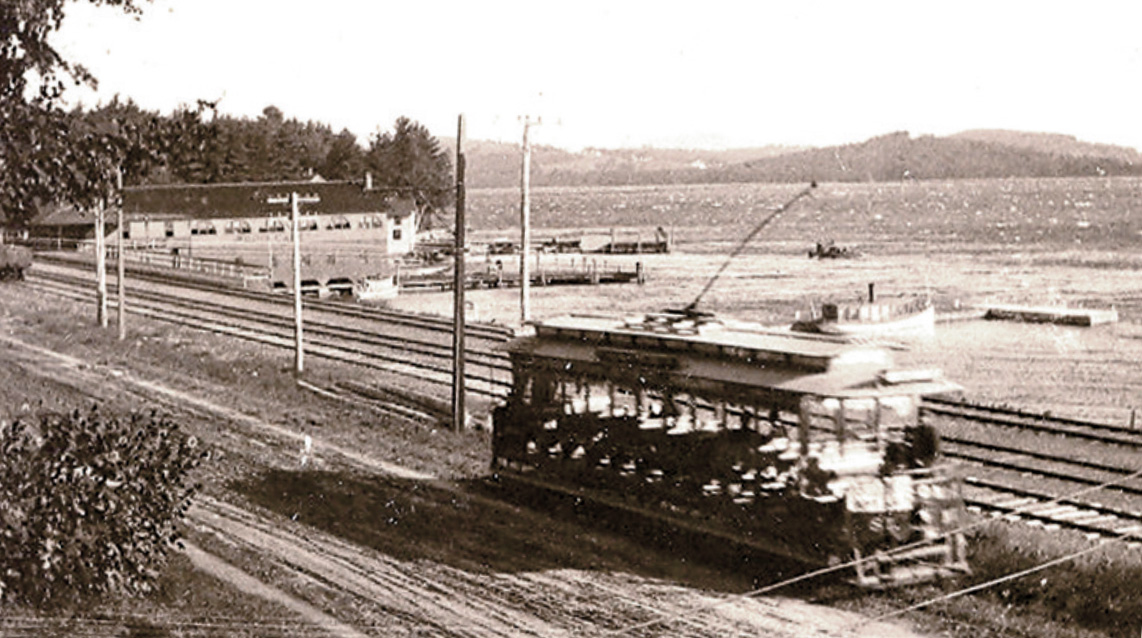 Trolley No. 14, parked in Weirs Beach
The Seashore Trolley Museum in Kennebunkport has a similar trolley in its collection.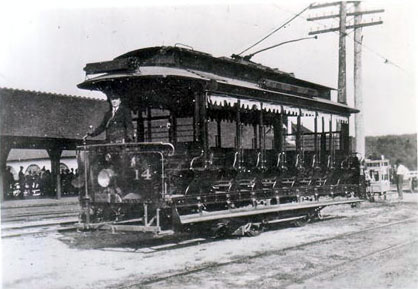 Trolley No. 20 at Weirs Beach, ready to head to Laconia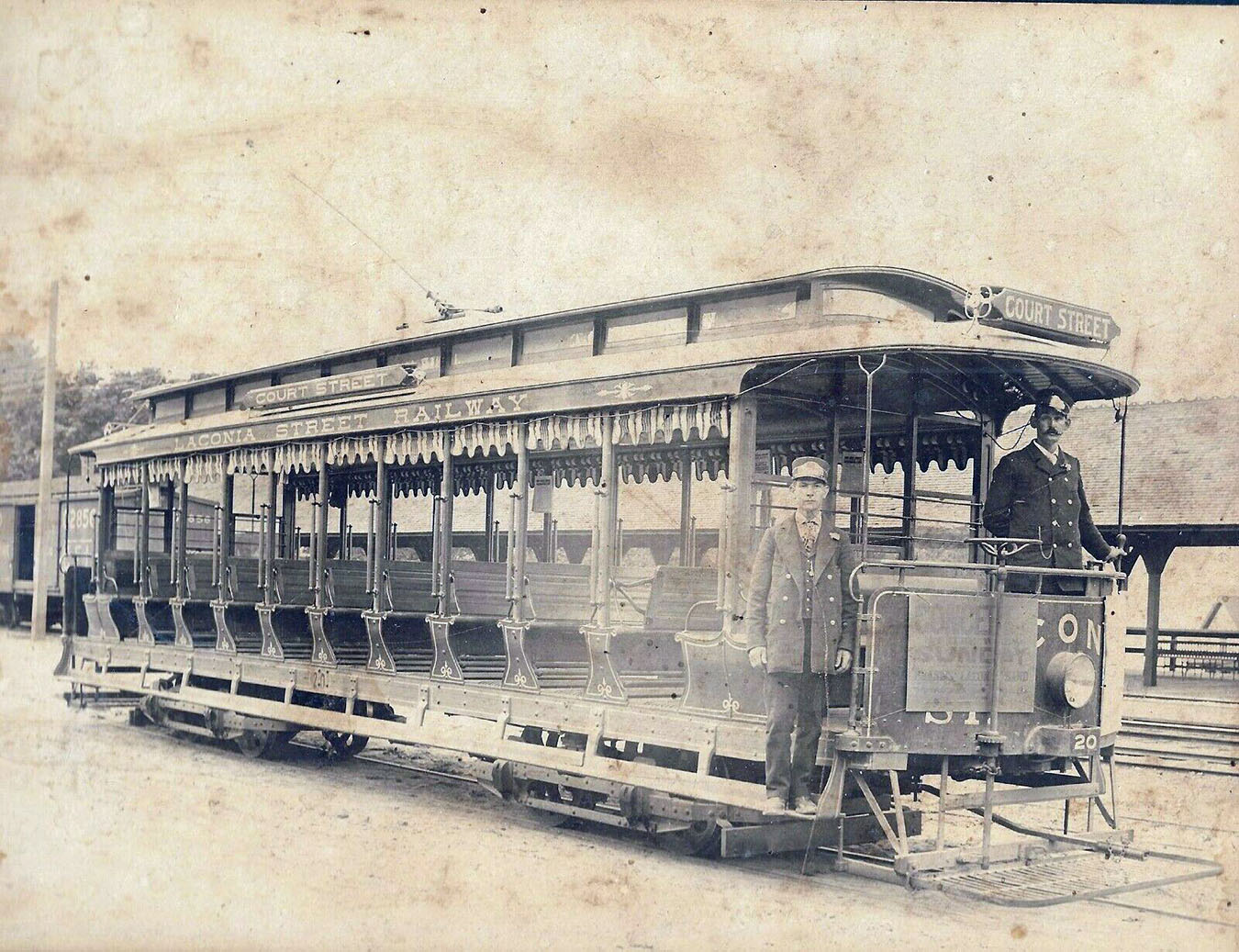 Trolley No. 18 at Weirs Beach, ready to head to Laconia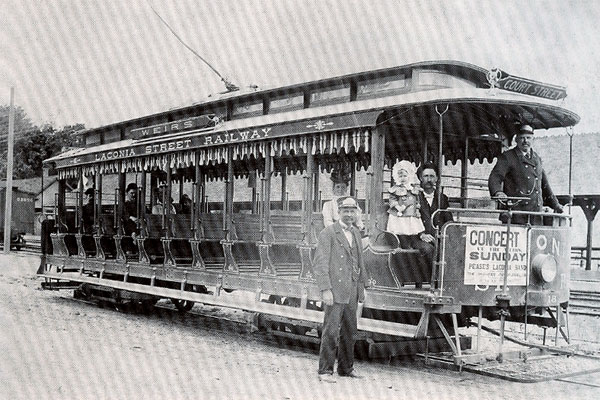 Trolley No. 12 passing through Lakeport Square.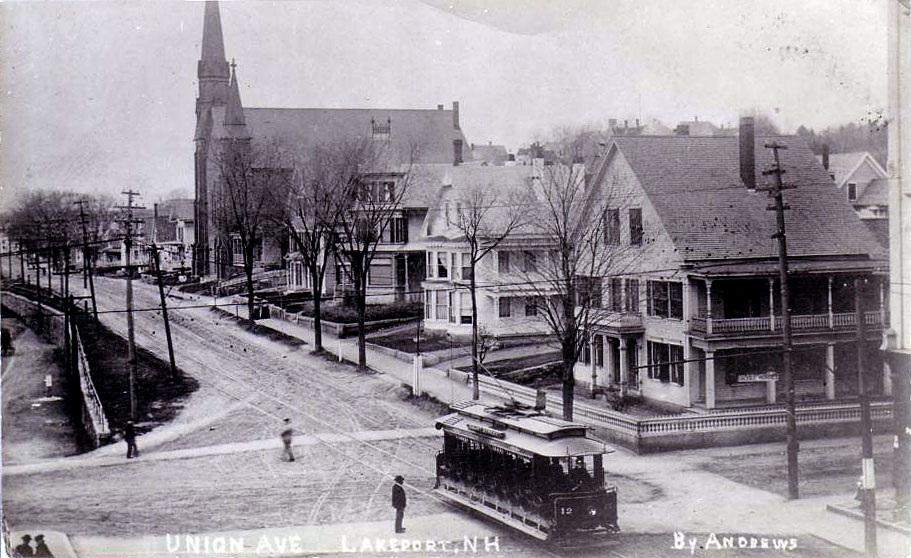 Trolley No. 19, named Aquedoctan, was an enclosed trolley, used for winter transportation. Note the destination sign indicating Lakeport and Weirs. However, the service extended only as far as Lakeport during the winter months. The Weirs was cut from the schedule beginning with the first snowfall.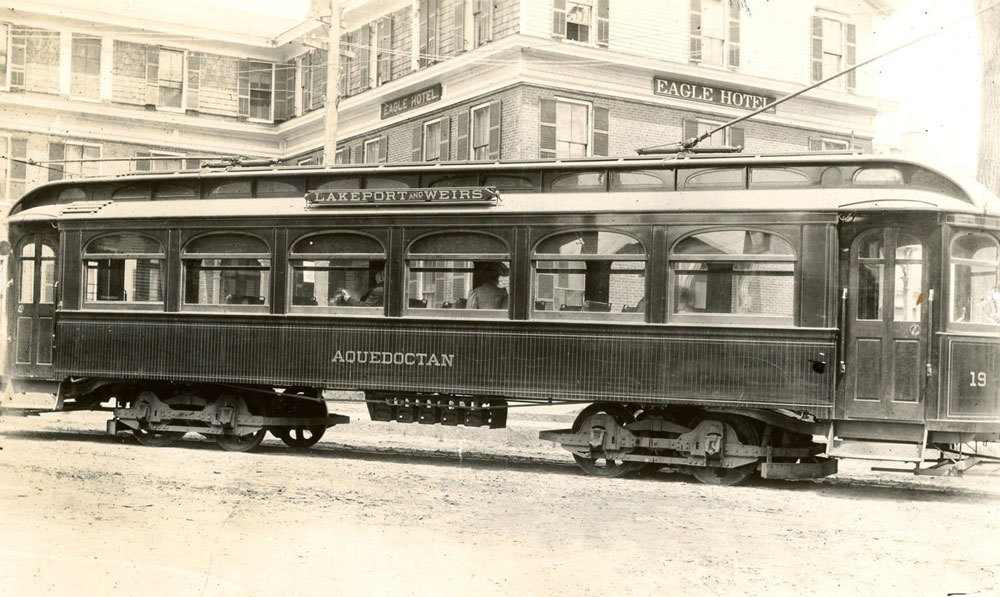 The summer timetable for the Laconia Street Railway. From the 1907 NHVA reunion program.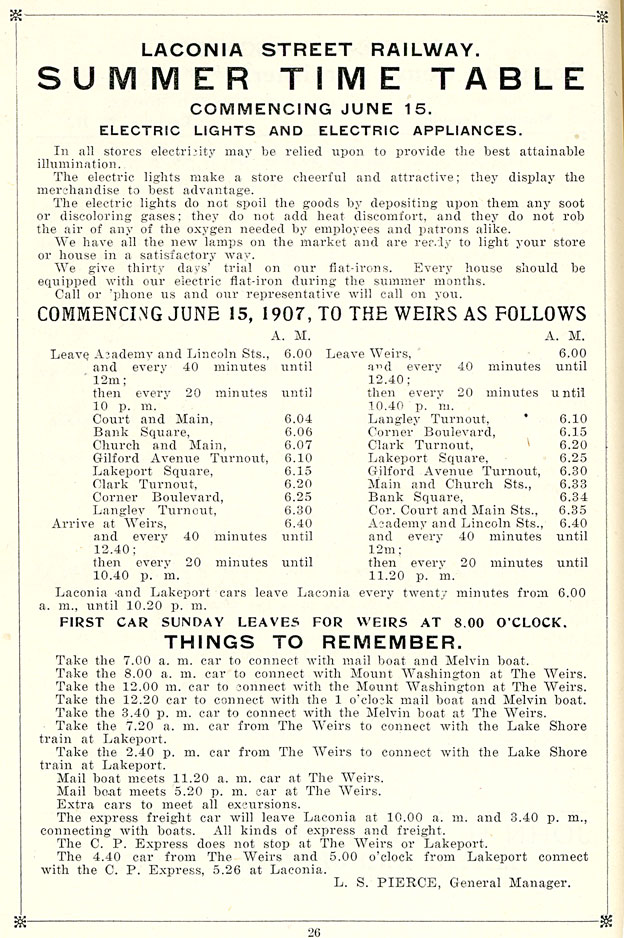 A freight trolley ran every other day to the Weirs during the summer months, leaving Laconia at 1pm and returning from the Weirs at 2pm.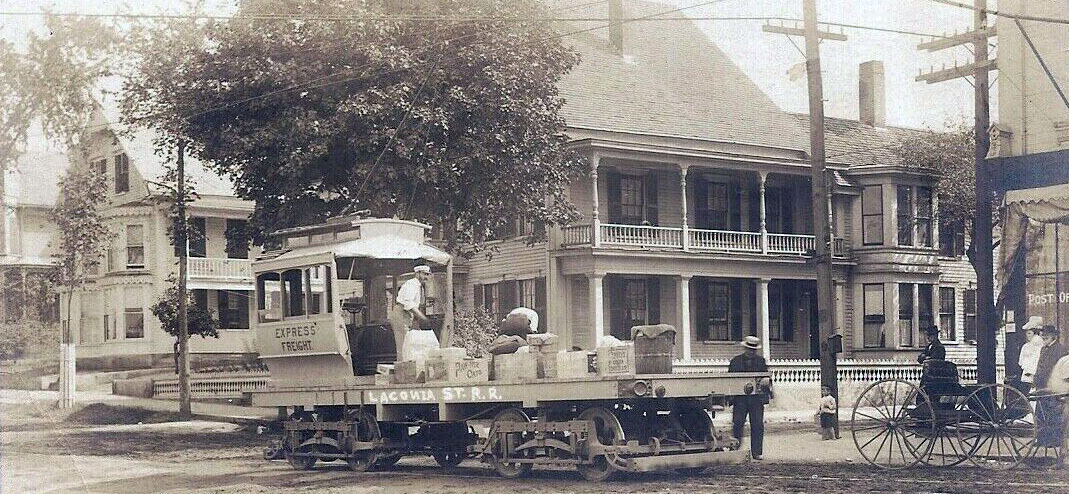 A Weirs trolley, filled mostly with women and children, on July 23, 1908.