Sled Dog Buttons
1929 
1929 was the year of the first sled dog race in Laconia, sponsored by the New England Sled Dog Club, and Leonhard Seppala, the hero of the 1925 serum run to Nome (see the movie "Balto'), was the inaugural winner. Seppala would later return in 1960 as an honorary race judge. The New England Sled Dog Club sponsored the first three Laconia races, from 1929-1931.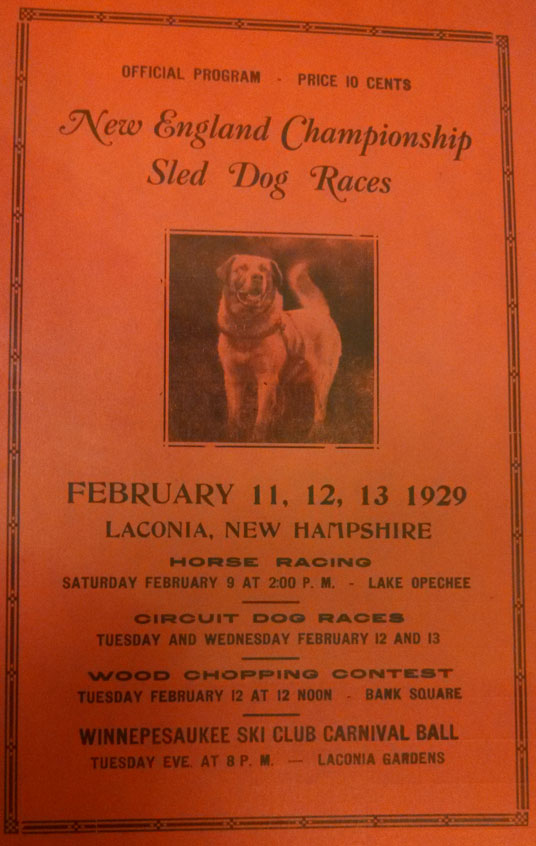 1931
1n late 1931 the Laconia Sled Dog Club is formed. The club sponsors the 1932-1938 races. The club disbands after the 1938 race.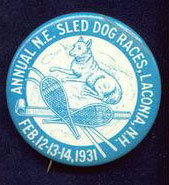 1936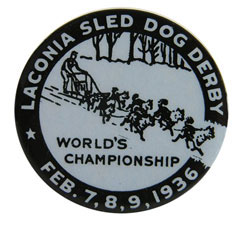 While 1936 was the first so-called "World's Championship" sled dog race, it was actually the 8th Laconia race overall. Ovide Carrier was the winner. The winner is shown below, hugging his lead dog. Apparently, WLNH and Jack's Diner were sponsors of the race, as their names are scratched into the photo. The photo was taken in front of the Unitarian church on Main Street. The church was a charred ruin during the 1939 race, and was torn down shortly thereafter.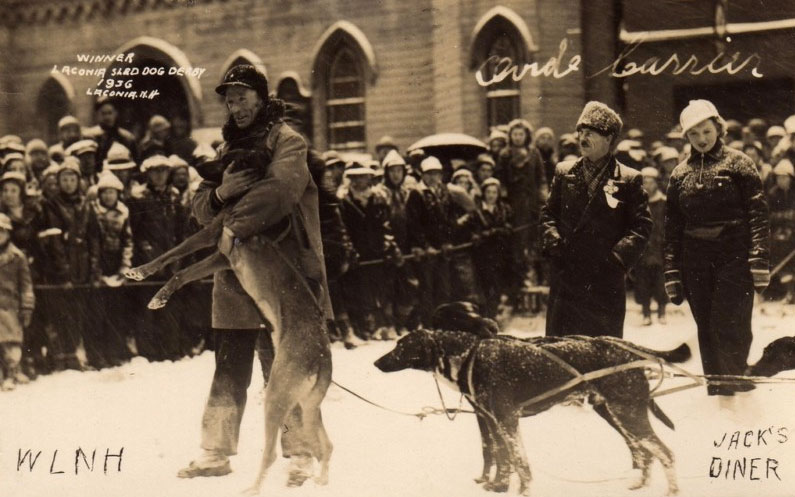 1938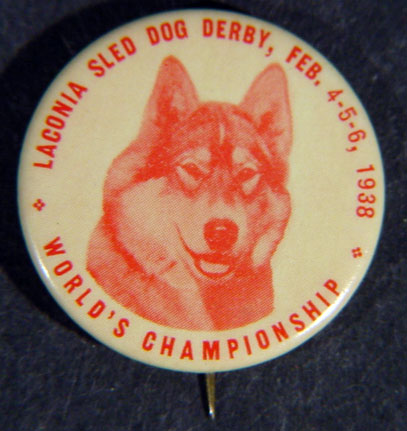 1939-1955
Racing is ceased during the period from 1939-1955. In 1956, the Lakes Region Sled Dog Club is formed, and racing resumes. The 1956 race is won by Dr. Charles Belford, who goes on to win 3 straight from 1964-1966, and whose photo is on the 1984 button.
1956

We do not have a button for 1956.
1957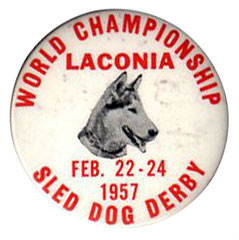 1958

We do not have a button for the 1958 race, won by Art Allen.
1959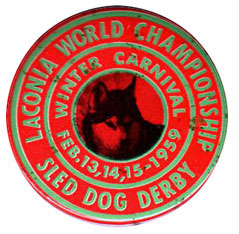 1960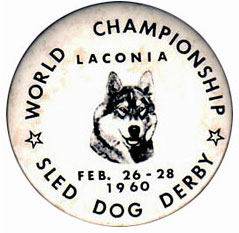 1961 (won by Ernie Brunet)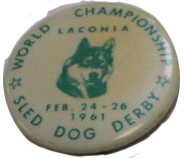 1962

We do not have a button for the 1962 race, which was won Keith Bryar..
1963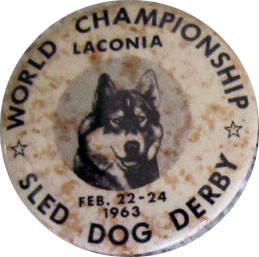 1964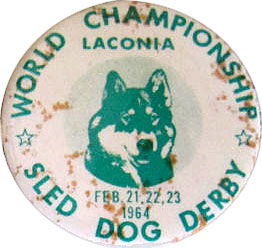 1965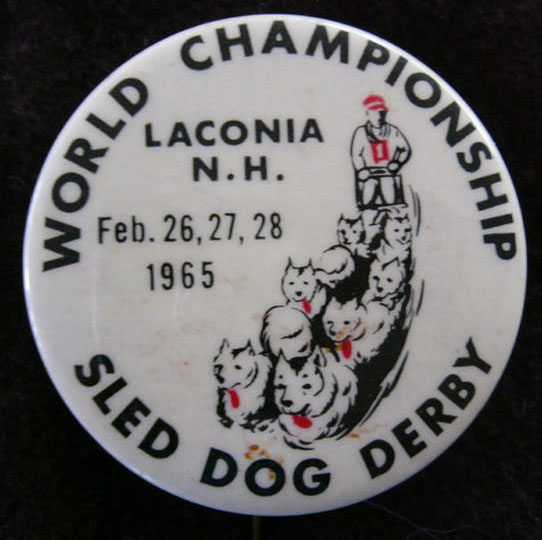 1966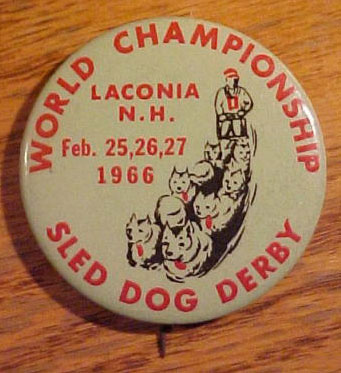 1967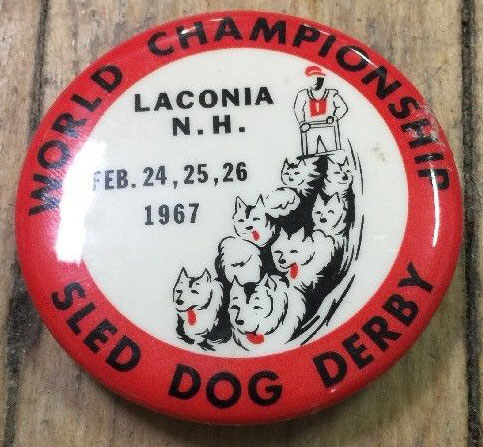 The 1967 race was won by Eddie Sylvain.
1968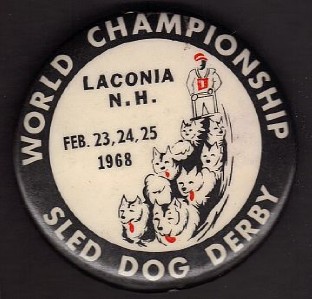 1969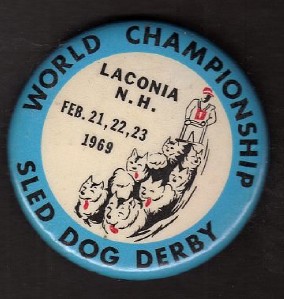 1970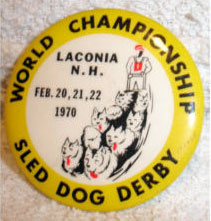 1971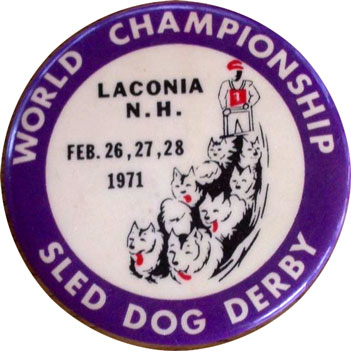 1972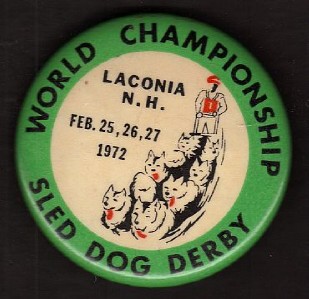 1973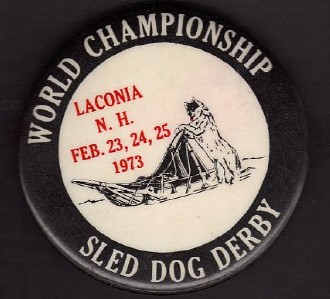 1974
Despite the button below, racing is cancelled in 1974.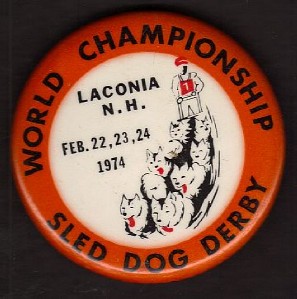 1975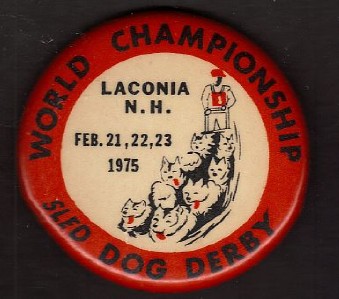 1976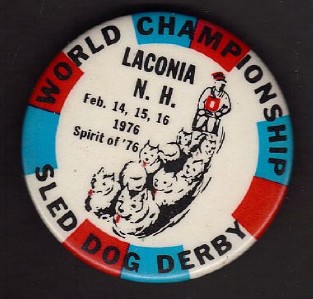 1977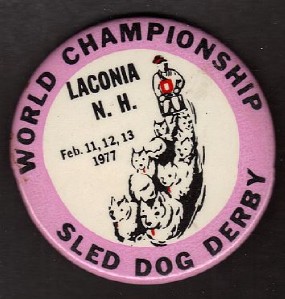 1978
We do not have a button for the 1978 race, won by Eugene Corbin.
1979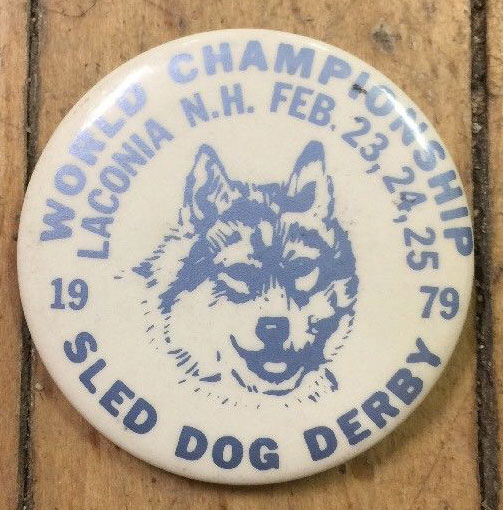 1980-1981
We do not have a button for the 1980 race, won by Debbie Mulberg. The 1981 race was cancelled.
1982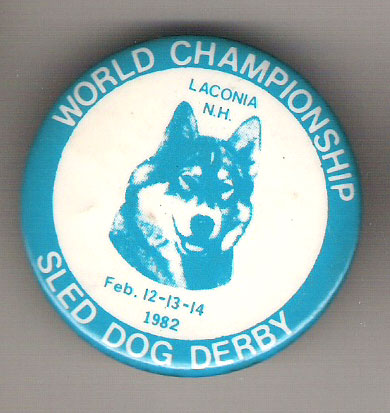 1983
Despite the button below, the 1983 race was cancelled. Beginning in 1983, the race buttons featured photos of past champions. Dick Moulton was the winningest champion ever, winning races in 1968, 1971, 1973, 1975, and 1976.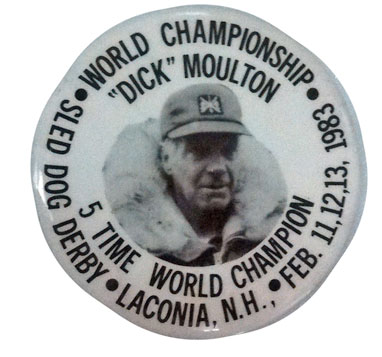 1984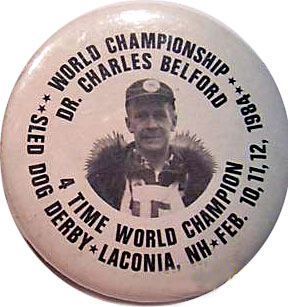 1985
Keith Bryar won the races in 1960, 1962, and 1963.
1986
Despite the button below, the race is cancelled in 1986. Arthur Allen won the races in 1958 and 1959.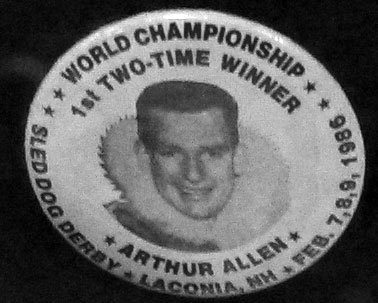 1987
Debbie Mulburg won the races in 1979 and 1980.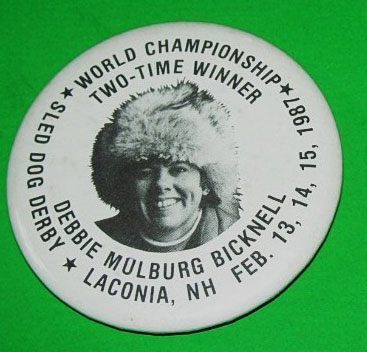 1988
John Piscopo won the races in 1969 and 1970.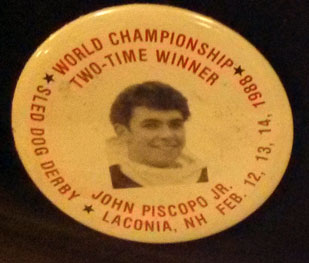 1989
Harris Dunlap won the races in 1977 and 1982.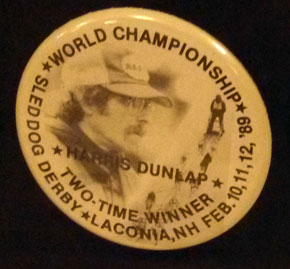 1990
We do not have a button for the 1990 race, won by Donald Beland. 
1991-1992
 Racing was cancelled in both 1991 and 1992. 
1993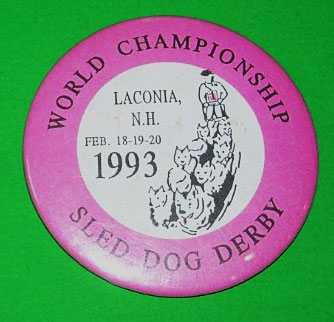 1994-1997
We do not have buttons for any of these years.
1998
Despite this button, racing was cancelled in 1998.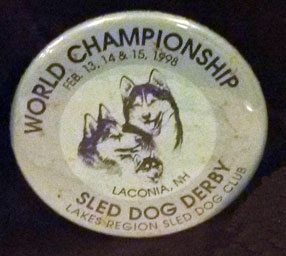 Year unknown