Timberman Triathlon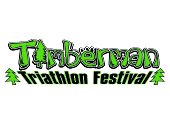 August 20-21, 2016
Now known officially as the "Ironman 70.3 Timberman", still referred to locally as the "Timberman Triathalon". Altogether, nearly 3500 athletes will attend the two main events of the 17th annual Timberman.  On Sunday, August 21st, 2016, the main event will be held, a 70.3 mile, "half-ironman" triathalon,  featuring a 1.2 mile swim in Lake Winnipesaukee, a 56 mile bike ride, and a 13.1 mile run, all starting from Ellacoya State Park in nearby Gilford, about 7 miles from Weirs Beach. In 2006, the winner finished with an incredible sub-4 hour total time of 3 hours, 57 minutes, and 46 seconds! Currently nearly 2000 athletes compete in this event, an official qualifier for the Ironman World Championships.
On Saturday, August 20th, 2016, a shorter, 18.4 mile "sprint" triathalon, consisting of a 0.3 mile swim, a 15 mile bike ride, and a 3.1 mile run, will be held, attracting an additional 1400 athletes.
Although the Timberman was created and developed locally, the event is now owned by the World Triathalon Corporation, and is one of 180 Ironman events held in over 20 countries.