Great Laconia Fair
Unfortunately, the webmaster does not have any information on when the first or the last Laconia Fair was held. The fairgrounds were located where Opechee Park is today, off of North Main St..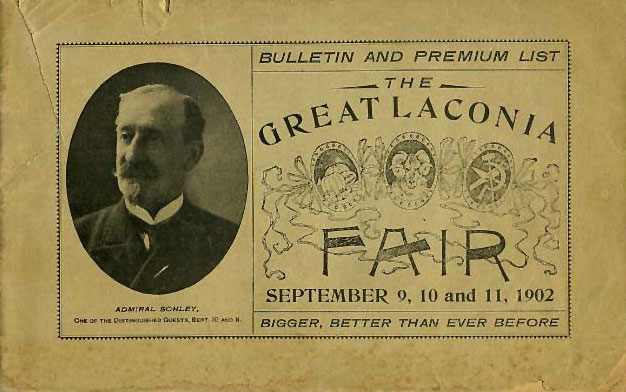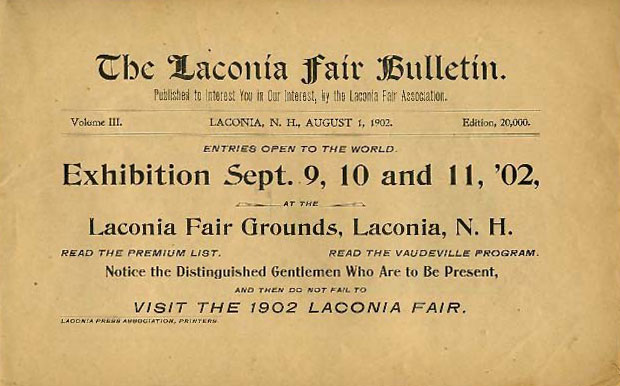 Fakir's Row. A fakir is defined in the English dictionary as a holy man possessed with miraculous powers. At the time of the Fair, a fakir was more akin to a con man.
"To run a fair without the Fakirs' Row would be like running a grocery store without the sugar. Of course there are those who think there should be no fakirs allowed on the grounds; but from time immemorial there has been the fault-finder, or as he is termed by the street slang of today, "the kicker", but what of it? You will find him everywhere – in the church; in the secret society; in the business, political and social world. He is always looking for something he don't like for the very purpose of finding fault when he finds it. Such is life. The kicker is as much a part of it as Fakir's Row is part of a great fair. They both without doubt will be upon our fair grounds.
Fakirs' Row is to the person who looks at it in the right way as much a part of the great fair as the horse racing or any other department of the exhibition, and in a certain sense it is educational. The boy who gives up twenty-five cents for a piece of Welcome soap about half an inch wide and an inch in length because the fakir tells him it will take grease out of his clothes will remember it as long as he lives, and it may save him from some day buying a gold brick for many thousand dollars.
Ninety-nine out of one hundred who visit the fair grounds enjoy Fakirs' Row; they love to hear the promoters describe their show; to watch the handkerchief and suspender man and cowboy from the West (?) who spent his life with the Indians (?). In fact, who does not enjoy walking up and down the row, and who has not been amused, and loves to see the other fellow bite? In fact, who has not at some time taken a little nibble themselves?
Well, there will be fakirs, Fakirs' Row, and plenty of fun at the the Laconia Fair."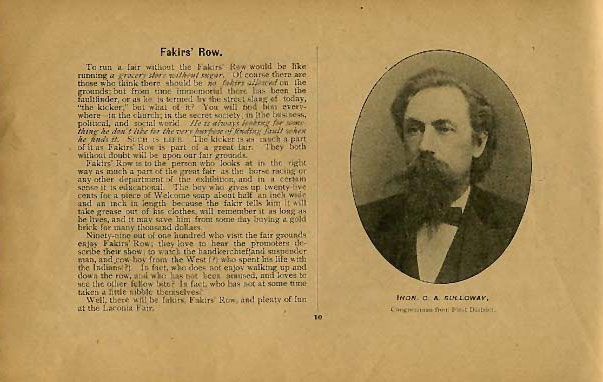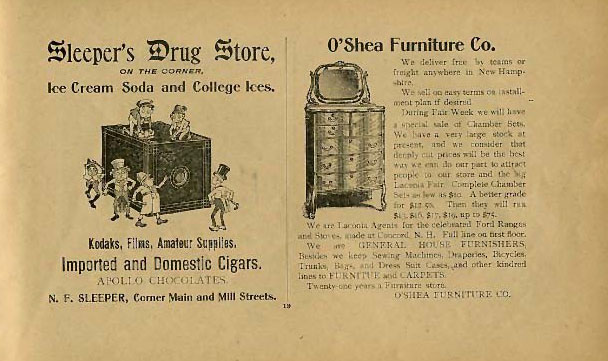 Perhaps one of the most unique events at the Fair was Prof. Stafford's human cannonball parachute jump.
"A fair without a balloon ascension would be incomplete. There is something thrilling in watching the balloon as it shoots with lightning-like velocity into the air, and although the spectators have seen a great many times the act of the parachute jump, still one never feels sure that the parachute will fill and allow of a safe descent. Time and time again we read in the daily papers of an aeronaut being dashed to pieces in a fall of thousands of feet through space. Hence we always watch with breathless attention the parachute jump. Prof. Stafford will during one day of the fair make his cannon ascension. Encased within a cannon at a height of a thousand feet, he will be blown into space and trust his faithful parachute for a safe descent. He will be assisted by a lady who will make one ascension on one day of the fair."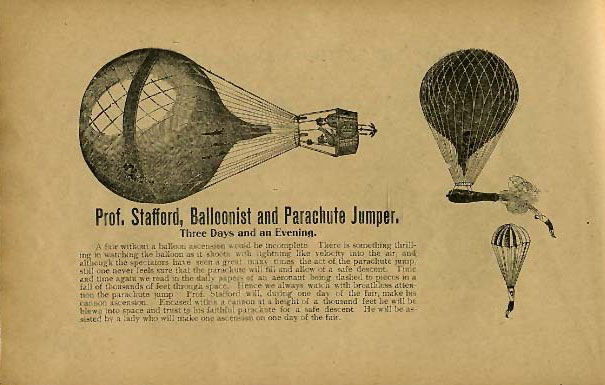 Prof. Stafford survived his parachute jump. He was to return 7 years later to repeat his daredevil act for a water carnival at Weirs Beach.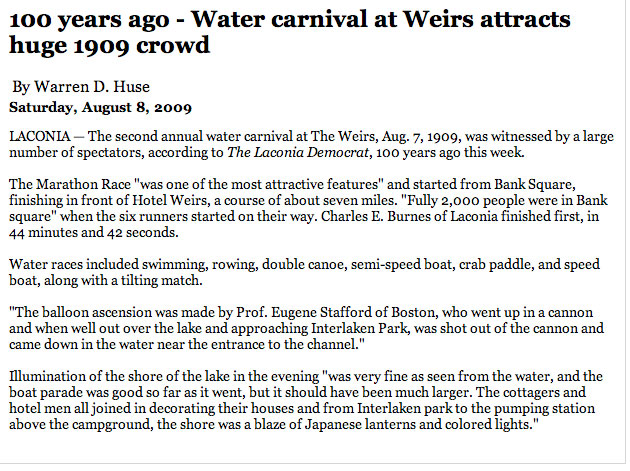 Some of the other activities at the Fair included:
• Professor Welch and his exhibit of whippet running dogs
• Delmore & Oneida – parlor gymnasts doing trapeze acts and balancing acts
• Leah La Joie – contortionist
• The Battle of Santiago (Cuba) reproduced in fireworks which were coming direct from Coney Island
• Country fair staples such as cattle shows, floral and vegetable halls
Balloon ascensions at fairs were not anything new in 1902. In 1885, the Belknap County Fair had a balloon ascension.