Weirs Beach Sign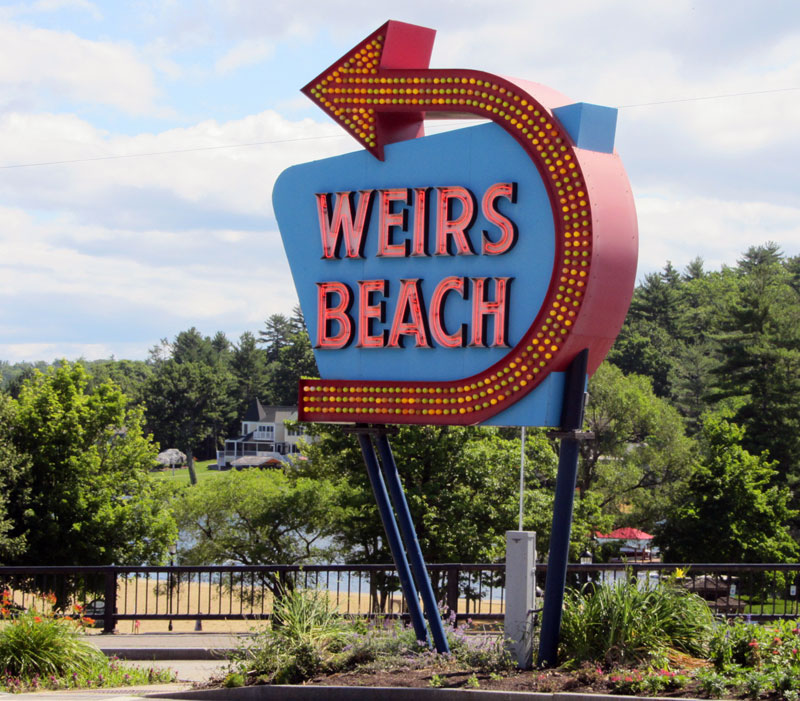 The world-famous neon Weirs Beach sign, which was erected on Saturday, July 21, 1956, celebrated its 50th birthday on Friday, May 26, 2006, after an extensive renovation spearheaded by the Weirs Action Committee. The sign features 696 11-watt chaser bulbs, 200 feet of neon tubing, and lights up in a distinctive pattern beckoning visitors to Weirs Beach. Weighing in at 4400 lbs, the sign was restored in mid-January 2002 to a relocated traffic island, 8 feet closer to Lakeside Ave and off the state right-of-way on Route 3. The relocation resulted in an improved traffic flow, with two lanes of one-way traffic on either side of the sign (previously, there was one-lane, two-way traffic on either side of the sign.) The relocation plan had called for a left-hand turning lane off of Route 3 southbound, but there wasn't enough room. One interesting feature of the sign is that it is two-sided. For visitors coming from Laconia and other points South of Weirs Beach, and who are travelling North on Route 3, it will point to the right; while for visitors coming from Meredith and other points North of Weirs Beach, and who are travelling South, it will point to the left.
In 2017, a Lakeside Avenue improvement project resulted in a larger, two island base for the sign, with a new crosswalk crossing between the upper and lower islands. While the new design maintained two-lane, one way traffic on the northern side of the sign, the new upper island purposely restricts the southern side to one lane entering Lakeside Avenue.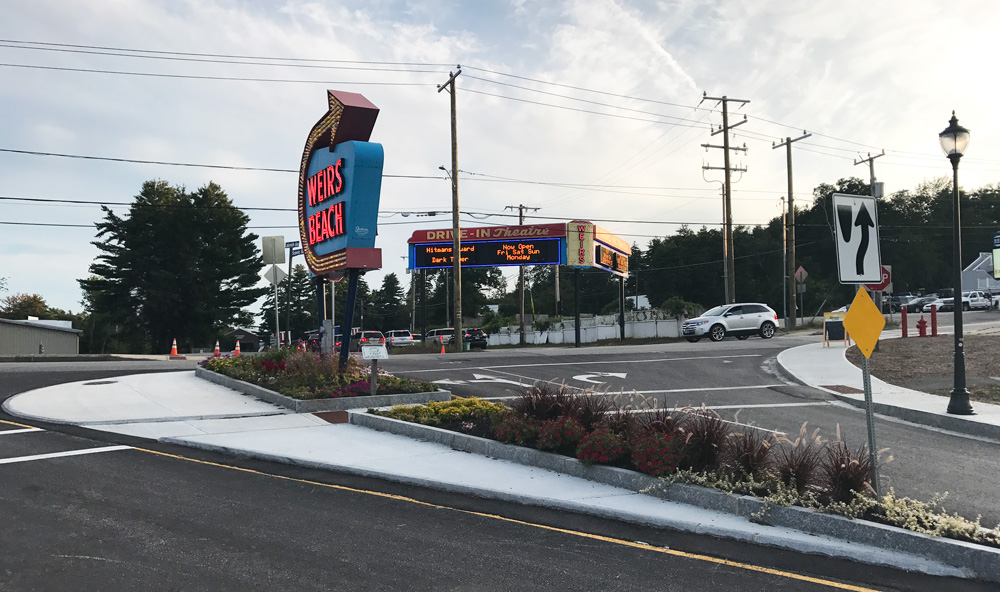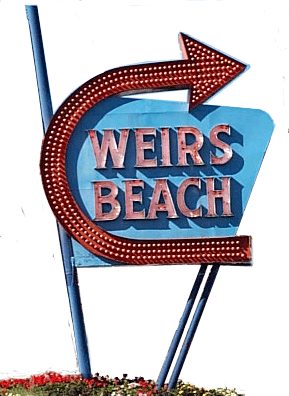 A 1998, pre-restoration, daytime photo.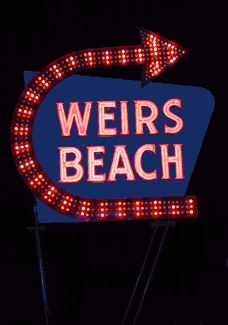 A 2006, post-restoration, nighttime photo.
HISTORY OF THE WEIRS BEACH SIGN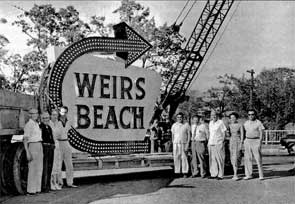 Click here to enlarge the above B&W photo of the sign's original installation in 1956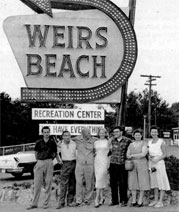 Click here to enlarge a photo of the one year anniversary of the sign in 1957
The original colors of the Weirs Beach sign, seen above in this circa 1957 postcard, were yellow and black. (This postcard also shows the original traffic island.) The sign was yellow, the supporting poles were black, and the arrrow was black. Today, the sign (below right) is light blue, the supporting poles are dark blue, and the arrow is red. Also note the topmost pole, visible in earlier photos. Before restoration, power to the sign was fed from overhead utility lines and down the topmost pole (below left). After restoration, power was fed from an underground line and up the main bottom pole. Unfortunately, during the restoration, a key element of the original design, the topmost pole, was removed. Previously tall and well-proportioned, the sign now appears short and squat . Still very attractive though!
| | | |
| --- | --- | --- |
| | sp | |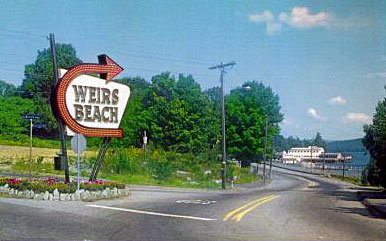 Another old photo of the Weirs Beach sign