Utility Wires
In the mid 1880's, utility poles were erected right down the middle of Lakeside Avenue, providing street lighting, electrical and telephone service to Weirs Beach residents and visitors for the first time.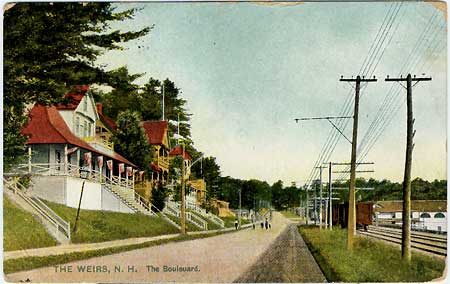 In the early 1890's, a second set of poles and wires was erected on the West (Land) side of Lakeside Avenue to satisfy increased demand. Eventually the central set of poles and wires came down, but the set on the West side of Lakeside Avenue is still with us today.
Many municipalities, large and small, have recognized the esthetic and commercial value of burying unsightly utlility wires in their core areas underground, including the downtown business district of Laconia, which buried their wires long ago. The postcard below, which shows a view similar to the postcard above of the New Hotel Weirs, graphically illustrates how pleasant and serene a streetscape can look when utility poles and wires are removed from view.
In the spring of 2001, the city of Laconia appropriated an inital amount of $160,000 to relocate the utility wires on Lakeside Avenue, beginning at Route 3, and continuing on to Tower St. Some wires were to be relocated to existing utility poles on Veterans Ave, while other wires were to be relocated by traveling up existing utility poles on Route 3 and down existing utility poles on Tower St.

As it became clear that the true cost of the project was roughly double that of the initial appropriation, an additional amount of $160,000 was sought. At a May 8, 2002 meeting of the Laconia city council, a vote to appropriate the additional funds was defeated.

The reason for the defeat was that the Weirs Beach community was itself divided on the issue. While actual burial of the wires was estimated to cost upward of $1.5 million, far more than the cost of their relocation, certain members of the Weirs Beach community did not want the wires to be relocated, as the wires were to be relocated in front of their properties.
Burial of the utility wires will remain a top priority of the Weirs Beach community for the forseeable future. Commercial resort areas where wires have been buried have attracted considerable new business investment. For example, Maine's Old Orchard Beach, which began a series of improvements in the late 1980's to give the resort a more Victorian look, that eventually included the burial of its wires, can now proudly point to a resurgence of its waterfront which includes not only upscale shops, but a brand new, 5-story retail and condominium complex opened in 2007 called the Grand Victorian, "modeled after the Grand Hotels of the 1920's and 1930's".